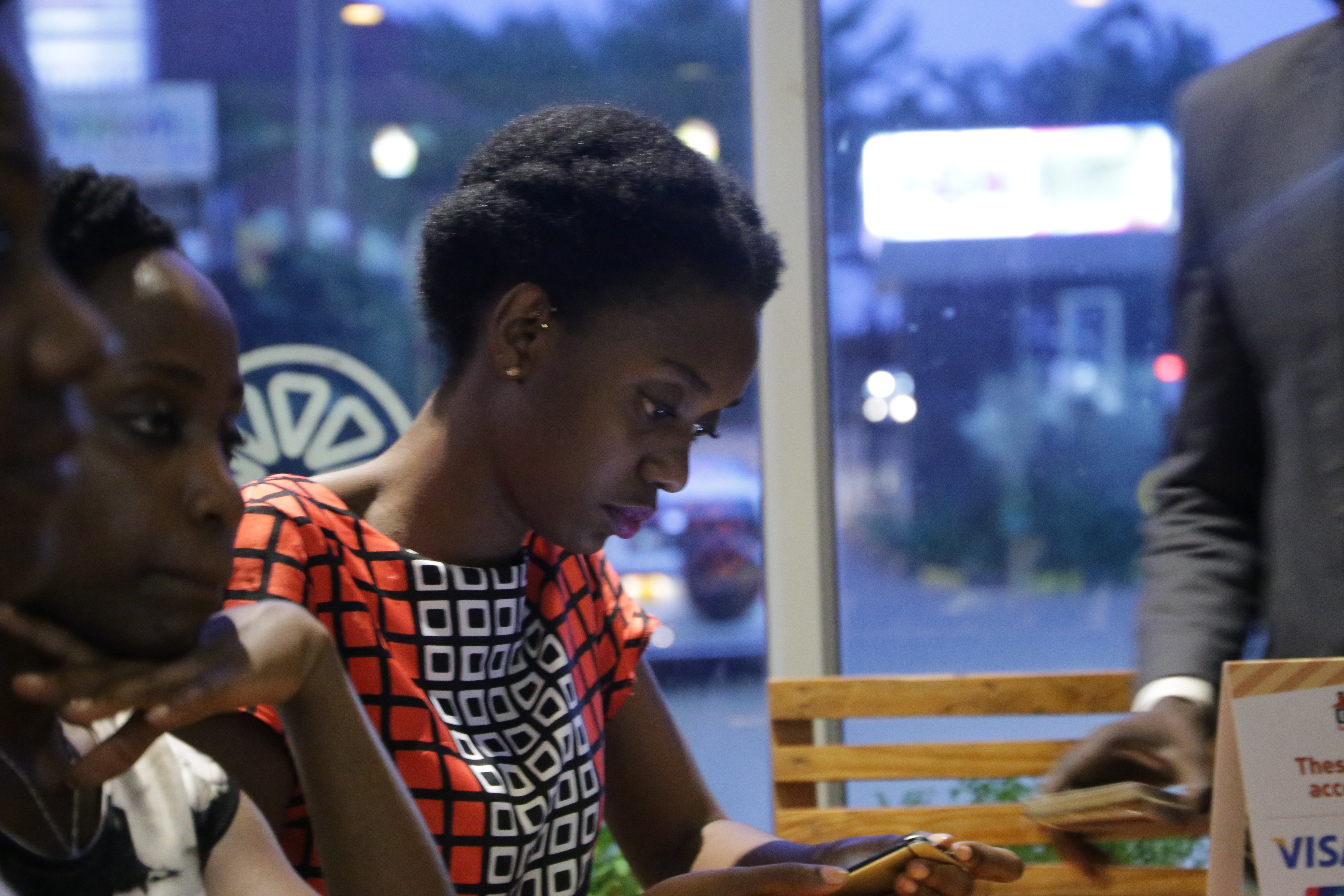 The Enkare review, a Nairobi based literary online magazine, is in the business of sating all those that hunger for interactive and creative pieces. Although based in Nairobi, they accept submissions from all over the world and recently released a collection of short stories which we had the pleasure of discussing at our July Fireplace: #MEiREAD.
The collection circulated (available here: The Enkare Review) had 5 stories and we engaged in a very colourful discussion of two of them. We began with The Somalifiction of James Karangi by Abdul Adan which, set in Kenya, explores the issue of tribalism especially when it comes to marriage. James Karangi, a Kikuyu man, wants to marry Ayan a Somali woman. Her entire family seems to be against the union except a cousin of hers, Khalid, that finds a way to render the union acceptable in the eyes of Ayan's family; they will 'somalify' James Karangi. Employing very extensive methods, even going as far as partially choking James for him to attain the Somali accent, Khalid takes this 'Somalification' process so seriously, to a point that the reader might find themselves laughing and then reining themselves in as they remember that James is actually suffering at the hands of this ludicrousness.
The story brought to the forefront the discussion of tribalism here in Uganda. What role does tribe play in deciding my significant other, given the urban progression of our society? If it plays a major role, can it be justified? Does it perhaps depend on how much I myself subscribe to my tribe's norms and cultures? The idea of tribe as a choice was looked at with some of the readers agreeing that in today's day and age, it isn't entirely realistic to refuse to marry someone based solely on their tribe. Some other forms of 'tribalism' were highlighted. Family status and social standing for example, seem to have solidified themselves as the new 'tribe' classification. Religion being another one.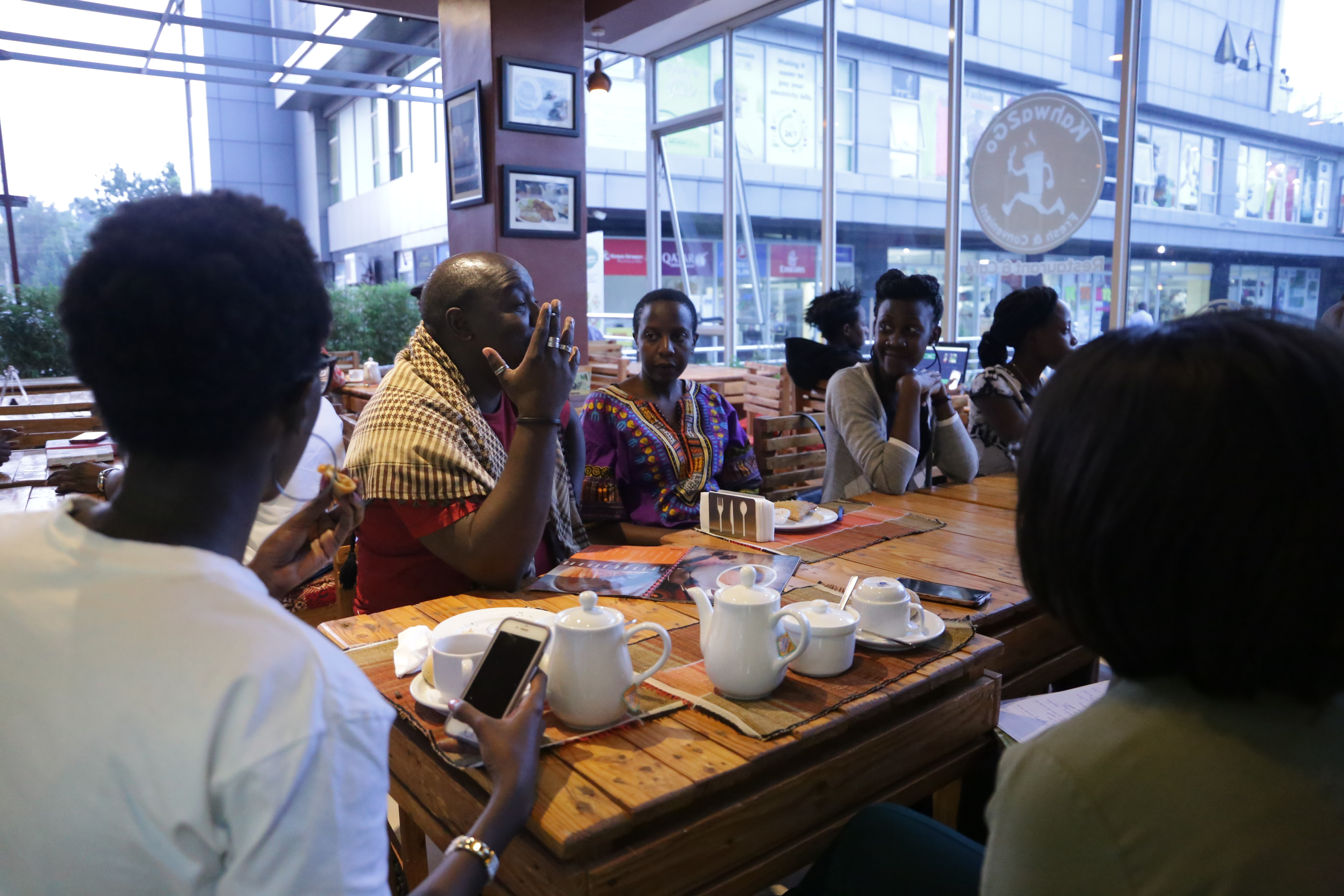 Squad by Linda Musita, a popular one if social media activity was anything to go by, was the second story we discussed. Linda, in the style of  dialogue, dissects the modern day urban-african clique of women. Two women sit down to tea and as they converse, another group of women walks in. One of the two women knows them and begins to poke and pick at the identities each of them seem to have crafted for themselves. She calls out their brand(s) of feminism, a term which they all seem to have interpreted differently; most through excessive sexual expression, and all, despite claiming feminism, turning on each other just as soon as their backs are turned.
For this tale, feminism was the direction the conversation took. What is it in fact, feminism? Are we to assign our definitions given circumstance? What about within the African context? Is feminism a foreign concept, one borrowed from the West that we are pathetically trying to fit into our own society? Or do we as African women own feminism in a way that is just as timeless as the West – from the chiefs and matriarchal societies we hear of  (Nigerian Zazzau, Sudanese Kandake, Angolan Nzinga, and Ashanti of Ghana to name but a few) – but one that is our own nonetheless? As the conversation heated up, we began to digress. Can a man be a feminist? Or, because feminism essentially means his loss of privilege, is that an impossibility? There was concern over women that wanted to brand feminism in ways that diverted completely from the principles; women that are comfortable with certain aspects of patriarchy and advocate therefore for "different forms of feminism". They seem to validate the statement, 'the first people to oppress the oppressed are the oppressed.'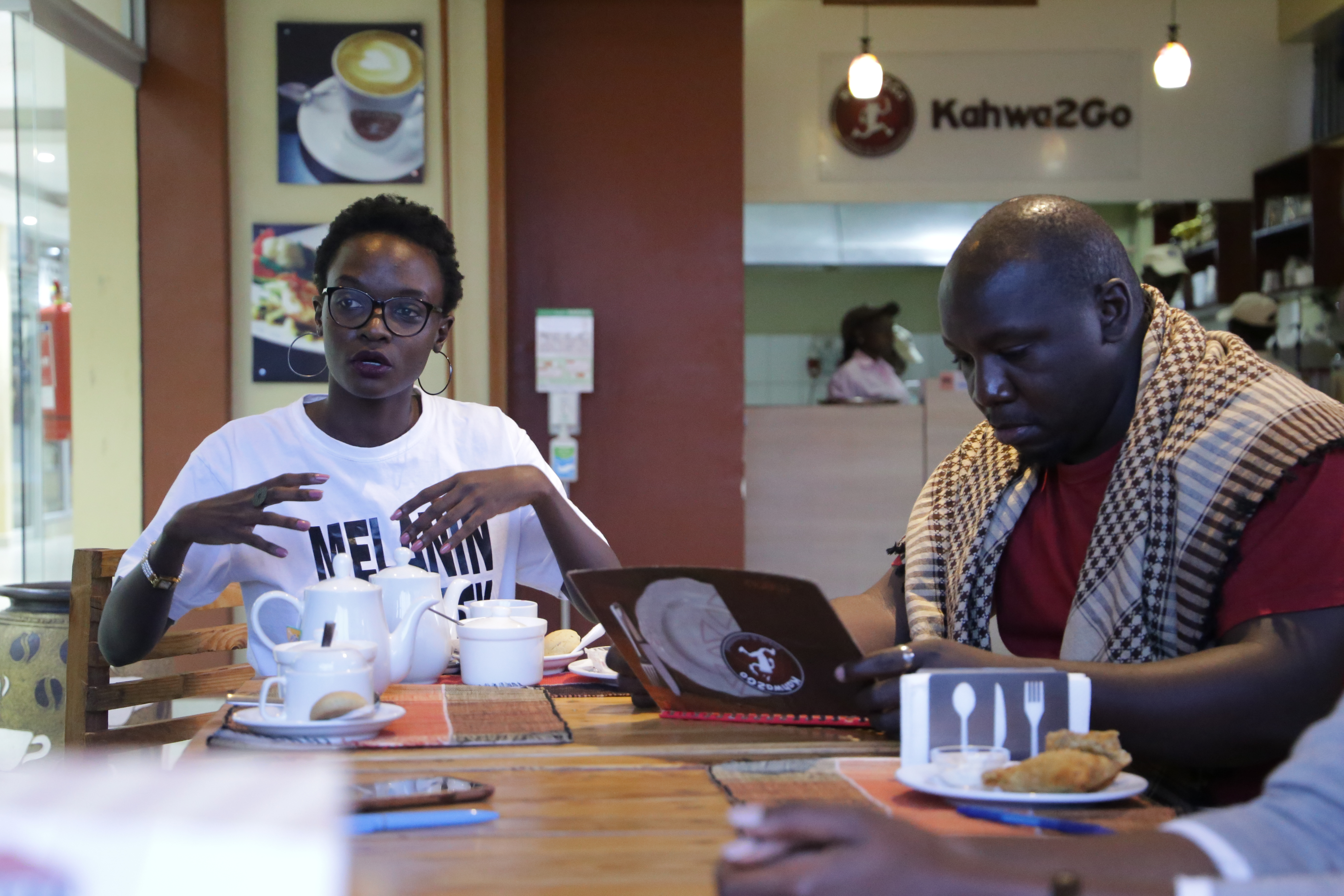 It was an extremely engaging discussion all in all, and at the end of the evening it was clear our particular bunch could wind up talking all night given the heated nature of the topics. We wish you had all been able to attend! Even if you weren't though we would love to know; what are your thoughts on tribalism and feminism today? What Enkare Review stories stood out for you?
This month we're reading Black Ass by Igoni Barrett, a book about a Black Nigerian man who one day wakes up as a white man. We will meet on 15th August at Kahwa2Go at 6pm for The Fireplace: #MEiREAD. This time though, there's a little something extra! On 20th August, we'll host The Fireplace: #MEiREAD at The Writivism Festival and get to meet Igoni Barrett and discuss the book with him.
Get yourself a copy at Aristoc Booklex and see you soon?