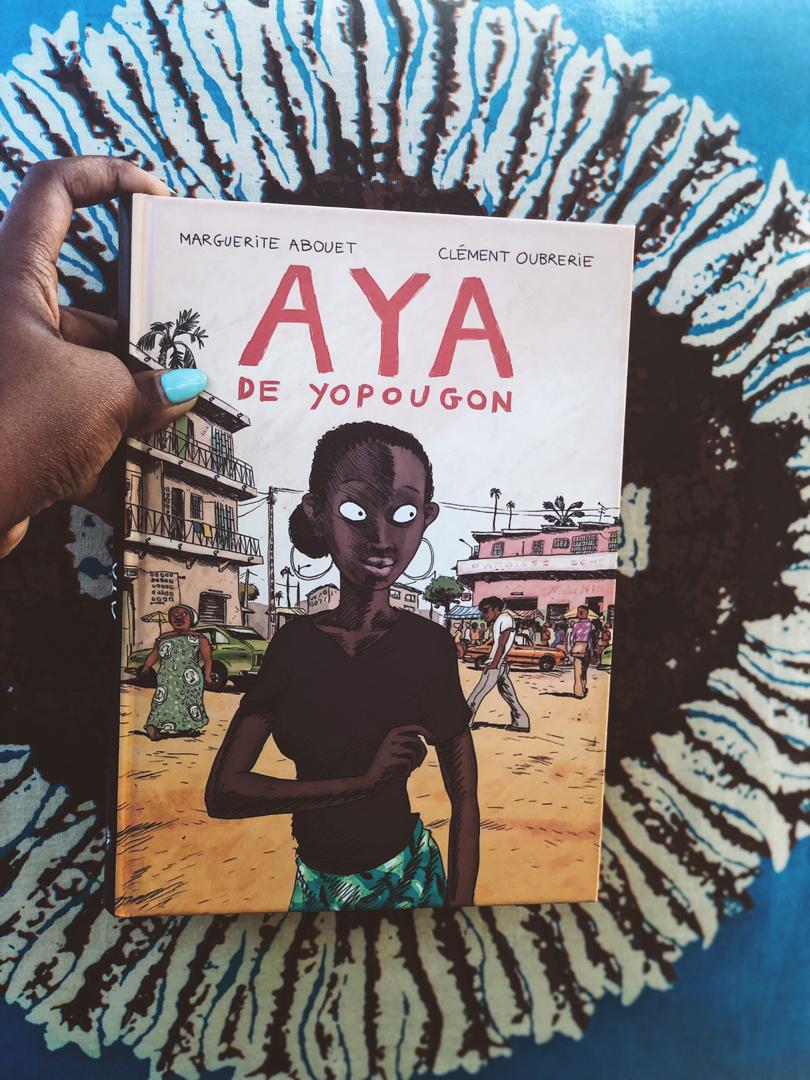 Aya De Yopougue is a beautiful old school comic book, set in the early 80s in Abidjan, Ivory Coast. It was written by Marguerite Abouet and Clément Oubrerie and is recommended for children aged 10 to 12 years.
It depicts the togetherness of the traditional African community. Set in a small town, the first part begins in a neighbourhood of close families, all gathered in one house to watch a commercial on TV, the first one in Ivory Coast. This same sense of community is seen when the story's protagonist, Aya, is being bothered in the market by a seemingly harmful man and an old lady comes to her aid and summons another man to scare him off. It is also shown during a wedding ceremony that takes place, where all the villagers and nearby communities come together and make merry till day break.
Abouet and Oubrerie portray humour all throughout their book which keeps the reader glued to the pages till the end. This humour is aided still by the comic book's appropriate illustrations which help the young reader follow along from beginning to end.
The story centres on Aya and her group of friends. Aya stands out because she has different beliefs and a way of life that is distinct from her friends. Despite her close relationship with them, she sticks to her way of life. Aya is in school, which speaks to the importance of girl child education especially during the 1970s. Her friends fool around with men and one of them winds up pregnant but Aya sticks to her beliefs and doesn't get involved with any man or join her friends during the late night parties they like to attend.
The author shows, that though a child messes up, it's always possible to lead them in the right way. The story also highlights the disadvantages of abortion when Aya's friend tries to terminate her pregnancy and falls sick.
The book ends on a light note when the baby is welcomed into the world.
The book also has a beautiful glossary at the end where traditions, especially from Ivory Coast, are explained to the reader. For example, a specific drink made from ginger is explained step by step. There is also a small tutorial on how to make a head wrap and a simple recipe on how to make a delicious peanut sauce; a delicacy in Ivory Coast. This exposé gives the readers a detailed knowledge on a few traditions in Ivory Coast.
For more titles like these, suited to some of your older storylovers, become a member of our library. Call/Whatsapp: 0705711442 to become a member.