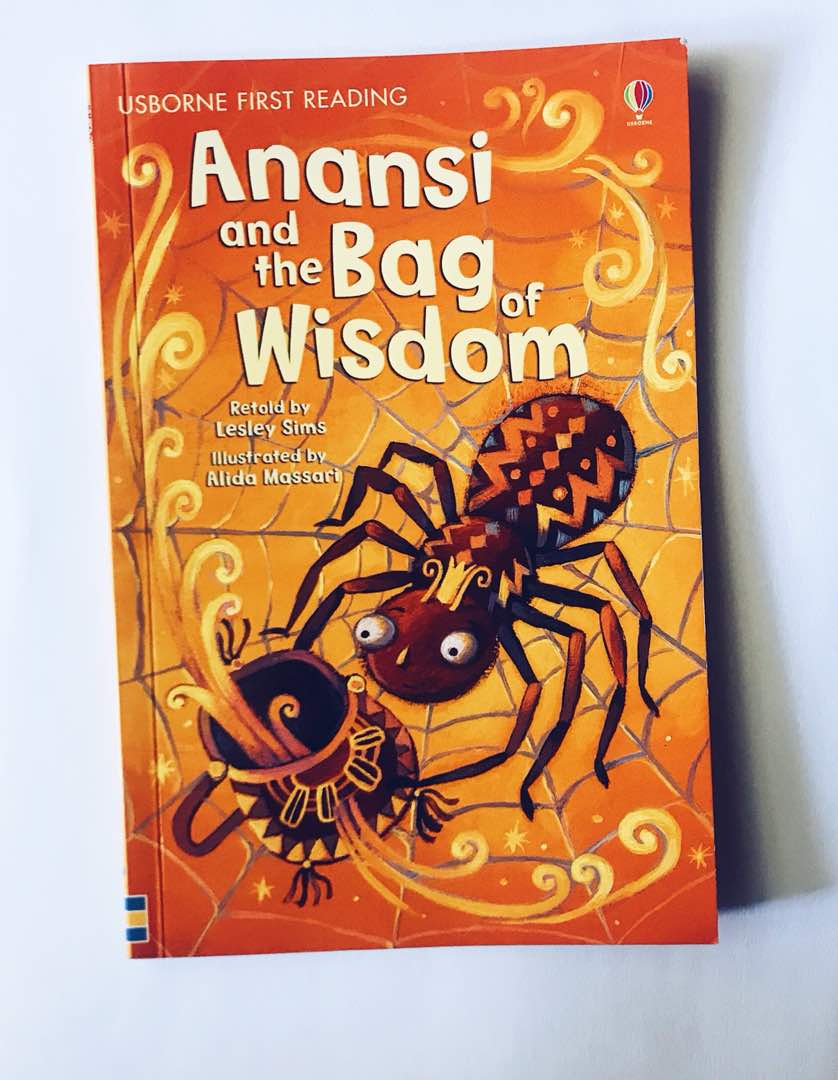 Anansi tales originate from Ghana and were commonly told orally to children. Anasi means spider and the tales are about a skilled and wise spider that is cunning and beloved. His adventures teach children moral lessons and virtues. The tales were told in many languages and are filled with a lot of symbolism and wise sayings.  These fables have existed for generations and have been passed on for centuries. Anasi and the bag of wisdom is one of these stories.
This particular story is about Anansi, the King of all spiders. One day he gets a bag filled with all the wisdom in the world from God who asks Anansi to share this with all the animals in the Jungle. Anansi does not want to share it and chooses to hide the bag and keep all the wisdom to himself.  He soon realises that it is not as easy as he thinks and ends up accidentally fulfilling the wish of God in the end, giving a little wisdom to each animal so instead of just him knowing everything, each animal knows something.
The book is a short and colourful story that teaches children the virtue of sharing with others and being obedient. It also teaches children that everyone knows something but not everything and we are all wise in our own way. The book is wonderful for young readers and helps children that are starting to read to learn to identify bigger words and follow stories. It is also bright and has great pictures that aid in read along sessions.
Variations of the Anansi story include;
Anansi the Spider: A Tale from the Ashanti
Anansi and the Box of Stories: A West African Folktale
The Story Thief
Spider and the Sky God: An Akan Legend
Anancy and the Sky God: Caribbean Favourite Tales
Ananse
Ananse in the Land of Idiots
The Magic of Ananse 
Have you heard about our children's mobile library? Call/text us on 0705711442 to sign up the children in your life.