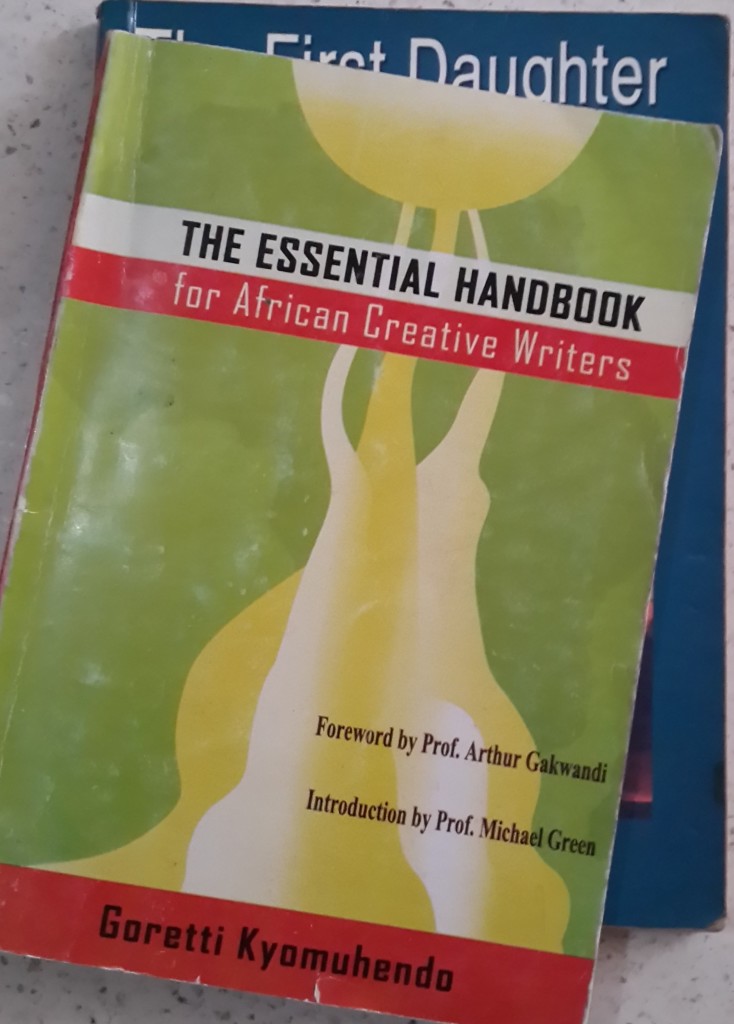 After reading the title of that book, you're probably thinking it is a huge book that professors use for their Creative Writing classes. Far from it. Yes, it can be used in a classroom setting but this 111-page handbook can be used by anybody that would like to know how to start writing or how to write better.
Goretti Kyomuhendo is a Ugandan writer, a founding member of Femrite and currently, the Director of African Writers Trust. One of the things that make this book easier to read than your typical hand book is that Kyomuhendo opens by writing about her own journey as a writer and her experience getting published.
While growing up in Hoima in Western Uganda, Kyomuhendo chanced upon a copy of Things Fall Apart by Chinua Achebe. Prior to that, like many of us, she had been lost in the wonderful but alien word of foreign literature by Enid Blyton, Barbara Cartland, James Hardley Chase and of course, Mills & Boon. Reading Achebe's Things Fall Apart felt so real and so at home that she was convinced that Umuofia was not fiction. Realising the importance of our own stories, Kyomuhendo was then inspired to write. In 1994, she began what was to be a frustrating and often hopeless two year journey to get her first book, The First Daughter, published.
Publishing in Africa isn't yet where we want it to be but reading Kyomuhendo's account of getting published made me very thankful to be writing now when there are many more opportunities than there were then.
Against that background, Kyomuhendo delves into questions that are often asked by young writers. How do you start writing? What techniques do you use? How do you sustain your writing? How do you get ideas for writing? How do you even find time to write? After you have written your first draft, where do you go from there? How do you deal with rejection from publishers and later, with criticism and critics?
She then delves into questions that are more often asked by writers who have finally decided to commit to "this writing thing". Is writer's block a real thing? Why do you write? What jobs are available to writers? As an African writer, what does language have to do with it and an international favourite, what is your moral obligation as an African writer?
Kyomuhendo then devotes a chapter to getting your manuscript published, listing some publishing houses in and outside Africa. She talks about self-publishing, online publishing and how literary agents fit into the publishing process. In another chapter she talks about how to market your work and in the last chapter, resources such as associations, residencies, prizes, grants, fellowships and writer-in-residence positions that are available to writers.
I often receive emails seeking answers on one thing or another about writing and for those people that have seemed serious about putting in the work, I have recommended and continue to recommend this book. But I also find myself reaching out to read it for myself, because by reading about her experiences and how she got where she is, I am able to appreciate the opportunities I have now and that alone gives me hope. And so this book is not just for new writers but also, writers who may need to remind themselves of the basics. For a country that is not teaching creative writing formally, this is one of the best gifts any budding writer could receive and perhaps even, a wonderful donation to your former school's writer's club. To show that writing and getting published can be done and to offer some guidance on how it can be done.
To be called a writer is not by mere wish, nor is it a title you can simply acquire by earning an academic qualification, or attending a certain course. Even a PhD in creative writing will not earn you the title of 'writer' unless you actually write. You can only earn this designation by actual writing.

– Goretti Kyomuhendo
The Essential Handbook for African Creative Writers by Goretti Kyomuhendo is available in bookshops around Kampala, at Femrite and on amazon: http://www.amazon.com/Essential-Handbook-African-Creative-Writers-ebook/dp/B00BJ69XBQ
Speaking of opportunities for improving your craft, if you are in Kampala, you may be happy to learn that Ugandan writer, Jackee Budesta Batanda will be teaching a one-day novel writing masterclass on April 18, 2015 for Shs200,000 only. Batanda has many writing-related achievements under her belt but one of the things I like most about her is how much she takes writing seriously. It would be so inspiring to learn from her.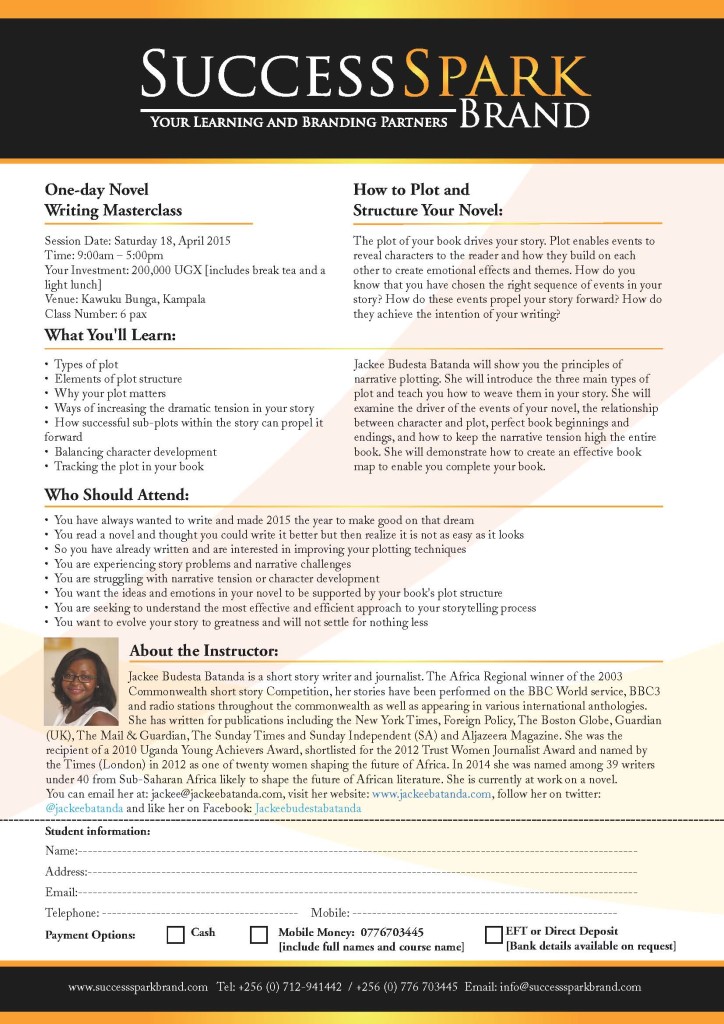 In our next 7 out of 7, I'll list some new writing opportunities that you (writers) should absolutely be interested in.
Thanks a lot for reading! Have a wonderful April!