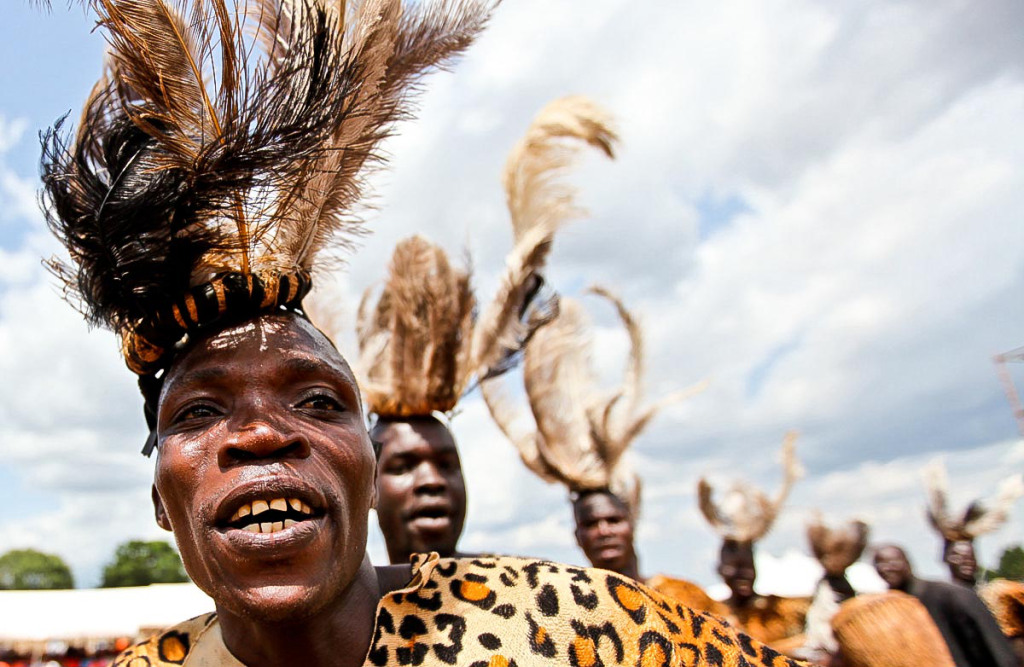 Dance With Me
Jackee Budesta Batanda
There is another myel; a dance tonight. I hate dances. I only attend them because Muzungu says it's part of the therapy. We call him Muzungu because he's light-skinned like a whiteman.
–Dancing shakes out the pain and terror from your bodies and you're reborn, he says. Perhaps our Tipu, our spirits wait in the air for us to invite them to dance, he adds. But my Tipu, my spirits are not near me. I do not dance because I cannot stand. That's why I hate dances. I also hate dances because I lost my legs in a myel.
My friends and I had wandered from Lacor camp. We live in camps because one night Tek Gungu-government soldiers came to our homes shouting in Swahili 'funguwa mulango! Open the door!' and ordered us to the government protected camps. We left with only the clothes on our backs. And in the camp we found other families like ours. The camp is one big homestead with many little huts built together; you can hear the neighbours snore. Our huts encircle the Tek Gungu acting as shields against the Kony rebels.
The food provided by World Food Program was not enough. We escaped from the camp in search for food. We found a garden and dug out cassava with our hands. Then we danced in glee. I jumped up and down then I felt myself being flung in the air. My mouth opened to shout but the voice stuck in my throat. I came to in Lacor hospital. Mother's eyes were red and swollen. She wiped my face with her favourite scarf.
–Mama, why are you crying?
— A landmine has stolen your leg.
–Why me mama? Why? I cried
–Sssh, she cooed, don't cry. Our ancestors will lend you their spare legs.
She kept crying, Aiie Rubanga. God. Our ancestors do not lend me their legs and my old legs have not grown back. When I go into the land of sleep, I meet my legs walking alone. I ask them to come back to my body but they run away. I try to chase them but cannot run after them. I feel a tingling pain in my legs and I hear a scream. I wake to the sound of my voice resounding in the room. My sheets are wet.
At the myel, I always sit and watch the others. Their ancestors have lent them legs. Sometimes, when the music breaks through my body, I nod my head and swing the remains of my legs. Today Muzungu gives me new legs.
–You can join in the myel today. My heart knots in fear. Dancing blows your legs away. The new legs are uncomfortable. They are different from the ones in my dreams. As I nod my head to the music, Muzungu speaks beside me, Lanyero, dance with me. I shake my head in fear but he holds out his hands and smiles. His eyes comfort me. I place my trembling hand in his and stand. I can't find strength in my new legs. He supports me. When my new feet touch the ground, I fear I will soar in the air and wake up to find mother crying by my bedside. They stand firmly.
–Join me Tipu, I whisper. A tingly feeling flows to my heart then warmth and perhaps hope. I see my spirits waiting.
–Come dance with me. In Muzungu's eyes my face smiles back at me. The pain and terror are gone. I am reborn.
Jackee Budesta Batanda is a Ugandan journalist, author, speaker and entrepreneur. Dance With Me won the Africa regional award for the Commonwealth Short Story competition in 2003.