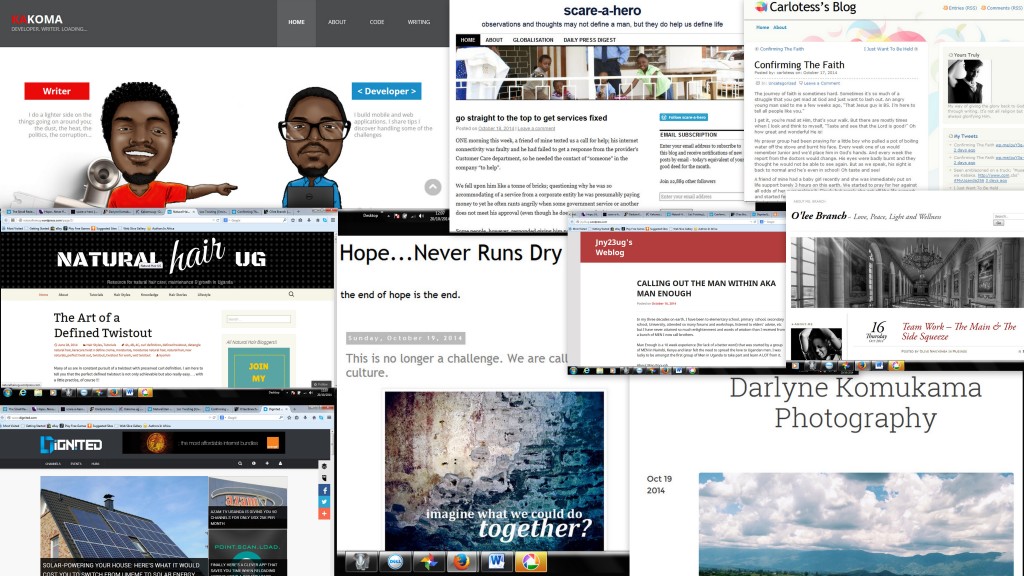 1. Last week, Ugandan bloggers were challenged to blog for seven days because for a while now people have been talking about the declining blogging spirit in Uganda. I know this very well especially after the discouragement I felt after I interacted with the vibrant blogging community in Kenya last month.
While at Uni, I had a personal blog (Sorry. Even Google does not remember it). There were quite a number of bloggers at the time. We were not professionals in any way the way people are now; we just wrote about our jobs, our failed and flourishing relationships, our school work, our hobbies. We had a language of our own, inside jokes and we started great friendships. We just did it for the love of writing and community. I missed that so much until this past week.
I spent last week reading a number of blogs per day and could not be happier about the number of new Ugandan blogs right now. There was so much to read, so much to love, so much to laugh about and enough to motivate us to continue doing this.
I hope these words, by blogger Nevender, will light a fire in us to do this more often (I have practiced some self-restraint there and not turned on the CAPS on this entire paragraph):
This is no longer a challenge. We are calling for a culture. A culture of Ugandan-ness in her different forms. A culture where we do not merely get on TweetDeck in the morning and simply share stories from The Verge, Time, Telegraph or BBC. Yes we are in a global world but aren't we fading into the crowd?
Where are the stories from Entebbe? Arua? Kabarole? Jinja? Kampala? Is our source of content meant to be only Ugandan press? Tabloids? What about the introspection, the soliloquies? Are we ever going to look outside?
Read more here: This is no longer a challenge. We are calling for a culture.
Nevender listed the blogs that were posted over the last seven days. Check them out and bookmark them. Or just check #UgBloggers7Days. And to close the #UgBloggers7Days challenge, there is a Bloggers Happy Hour today at 6pm at The Sound Cup. I hear there is cake!
2. Last week, Jalada released a prelude to the Afro future anthology that will be released on January 15, 2015. Moses Kilolo, Managing Editor Jalada says:
The Prelude, which features Binyavanga Wainaina's profile of Wangechi Mutu, and her art, is a perfect expression of this shared dream among African artists to redefine how we envision future Africa. A group of Jalada editors are hard at work on the submissions, and here is what they have to say about it all.
Read: "Wangechi Mutu wonders why butterfly wings leave powder on the fingers, there was a coup today in Kenya" by Binyavanga Wainaina or download the pdf.
3. If you have read Americanah, you will be pleased to know that Ifemelu's The Small Redemtptions of Lagos is now a real blog. If you are dying to know what happens between Ifemelu and Ceiling after Americanah, this is where to find it.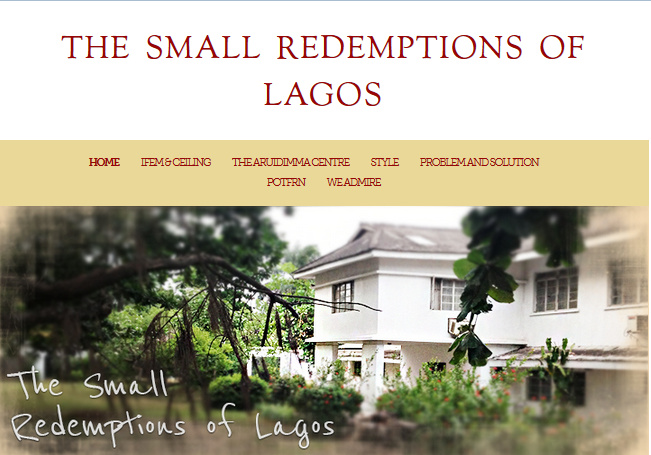 4. I loved reading this independance day tribute by Peter Kagayi Mutanga to Benedicto Kiwanuka, Byron Kawadwa, Rose Mbowa, Alex Mukulu, Robert Sserumaga and Philly Bongole Lutaaya. Read it here: On this 9th night of October of 2014, I light a candle to remember…
5. I wrote about the launch of BNPA's A Thousand Voices Rising here. Here is a review of the anthology.
And for our poets…
6. You should be interested in The Brunel University African Poetry Prize where you have to submit 10 poems for a chance to win £3,000. The prize is for ten poems to encourage serious poets. These poems may, however, have been published. Only poets who have not yet had a full-length poetry book published are eligible. Poets who have self-published poetry books or had chapbooks and pamphlets published are allowed to submit for this prize. Last year, Ugandan poet Nick Makoha was a runner-up.
Read the rules here and submit.
7. If you have been busy working on your poetry manuscript, submit it for the Sillerman First Book Prize for African Poets. The winning poet will receive $1,000 and publication through with the University of Nebraska Press and Amalion Press in Senegal. Here are the rules for submission. You have up to December 1, 2014 to submit.
Tell us, what blogs are you reading?
7/7 is Sooo Many Stories' way of helping you beat the Monday blues. 7 things that are making me happy in the literary world that will make you happy too!