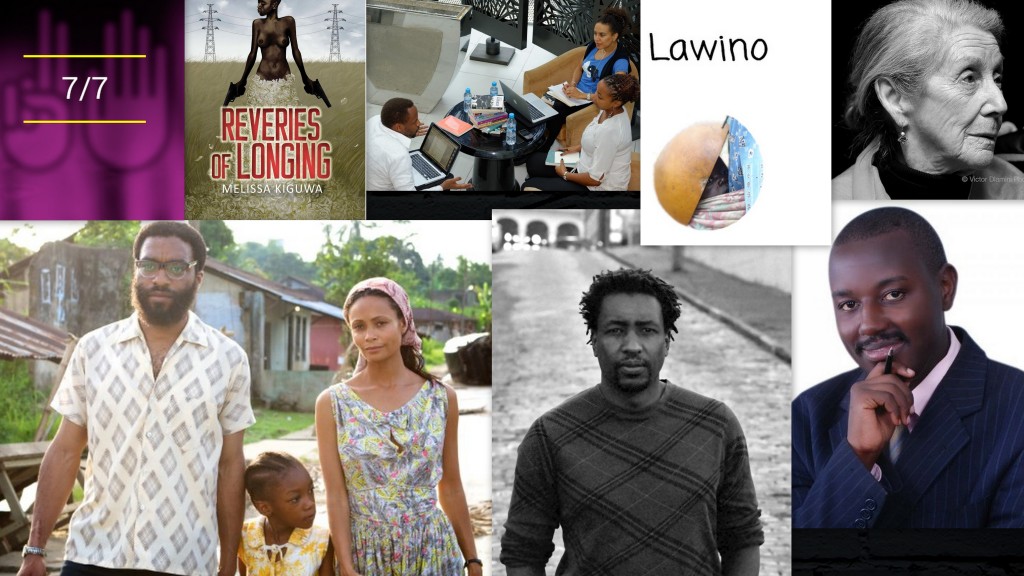 1. Melissa Kiguwa is the the second Ugandan that was this year, longlisted for the Writivism Short Story Prize for her story, The Wound of Shrinking. I set out to find out who this Melissa is and it turns out, she just published her first collection of poems, Reveries Of Longing.
Reveries of Longing is available here.
2. The Etisalat Prize is back for its second edition. Here are 8 things you should know about the 2014 prize.
3. Have you heard of Lawino Magazine? You have up to 15th June for your short stories, poems and spoken word poetry to make their first issue. Read submission guidelines here.
4. Adichie, Soyinka, Gordimer have been named on National Geographic's list of Africa's Greatest Innovators in Arts and Sciences. Here is the complete list.
On Chimamanda:
Chimamanda Ngozi Adichie Nigerian-born Adichie is the author of three novels, most recently the critically acclaimed Americanah. The book describes the affecting journey of a Nigerian woman who takes her chances in America as an emigrant, not because of poverty or hunger in her homeland, but to escape what she calls the "oppressive lethargy of choicelessness." The book is also a penetrating discourse on what it means to be black and how views of identity differ between African Americans and American Africans. In addition to her brilliant storytelling skills, Adichie has stepped into the realm of politics with her TED talk called "We Should All Be Feminists," said to have inspired the Beyoncé song "Flawless" and various opinion pieces.
5. There are very few Ugandan writers that market their work the way inspirational writer, Bake Robert Tumuhaise does. If you have not heard about  his book, Tears of  My Mother: Nyamishana, you have definitely been living under a rock where his social media campaign for his book obviously could not reach you.
Tumuhaise will be hosted by Femrite as the author of May today at 5:30pm at the Femrite offices. I am not so big on inspirational/self-help books but I want to hear more about his marketing strategy.
6. Here is How To Make a Film About America according to Kenyan poet, novelist and literary scholar, Mukoma Wa Ngugi.
7. I am very wary of movies that are based on novels. especially novels that I have read and loved such as Half  of A Yellow Sun. But I love Thandie Newton and Anika Noni Rose (both delivered fierce performances in For Coloured Girls) and so I have many reasons to look forward to this movie. Nigeria is a going through a crisis at the moment and their film censorship board decided to add the delay of releasing Half Of A Yellow Sun to the existing political crisis. Movie Director Biyi Bandele explains Why Nigerians cannot watch the country's biggest movie.
7/7 is Sooo Many Stories' way of helping you beat the Monday blues. 7 things that are making me happy in the literary world.