Happy New Year Storylovers!
As Sooo Many Stories we are incredibly excited about all the new things we have in store for you! (WATCH THIS SPACE)
To kick us off, our Children's Book Club, The Fireplace: Tot Tales is expanding! This haven for our youngest storylovers (4-11 years) has been running in Ntinda and Bugolobi for the past year and a half. Because of your support, this year we get to find more little storylovers in Entebbe and Muyenga! The best part about Tot Tales is we get to meet and work with some amazing people with minds and hearts just like ours. Here are some of their experiences:
Being a part of Sooo Many Stories' The Fireplace: Tot Tales feels like home right from the start. The team's jokes and their willingness to make you a part of the fun are a constant reassurance of this. It never matters what group you're assigned to; four to six, seven to nine, 10 to 12. It doesn't matter because each of the readers carries with them a love for books that takes you back to your days as a child; were you this lucky? Was someone ever there to introduce you to books? Did you ever have reading buddies? You wonder and realise the answer is mostly no but somehow you made it. You became a book lover because the forms of entertainment then were not so appealing or restricted but you know these children got a different world. A world where there's so much distraction and a lot to reduce their love for books and because you don't want to know who they would be if their love for books is not nurtured, you resolve to always show up and help Sooo Many Stories nurture young readers. It already feels like home anyway. – Immaculate

My favourite thing about volunteering with Sooo Many Stories is how everyday is a new experience that somehow always manages to flip my understanding of how children's minds work. Their expressive imaginations as they immerse themselves into a story, as I read it to them. Their expressions as their brains work around the pronunciation of a new word. And then how fluidly they use that very word, three weeks later, like they were born knowing it. Witnessing their growth, is teaching me to understand the patience involved in witnessing my own. – So Severe

There is nothing that's as fulfilling as reading a book. You get to walk in the shoes of the author and recreate the story in your mind. With Sooo Many Stories: Tot Tales I not only get to enjoy this as an individual but I also get to hear and see the children do this. These book clubs create a platform for learning and for creativity. Sooo Many Stories not only ensures that we get to read books, we get to read books with lessons in them. I personally look forward to the book clubs because I get to hear children read and I also get to see their creativity come to play when asked a thing or two about the story.  For any parent or guardian who is wondering if this is worth it, I can assure you it is. We have seen children become better readers, better orators, better individuals. Just better.  – Anne
Of course with this expansion comes the need for us to find more people like Immaculate, So Severe and Anne! Think you fit the bill? Hit us up! See the poster below for details.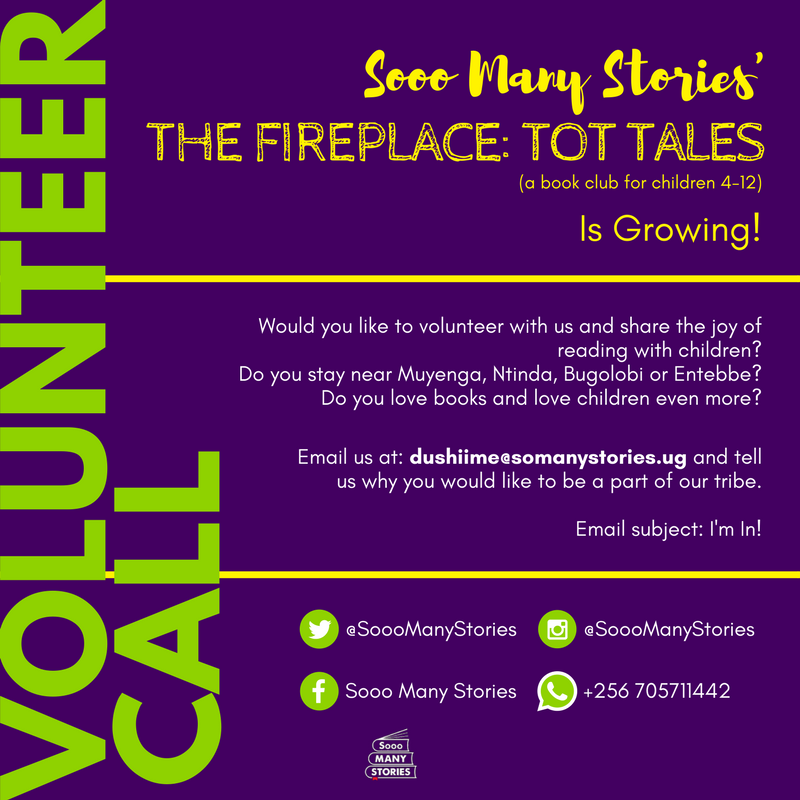 Your tribe is calling! Will you answer?