Where were  you on February 13, Valentine's Day Eve? Well, wherever you were, #Loveromancen'ebigendeerakomuKampala happened. For two hours, 25 of us sat down to a good session of  poetry, based on exactly that: love, romance and things that follow in Kampala. There were copies of poetry books (A Nation in Labour and A Thousand Voices Rising) on sale, delicious chocolate and vanilla Wordy Cakes, roses to pick from and a sweet-smelling aroma of love. Paul Kisakye, owner of Wordy Cakes, rendered us helpless with his poem, Missing You,
Missing You
missing you
like a terminal disease
that one endures
but can't get used to
 (first published here: http://paulkisakye.blogspot.com/2012/05/missing-you.html)
Roshan Karmali, moderator and host of Poetry In Session revealed her forthcoming collection, one we're all looking forward to, a collection which unfolds in two parts, Angels and Demons. Rosh poetically submitted  us into another spiritual experience. For her, the entire reading was such a refreshing experience that she felt she was with long-lost friends at a brunch. How's that for poetry!
 "It was an insight into loving and living in Kampala from the sex tape to the heartbreak and everything inbetween and a reflection of Love from multiple angles." -Roshan Karmali
Farida Bagalaaliwo read one of Derek Walcott's famous love poems. Her own interpretation, well portrayed through the melody in the recital brought us into an even deeper surrounding of #loveromancen'bigenderako.
Joel Nevender, blogger and poet, read a parody of 1 Corinthians 13, the love chapter in the Holy Bible. His rendition entitled, 1 Valentine's 13, highlights unrealistic views of love and romance on Valentine's Day. This changed the narrative with symbols of the absurdities of Kampala City, most of which we laud, amongst them, the recent sex-tape scandals. His two other poems were, The Ones That Don't Get Caught and Daisy. The Ones That Don't Get Caught talks about the hypocrisy of society as regards sexual immorality. Daisy talks about a dream girl that will always be a dream, never a reality.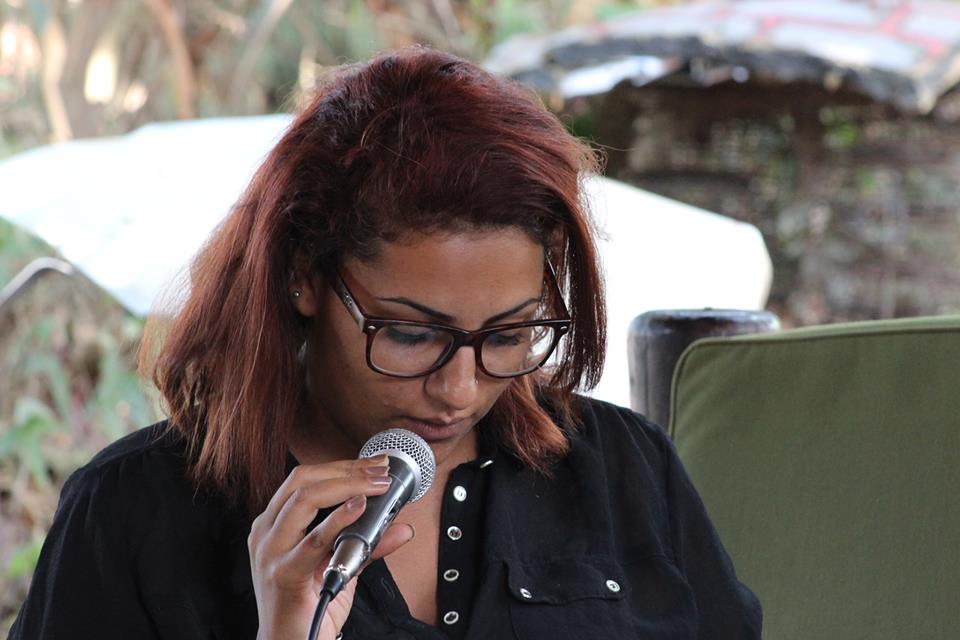 Caesar Obong, a poet from Northern Uganda, led the readers into a mystical and narrative view of lust and erotica, including the landscapes of love and society amongst various social groups. Roxanna Aliba, a love poet, read from her forthcoming collection which will be released mid this year. Hers is one we should definitely aspire towards.
Half-way the reading we held a mini-launch of Harriet Anena's A Nation In Labour, a selection of poetry about the irrationality of governance in Kampala, as well as unimaginable pictures of sex at an entirely new scale. Her concise messages remain imprinted and it was a pleasure to have her. Harriet's book inspired another member to write her own collection. Her poems, Hemline Cop, V-Day and We Are On Heat. Hemline Cop is an excellent version of the hypocrisy of the state of governance in Uganda.
"The event was a great start in the right poetic direction and I look forward to seeing similar events organised for not just Valentine's Day but other key days on the Calendar." – Harriet Anena
Christina Ssempebwa is a poet whose truths and convictions lie in the verse. Quite new to the poetry scene, she proved herself wrong by calling herself a non-poet. The rhythm and message were everything poetic.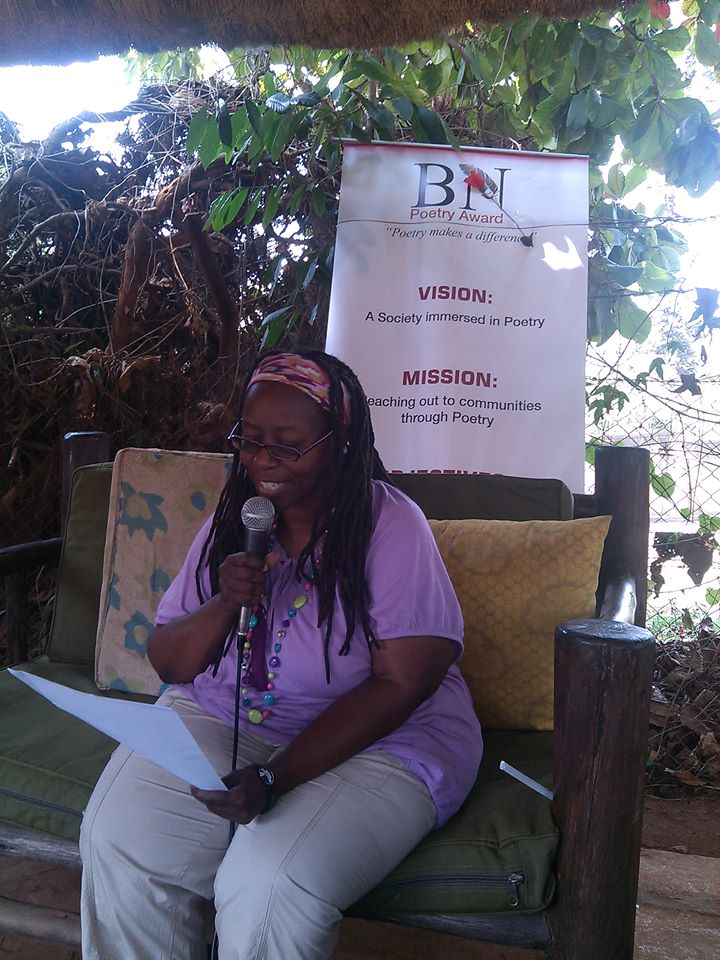 "I was able to meet people of like and different minds and be inspired by their words and to hear truth spoken in new beautiful ways. Amazing. The time of the meeting was great. No hurry, no hassle." -Edith Nakku
What is love and romance without music? Bosco Young Nomad, a regular at Poetry In session, got out his guitar and sang an all time favourite, How does it feel to be the one that I love? It's a soft and deep masterpiece, whose lyrics tug at a listener's heart-strings.
Susanne Aniku, jazz musician and singer brought down the house with two songs. One was written by famous composer George Gershwin in the late 1920s, entitled The Man I Love. It is about a woman longing and dreaming about the man she loves. The second, Susanne's own song, called Thank You, is a song of gratitude to someone that rescued her when she was down. Both songs will appear in her forthcoming jazz album. Her own poem, Your Eyes also reflects her own ability to be soul deep and unapologetically in touch with her emotions.
Heritage Ddamba, a spoken word performer, emotionally took us on a roller-coaster of  a love target in a man's life. Beverley Nambozo, BN Poetry Foundation founder, ended the day with her poem, Dear Doctor. The poem is about the unsafe spaces of love in Pentecostal churches, of a strong Christian woman, affected by HIV by her god-fearing husband, and having to show gratitude for all he's done for her.
Here are some videos from the event by Moses Serugo:
(Submissions to the 2015 BN Poetry Award are open till May 15. Follow the guidelines on: www.bnpoetryaward.co.ug. This story was submitted by participants at the #Loveromancen'ebigendeerakomuKampala event. Thank you!-Nyana)