Beverley Nambozo is one of Uganda's poetry pioneers. She is the founder of the Babishai Niwe (BN) Poetry Foundation, formerly the Beverley Nambozo Poetry Award for Ugandan Women which began in 2008. Nambozo is also an accomplished writer with short stories, poetry and articles featured in Drumvoices Review, Femrite, Kwani?, Enkare Review, Copperfield Review, among others and a renowned performer and public speaker. She currently teaches at a Kampala based international school with a Cambridge based curriculum, heading the Model United Nations programme. This year the Babishai Niwe Poetry Foundation celebrated 10 years of existence. We sat down to discuss Beverley's journey, the African Poetry Story and Babishai Niwe's place in it.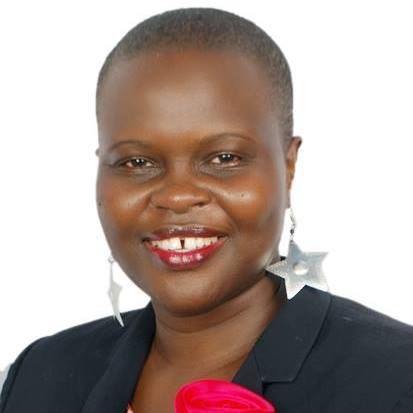 What drew you to poetry initially?
I enjoy creation. I enjoy sound and interplay, the logic and the twists and turns in words. I've enjoyed that from when I was a child. I enjoyed riddles and filling in gaps to make complete English sentences. I enjoyed tenses and stories and reading. Poetry for me was the epitome and magic of all of that; what sound and rhythm and words could do.
Poetry also proved to be a very effective way to send a message! One of my classmates in Gayaza high school actually cried because I was writing about her. I called her out, saying she was snobbish and envious and couldn't take competition, and she cried! I acted like I didn't know what was going on, but in my head I said, 'Yes! One round to Bev.'
I'm also not afraid of being alone to create and poetry for me inspires that sense of solitude and creation.
Who would you say are your biggest literary influences?
This question is a hard one, Esther! I hope there's another interview so I can mention anyone I forget. It changes depending on the landscape I'm in. But I would have to say  the writers I'm reading. There's an anthology called Bittersweet: Contemporary Black Women's Poetry; Jackie Kay, Alice Walker, Gwendolyn Brooks, Maya Angelou, the works. I bought it 12 years ago and I was recently drawn to it again. Probably because it's a kind of feminism journey I'm taking again or reclaiming for myself. So I suppose right now I'm in that space where I'm ingesting it again.
But there are also many Ugandan poets that inspire me! Don't ask me to name, because I know I will probably miss one , but it goes without saying that Ugandan female poets are on fire. They are exploding. They are such great tourists of verse and are claiming spaces that they never were and saying important things through their performance, their work and their publishing. I celebrate that.
Poetry, especially when it comes to publishing, marketing and selling, is thought to be one of the most difficult areas of literature. Why do you think that is?
It's because of what you've just said, because it was a more difficult space, a hardly publicised or recognised form of literature, especially for women. That's where Babishai Niwe started and then grew into this African space for poetry, alongside other wonderful spaces for poetry in Uganda. National Theater for example has a poetry performance almost all the time. Of course there are still challenges, we're always having conversation about them. 
Why do we continue doing it? Because it's a drug. It's a drug and we're overdosed. You know, withdrawal symptoms are harder to deal with than overdosing? (laughs) We're all overdosed and we're comfortable with it. With Babishai, we have also learned to use poetry in many other forms. We train children and we have poetry in nature; poetry at Mt Rwenzori or Mabira Forest or Lake Bunyonyi. We've managed to learn to use it and manipulate it so it fits within various places. It doesn't mean it's less difficult, but it does mean that it's enjoyable now in many other forms. When we were in Kabale this year we were at Grace Villa, which is managed by Ruth Bahika and the children welcomed us with poetry! I was so impressed! They performed in both English and Rukiga and they were dancing. These are our experiences every time we interact with different communities and so even if  it's still difficult, it's so enjoyable. We use that strength to our advantage. We keep going because there is always a new avenue. We haven't explored even a hundredth of what poetry can do; what Ugandan poetry can do in both publishing and performance. And we're so excited because there's so much that we could be doing with it.
The Babishai Niwe Poetry Award is the first award of its kind in Uganda and the first by Africans for Africans. What sparked this idea?
Well, it started as the Beverley Nambozo award, a Ugandan award for women. And then in about five years it grew from that. Our last winner from that was Rashida Namulondo, and she's so dear to us because she just keeps growing and growing, and she always mentions Babishai as one of her first awards. The other month she was part of a play with Joshua Mmali at National Theatre and it was so wonderful to see her there!  
So when you see people developing in different ways, it's wonderful to know that you were a part of their journey from the beginning.
Why did we start? Because there were needs that had to be met and gaps that needed to be filled. There are gaps in publishing for example. We are now going to publish a poetry collection for one of our winners, but there are so many anthologies that need to be published. We have so much to do! We're actually going to digitise our anthologies because there are so many people who want books. We're always called by bookshops saying they've run out of print, so we've decided to digitise them, reach the ends of the earth and then we'll see what to do from there.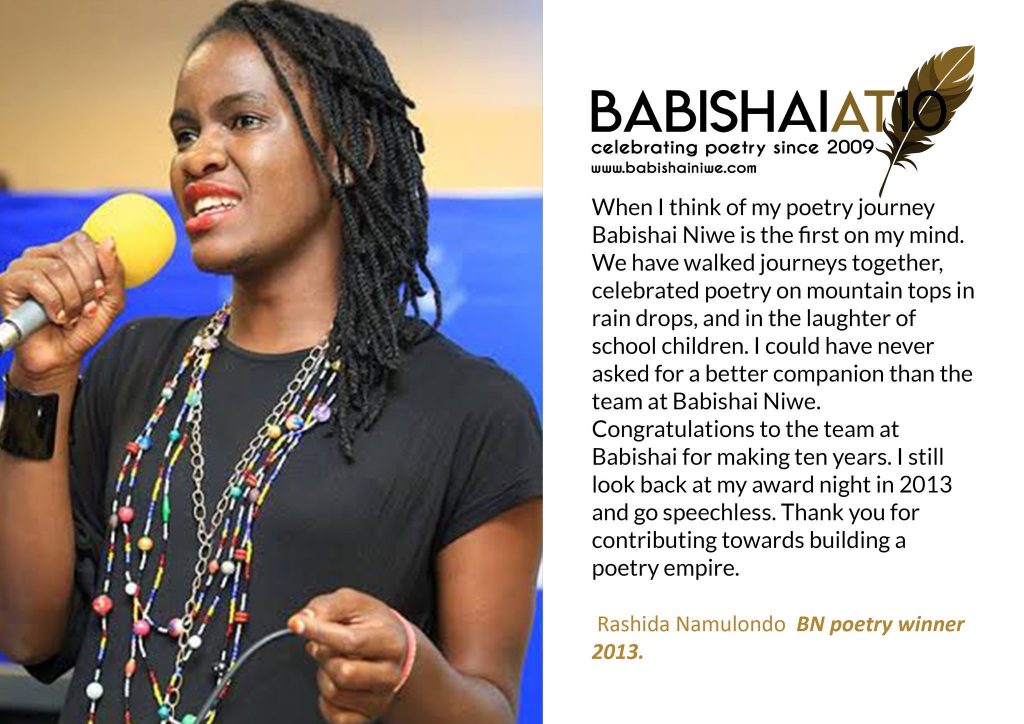 The Babishai Niwe Poetry Foundation has been in existence for 10 years now. Has the reception of poetry shifted here in Uganda?
Absolutely! There was a time when on your calendar there would be one poetry event to attend in six months. Now you have to say no to some of them because you can't attend all! And that's growth. It's wonderful that our calendars are so full of poetry events to attend.
Part of the growth is that people are publishing and buying more poetry.  We have shows where people pay Shs50,000 and buy the book! That's growth.
It's growth because Babishai interacts with young poets every other day: please, can you help? I want to record my poetry. I'm a bilingual poet who comes from the Congo or Ethiopia or Malawi or Tanzania. And for me, that's growth! More people want to be poets. I just wish there were more places where their answers could be met. We're trying. We're doing a lot of training for these people, so are other spaces around the continent, but we don't have the answers or the provision for everyone's needs. But I'm glad that they're questions to be answered and more people are proud to be poets and bold enough to ask questions. Who knows what will happen in five years' time?
Also, the intellectual interaction has grown. I learn so much about poetry from seeing and talking to people on Facebook, on the phone, on WhatsApp forums. The intellectual growth of the discussions is magnificent! It really blows me away. This is an empire on its own. This growth is not from Babishai Niwe alone. We interact with different poetry people and spaces every day. We learn from each other and sharpen each other's minds. so many ideas, so much collaboration. It's great.
How about poetry as a career: are people able to see poetry as a valid source of income and fulfilment?
I would say most certainly. As a poet, I am called by organisations to talk about conflict resolution and creative expression. This week alone, I have trained scientists on creative presentations and storytelling. They sought me out because I am a poet and because through poetry, I have grown and established different things. After speaking at a Rotary Meeting in Kisugu recently, they asked me questions afterward: what else are you doing? Can you train children? I am currently teaching at an international school, handling the Model UN programme and the reason they chose me was my CV is full of poetry.  So you can absolutely create a career out of poetry. I have. People are.
What I would propose is you get a business advisor to help with a plan at the beginning, so you, you manage the art and the work and someone else manages your business.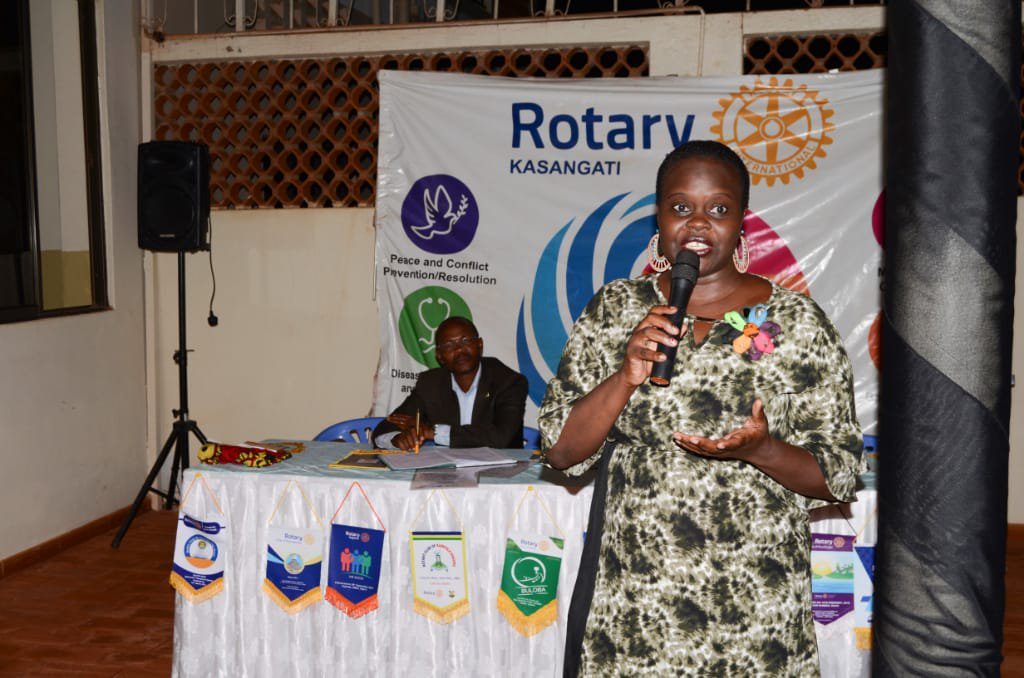 Are there ways, as a society, that we can contribute to the poetry scene here in Uganda?
Give us green spaces! There's so much you could do in a green space. Nature and art are synonymous with creativity. It's just a given. Other countries have so many parks where you just wander and wonder and we need more of that. Spaces where poets can just get drunk in nature and create. So give us the green spaces, nicely cut lawns and trimmed forests. Practice reforestation and let us be wild in that natural habitation. That would change a lot.
We can start encouraging children to visit these spaces and practice creative expression.
There has been a rise in the popularity of African authors overseas, with novels and short stories. Do you think the African poetry story is being told adequately?
Not yet. African poets do not have adequate recognition yet. The main poetry space is in Nebraska, African Poetry Book Fund (APBF) and we collaborate a lot because they haven't found another annual poetry competition in Africa that's consistent. But we don't have an association. So the communication and circulation will remain within the small circle of Babishai in Kampala and APBF in Nebraska. And yet potentially there could be so much more! I've been to the Ake festival, to StoryMoja Festival and you can not even compare the time and resources given to those given to solely poetry festivals. 
Besides an association do you think there is anything we can do to better tell the African poetry story?
Just have outlets for poetry only. We have some great spaces, Brittle Paper for example is amazing, they talk about our winners before we've even told the public. (laughs) That's how good they are. We need to use the strength that Brittle Paper has and create something only for poetry. We need to do more and not be afraid of things like target audience. We need a space where someone that is looking for all things African Poetry can be pointed to.
… In closing?
Let's embrace the wave of poetry because it's continuing to cause great tides and storms and typhoons. Whenever there's a chance to be a part of a spoken word space, to buy a book, to participate in a performance, please do so. Not just because it's Ugandan poetry, but because every time a Ugandan poet gets up to speak, more times than not, they're saying something important about our times, about the ways in which we need to change, about each other, a reflection of who we are. It doesn't matter whether they're children or 90-year-old poets. Listen, give them audience.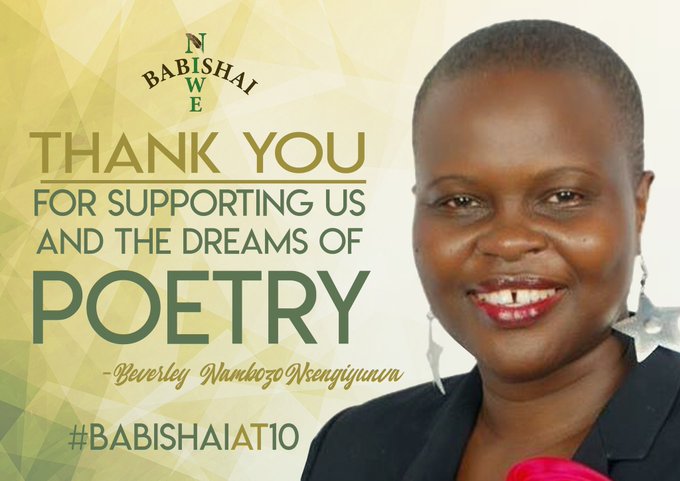 Thank you Babishai Niwe Poetry Foundation and Beverley Nambozo for the very important work you are doing in the African poetry space. Here is to 10 more years! 🥂