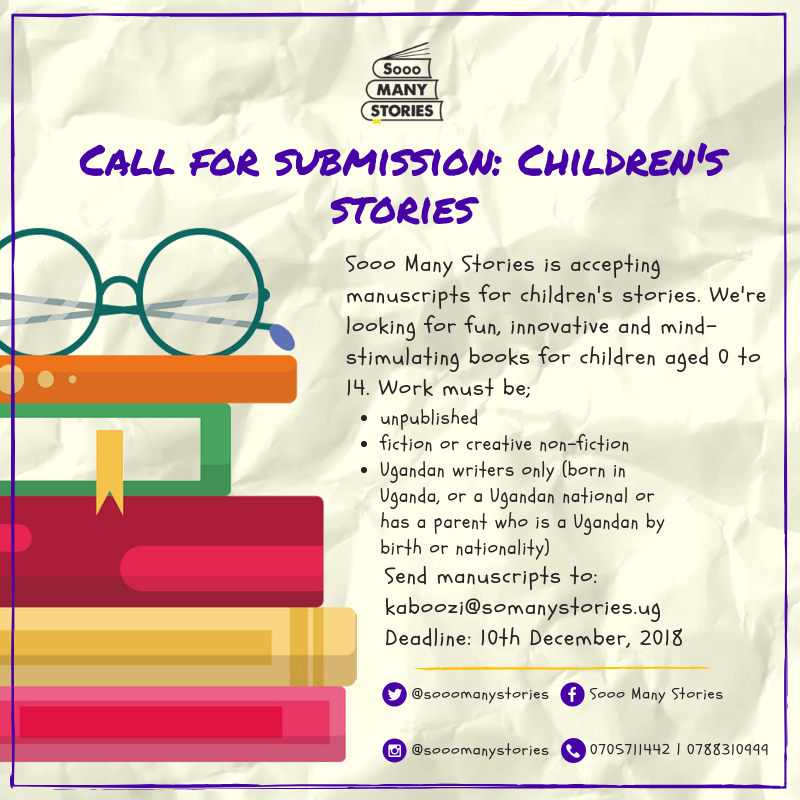 Dear writer,
Welcome to Sooo Many Stories, an independent Ugandan publishing house that publishes Ugandan writers. 
We are currently accepting submissions in the form of manuscripts for children's literature, suitable for ages zero to 14 years.
All submissions should be sent to kaboozi@somanystories.ug
In the subject line, please indicate which age group your manuscript falls under. Include a brief bio of the work in the body of the email.
We ask that you do not send us more than one submission at a time, and that you wait to hear back about each pending submission before sending another. If you have not heard from us after 30 days, please send a query letter to kaboozi@somanystories.ug
The deadline for manuscript submissions is 10th December 2018 at 11:59PM (EAT). Manuscripts received after this time will not be considered.
Eligibility
All submissions must be previously unpublished.

 

Submissions should be made by authors themselves.
Submissions will only be received from Ugandan authors.
FAQ
When should I apply?
From 10th October, 2018 to 10th December 2018.
Can I submit unpublished or self-published work?
All submissions must be previously unpublished.
What if my story is published online?
Consideration for such manuscripts will be given only if they are no longer available online at the time of submission.
What if my story isn't in English?
All submissions must be in English save for legends, myths, riddles and folktales that can be submitted in our local languages (Uganda) with their translations. 
Does my story have to be fictional?
No. Works of fiction and creative non-fiction are acceptable.
How long should my story be?
Picture books: 1,000 words 
Easy readers for ages five to nine: 1,500-2,500 words 
Chapter books: short novels (ages seven to 10)10,000-12,000 words 
                         middle grade novels (ages 8 to 12) 20,000-25,000 words 
                         young adult novels (ages twelve and up) 35,000 to 45,000 words.
Who is an "Uganda author"?
Anybody born in Uganda, or is a Ugandan national or has a parent who is a Ugandan by birth or nationality.
Can I submit more than one manuscript?
Yes, but not before you receive feedback on the manuscript handed in previously.