Continuing our #MoreThanABlog series is the duo behind Too Early For Birds, a play based on different Kenyan history stories. This is the second part of a two-part feature, the first featuring Owaahh, the mind behind the blog that inspired the play.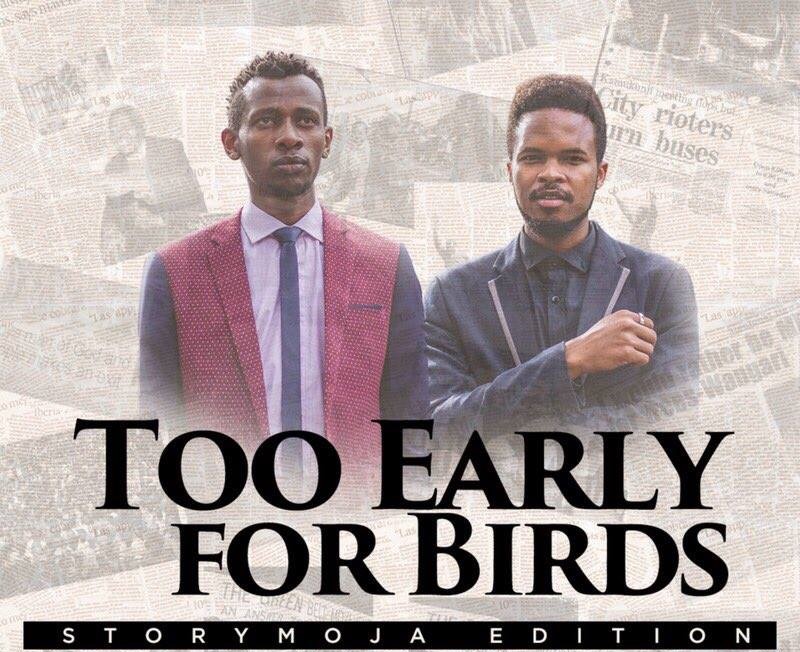 While we were in Nairobi a few weeks ago for the StoryMoja Festival, we watched a play called Too Early For Birds. To say we were blown away is an understatement. Stellar cast, amazing production, excellent soundtrack, hilarious dialougue, which given the kind of play it was, was extremely innovative. Generally. 5 stars and then some.
Too Early For Birds is a play based off Owaahh.com, a popular history blog in Kenya. The play, the brain child of Owaahh, the blogger and Ngartia and Abu Sense, the playwrights, basically picks Kenyan history stories on  the blog and brings them to life on stage. The StoryMoja edition we watched was their third edition and a two-hour merging of the first two performances. It included the stories of Paul Ngei, Otenyo Nyamaterere, Timothy Njoya and the infamous torture chambers at Nyayo House.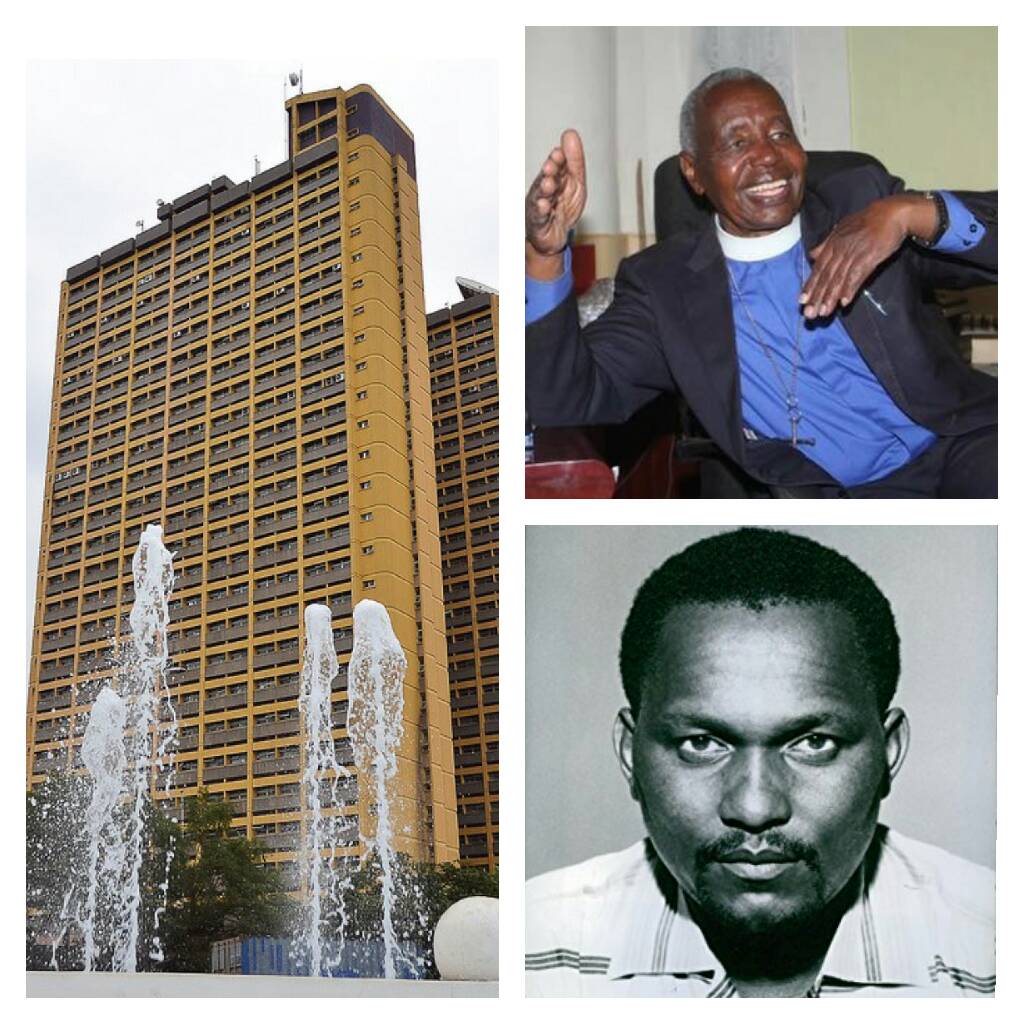 After reading this, you can imagine my excitement at the opportunity to sit down with some of the cast and delve into the idea behind the play and it's plans for the future. I was able to chat with Abu Sense, Ngartia and Laura Ekumbo, all part of the Too Early For Birds cast. Abu and Ngartia are also the creators and script writers behind the production.
Ngartia and Abu show up first after a hearty meal and we dive right in. The two have known each other for a while, "60 years,"Abu says cheekily. Westlands, Nairobi is where they met, around 2011, "The time when everyone felt they needed to be holding a mic to be heard," says Abu. They both dabbled in performance in primary and secondary school but did not begin to take it seriously until after secondary school.
Our conversation at this point is interrupted. A worthy interruption, I must say. Dr. Reverend Timothy Njoya, one of the main characters in the Too Early For Birds StoryMoja edition, and an essential part of Kenya's political activism history, walks into the Artist's Lounge where we are conducting the interview. It takes me a second to get with the programme as I can only identify Rev. Njoya from the play I watched two days ago. By the time I realise who he is, my interviewees are across the room excitedly shaking hands. It is such a beautiful thing to witness. They talk for a while and I learn that Ngartia is actually blocked by Rev. Njoya (an avid tweep incidentally! He's just released a book entitled Divinity of the Clitoris. Need I say more? Go follow Timothy Njoya.) Rev. Njoya is surprised to learn about the blocking it seems and asks if perhaps he blocked Ngartia for posting too many 'moving pictures' (GIF's) which he finds incredibly irrelevant. Everything is sorted though and after the two take photos with the icon, Ngartia is unblocked. They escort him out and return after a few minutes with Laura Ekumbo in tow. They are on a high! "This must be what it feels like to meet Jay-Z," Ngartia remarks. "Ebu look at my hands," Abu's says in reference to his quaking hands. They have met an idol, and I am so glad I am here to witness it.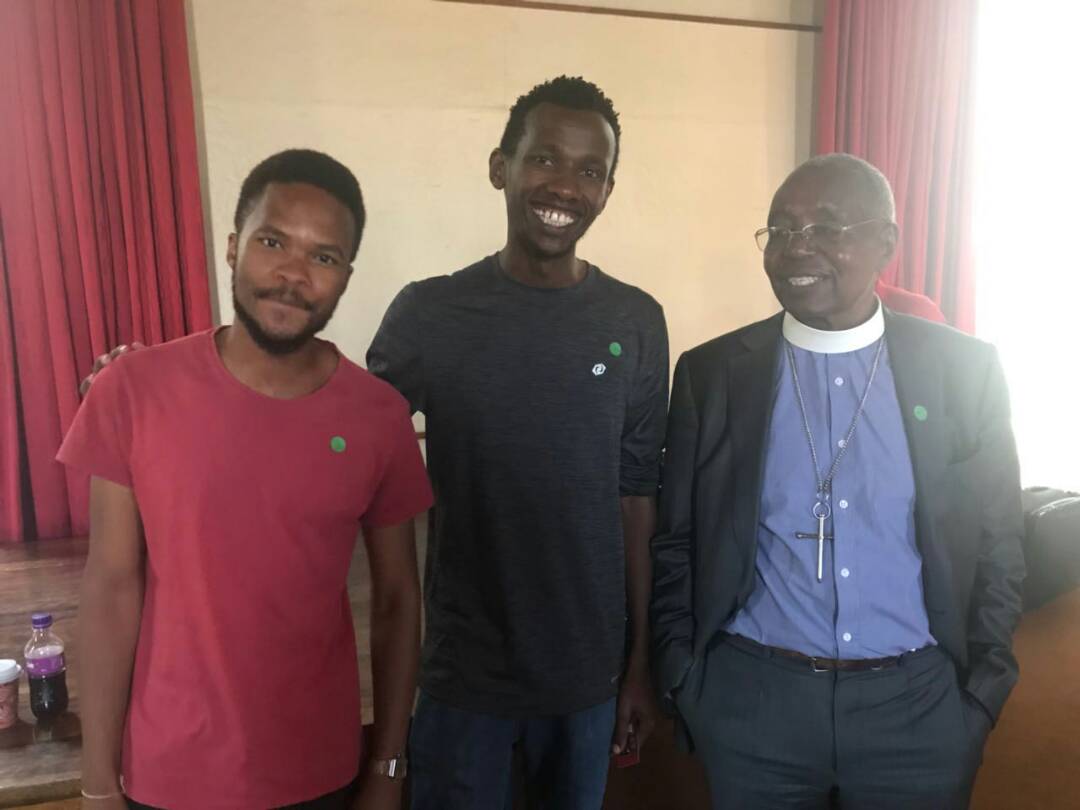 As they settle down once again, we begin to speak a bit about the importance of these stories in the millennial generation especially given the current political climate in both Uganda and Kenya. Laura talks about having grown up in a bubble, like a lot of us, and knowing little to nothing about Kenya and it's history. "The first time I read the script I asked how much of it was actually fact. It all just seemed farfetched! This type of work is important because it cancels out all the white-focused history we learned in school. We begin to learn the truth about where we're from and what our heritage is," she says.
Ngartia highlights the fact that a lot of these stories are about people who didn't shut up, and have afforded us the better, albeit imperfect, countries we live in today. People like Njoya, Wangari Mathai and others that were called mad, are still called mad, are who we owe a lot of the greatness of these nations to. He adds, "I think there is a shortage of those kinds of people. People that will stand up against corruption and impunity. And by telling these stories to people of our generation whose heroes growing up were Superman and Cinderella, we bring the idea of heroes closer to home. We give them real life people to look up to and show them that its possible for us to be those people."
Abu talks about a point of reference. The history beyond politics, beyond independence, beyond 'this is the day we got colonised'. "Too Early For Birds is inspired by Owaahh's blog, but it took Ngartia's reminding me constantly for three months to get me to actually read his blog. This is the blog that inspired all this but I couldn't sit down to read it! And it highlighted our bad reading culture. So we thought, what other ways can we get the millennials interested in history? That's one of the ways the idea for the play came up. We made it factual as well as relevant in order to appeal to this generation." The pop culture references scattered throughout the performance are evidence of this. The way they dance, the music they use – guys we had Rev. Njoya perform Unbwogable. And there was Adele's Hello somewhere in that mix – appeals across the board.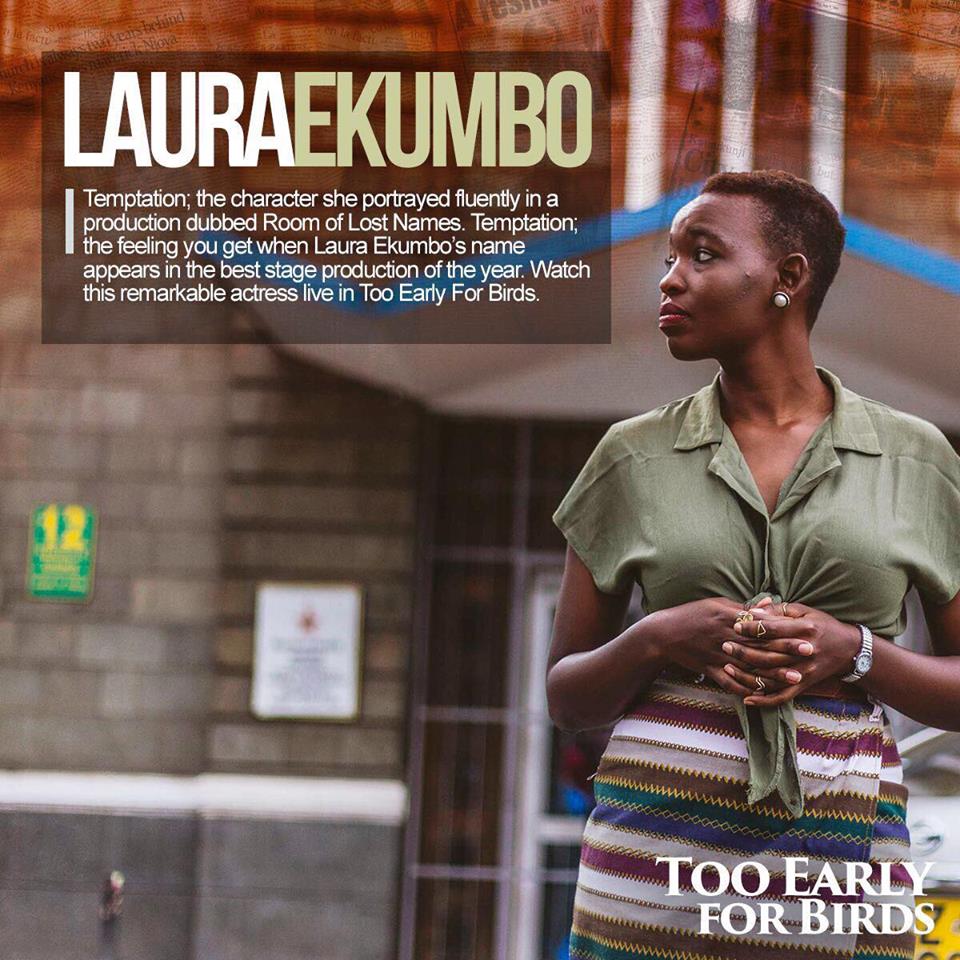 Too Early For Birds isn't the first time the three have performed together. They collaborated with Jalada to perform one of Ngugu Wa Thiong'o's fables; The Upright Revolution: Or Why Humans Walk Upright that has been translated into over 30 languages. They performed this in seven different languages and won the Best Play in a Local Language at the Saanaa Theatre Awards 2016. Incidentally their other performance together featured here in Uganda and was entitled We Won't Forget. It highlighted recent acts of terrorism in Kenya and their effects. They first performed it in Nairobi at the Kenya Cultural Center and then again at the Kampala International Theatre Festival in 2016. As a whole, they seem to lean towards political performances. Individually however, they do 'those lovey dovey things' as Abu puts it. "Each of us writes from what we feel. I lean mostly towards nostalgia. I like remembering the good times. I've also seen Ngartia perform more romantic work."
Laura describes the first time she worked with Ngartia. "It was a spoken word show called Losing Grip," she smiles at Ngartia as his cue to step in.
"We did a 90 minutes performance, 10 pieces of spoken word with music interweaving them. But all 10 were chapters in one story. It was a story about an extrajudicial killing. We explored a character led into a life of crime by circumstance and within it there is love, a baby at some point…a lot. So I think that was the one complete project that I've done so far that's not overtly political. At the end of the day though we are all-round artists, we tell a lot of stories." They reminisce a little on how a lot of their poetry writing started from heartbreaks. Turns out the first time Ngartia saw Abu perform it was a piece describing a girl's clothes using traffic lights. (Here's the link, thank me later). He wrote the piece out of jealousy, when his Form Three girl began writing letters to this Form Four guy. "Did he have an Oxford set?" Ngartia quips. Abu doesn't remember but he does remember listening to guys like K'naan, Lupe Fiasco, Common and Kanye West and finally penning the piece. Sadly she never got to hear it. Oh well, she's probably somewhere regretting.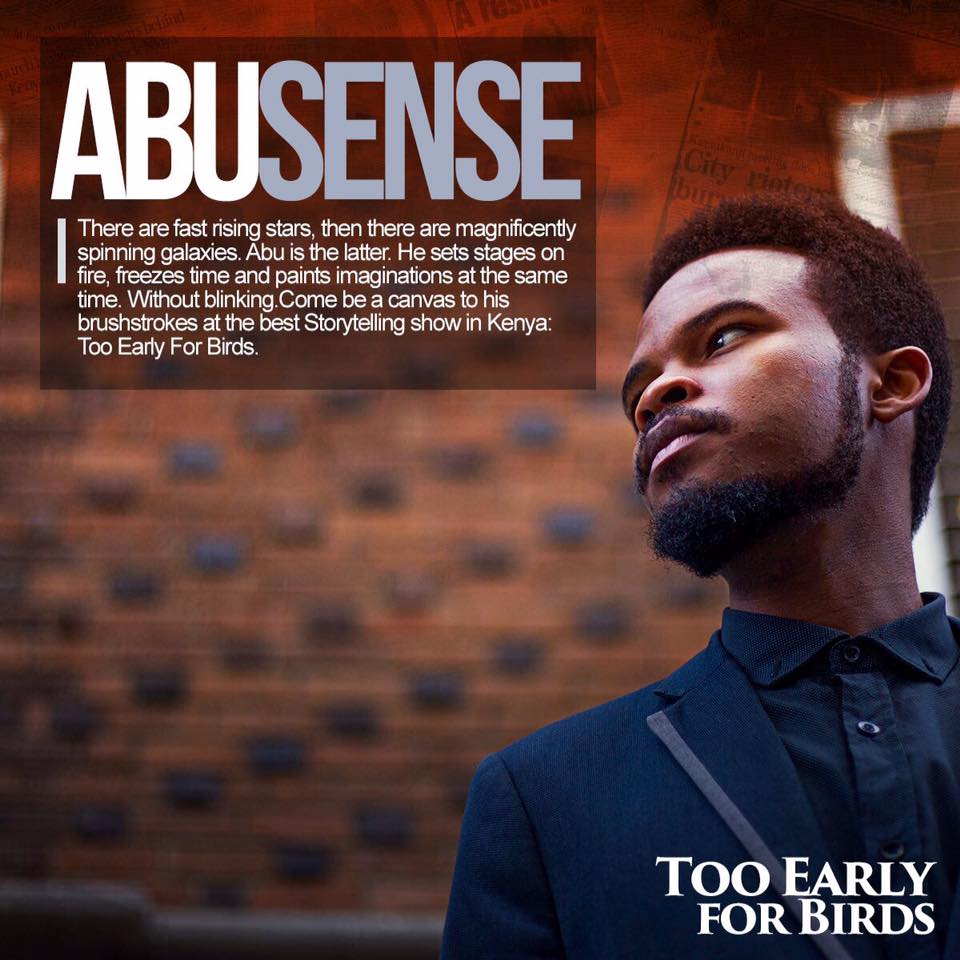 In terms of what inspired these three to take on Too Early For Birds, Laura is quick to call the boys out, "I was threatened," she says without hesitation. "I was just told COME and I did." Believe me, after watching her perform? You will understand completely why that was a necessary decision. Ngartia says the idea is one that had marinated for a while. "Owaahh and I had been having discussions about getting the stories off his blog and forming something else. It wasn't just me actually, there's been filmmakers interested in the stories. Abu has been talking to him about starting a podcast for a while." Both Abu and Ngartia were working at the same advertising company (these two as 9 – 5 corporates? I'd never have imagined it) and after enduring the anxiety that comes with a marketing job for a while, they began to discuss an 'exit strategy' over lunch, over breaks, even on their way to work. Part of this strategy involved a spoken word idea and a film idea. As they continued to discuss, the ideas just married and with Owaahh's blog as a basis, the birthing of Too Early For Birds began. "We just got obsessed with it," Ngartia says. "The moment we got the idea, we started calling people and threatening others (laughs as he side-eyes Laura). We got the date for the show, we wrote, we skipped paying rent and booked the space. Abu quit and I quit a week after him. We did the show on a Wednesday – May 17th and the Friday just before was my last day at work."
They got this idea they were so crazy about and they risked everything for it. They are both are incredibly relieved its working out, because as Laura points out they would probably be homeless if it wasn't. Abu in fact, has just announced to his Dad that he quit his job 5 months ago! These two will clearly be Laura's go-to examples of people that have made it outside the corporate circle, should her family question her decision to steer clear of a 9-5. All three are currently full-time performers with Abu and Ngartia the only ones that are full-time Too Early For Birds. And it's an actual full-time job! Because when they are not rehearsing, they are researching and if not that they are writing for the next show. "Yeah, I don't envy their jobs," says Laura. "I just show up and learn lines. So you want me to say what? Okay I'll say it."
"With accents! In five days!", retorts Abu. "She's being modest about it."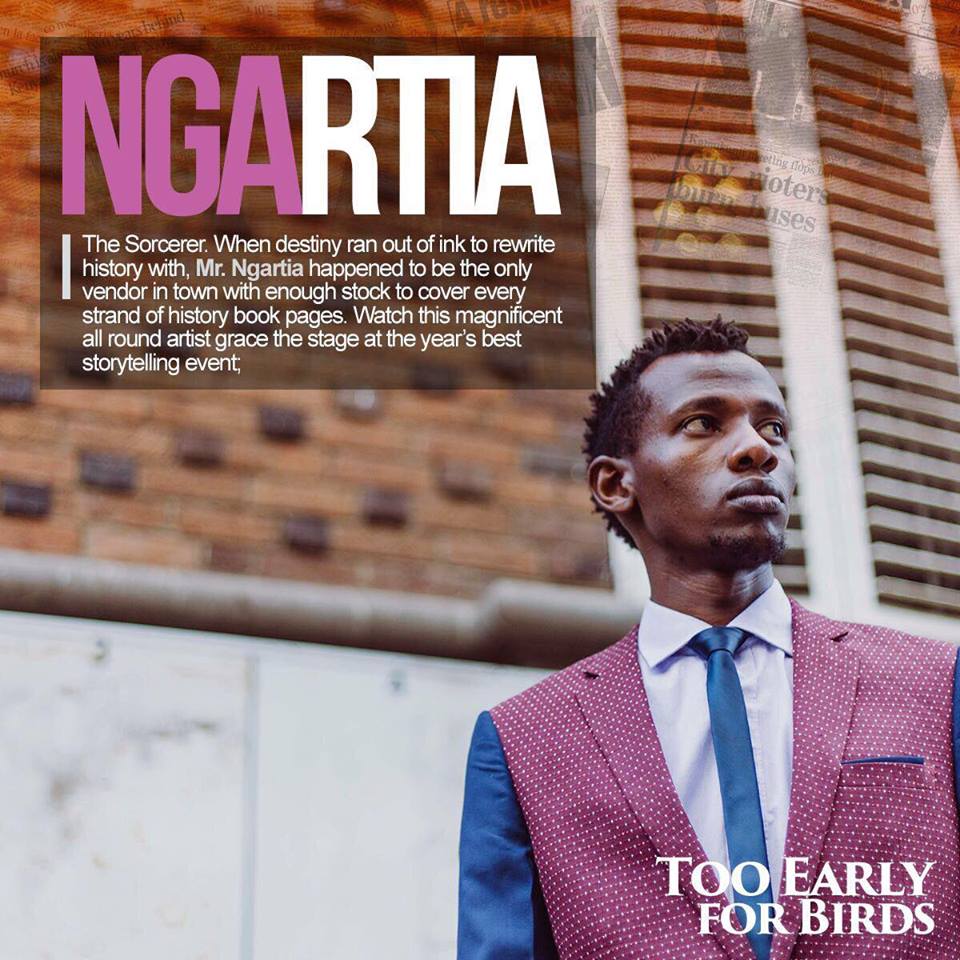 Get this guys. Preparation time for the first show? Two months. The writing, booking of space, researching, editing, casting and rehearsing. All in two months. And it was a first-time sold out show! "The crazy thing we did was booking dates for theatre space before even writing the script," says Abu. "We kind of set ourselves up, so there was no turning back," Ngartia adds.
A big part of preparation obviously is picking the story collections. Given the amount of content on Owaahh's blog, they knew there was no way they were going to tell all the stories at once. So they broke it down and decided that for the first show they would do unknown heroes and for the second more of political heroes. The upcoming show line-ups is privileged information guys. We're in the in circle now though, so watch this space. And be excited! Because they have a plan up till 2018.
"When we started working on the first show, we got overwhelmed," says Ngartia. "We thought we would have three or four stories but we got 16. So we had to cut down and start balancing out. Do we do it according to gender? To years? To ethnic groups? In the long run it was about the most interesting stories, so those are the ones we picked all while trying to maintain a political balance." Abu adds, "It's actually not the most interesting because all of them are, it's just the ones that are most sellable, especially for the first show."
I ask which performed story is their favourite so far and Ngartia turns and says "Do you really need to ask after what happened?!" It's hands down Njoya! Abu's it turns out is Wangari Mathai, even though so far they haven't done her whole story. "I guess you love a story when you're researching about it, and Ngartia dug so much into the Timothy Njoya story. I did the same for Wangari Mathai and that's what made me fall in love with her work and everything that she stood for." Laura has three favourites. "I really loved the Wangari Mathai story, first because it was beautifully written, and second because I was playing her I had to do so much research about her and I feel in love with her just as Abu did. I also really like the Paul Ngei intermission stories, because they are ridiculous! They are so ridiculous and yet true. The third is the story about Mũthoni Nyanjirũ rescuing Harry Thuku."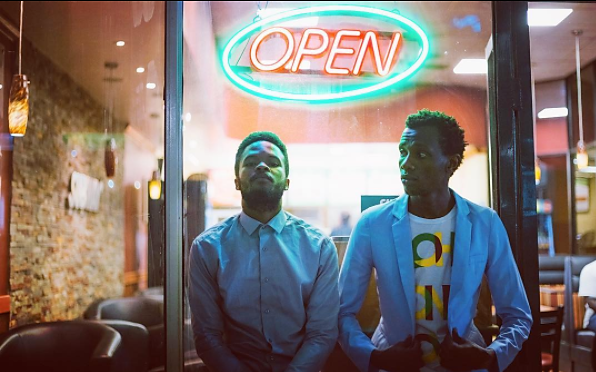 In terms of the feedback, so far people love the show. The sold-out theatres and standing ovations speak for themselves. They have however also received what Abu calls 'constructive criticism'. "We love the fact that people are vocal about criticizing the production. It helps us improve," he says. "For the first show the biggest criticism we got was why aren't there enough stories for women. So we tried to improve that for the second show. The only reason we can't have more of those is because the stories we research on do not really have the role that a woman in her entirety is deserving of. Most of them are supportive roles; the girlfriend, the wife and we don't want to paint women as just that. So we tell stories like Wangari Mathai, Mekatilili Wa Menza, Mũthoni Nyanjirũ, such heroines, who did so much, such that you cannot see a disparity between their efforts and the efforts of the men."
"There's a story on the War of Intermissions, it was called the Chetambe and Lumboka Fort wars. For that they created a female character, from just little snippets of research. So there's room for it, it's just that the female stories weren't as well documented historically." Laura adds.
Ngartia talks about the fact that women have been doing awesome stuff, but the way history has been recorded so far has been very male-centric. One of the biggest stories they've done, Mũthoni Nyanjirũ, they encountered for the first time as a side note on a bigger piece on a male politician called Harry Thuku. So it is their curiosity that led to the uncovering of this gem of a story that a lot of people probably would never know about. "We really want to tell stories about female heroes. We just don't want to tell stories that look forced." The team is always open to suggestions! Continue till the end to see their social media handles so you can tag them in incredible female history stories that they can re-enact.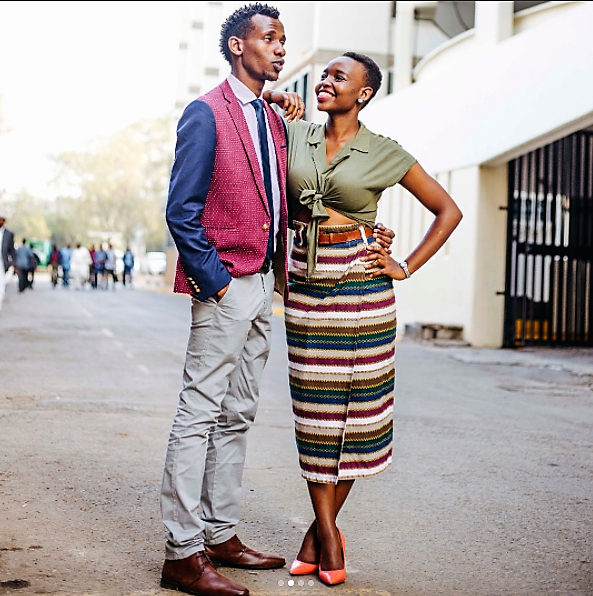 Because Owaahh's blog is filled with stories from not just Kenya, but all over Africa, I am wondering whether the team is thinking of including other African stories in their line-up. Abu points out that there are thousands of Kenyan stories to get through, and perhaps once they are done with those will they explore the idea of branching into other territories. Ngartia adds, "Our main focus right now is telling Kenyan stories, for primarily a Kenyan audience because that is necessary. What we hope though is when you come and watch the show, you are inspired to tell your own stories with different artists wherever you are."
In the play, for example, the stories sometimes include a Ugandan character mentioned in passing due to how we were colonised structurally. The Chitambe and Lumboka wars for instance mention Semei Kakungulu as one of the Baganda mercenaries that fought the war. The stories however still remain Kenyan. Abu and Ngartia would love to see the Ugandan side to a story like that one, fleshing out on characters like Semei Kakungulu, a hero or a mercenary? "We cannot tell all the stories," says Ngartia. "We need more people to stand up."
I pitted the blog and the play in a bit of a popularity contest and asked the team which they thought was being more positively received. The blog seemed to take the cup hands down, one of the obvious reasons being, as Ngartia pointed out, it's free and it doesn't have dates, so you can wake up at midnight and read it. "When we began, we tapped into Owaahh's audience. But then Too Early For Birds in itself became quite popular, and now we have people who come for the shows and are surprised that there is a blog behind it. It's become more of a symbiotic relationship. If we are looking at numbers though, we've sold about 1500 -1600 tickets, about 600 being repeat audience members meaning about 1000 authentic audience members. That's like Owaahh's traffic for a day."
The name Too Early For Birds had me thinking. After finding out it was based on the history blog I had some theories on how the name came to be and it turns out I was right, according to Abu. You know how the early bird catches the worm right? Basically, the stories go waaaay back in time; a time that was too early even for the early birds. I know, right? Even I felt quite smart. It's a double entendre though as the title is also a play on Owaahh's old blog title Too Late For Worms. Basically the ancestors were here even before the white man came. So if the ancestors were the bird, and the white man the worm, the birds were here even before the worm came hence the worms being 'too late' so to speak.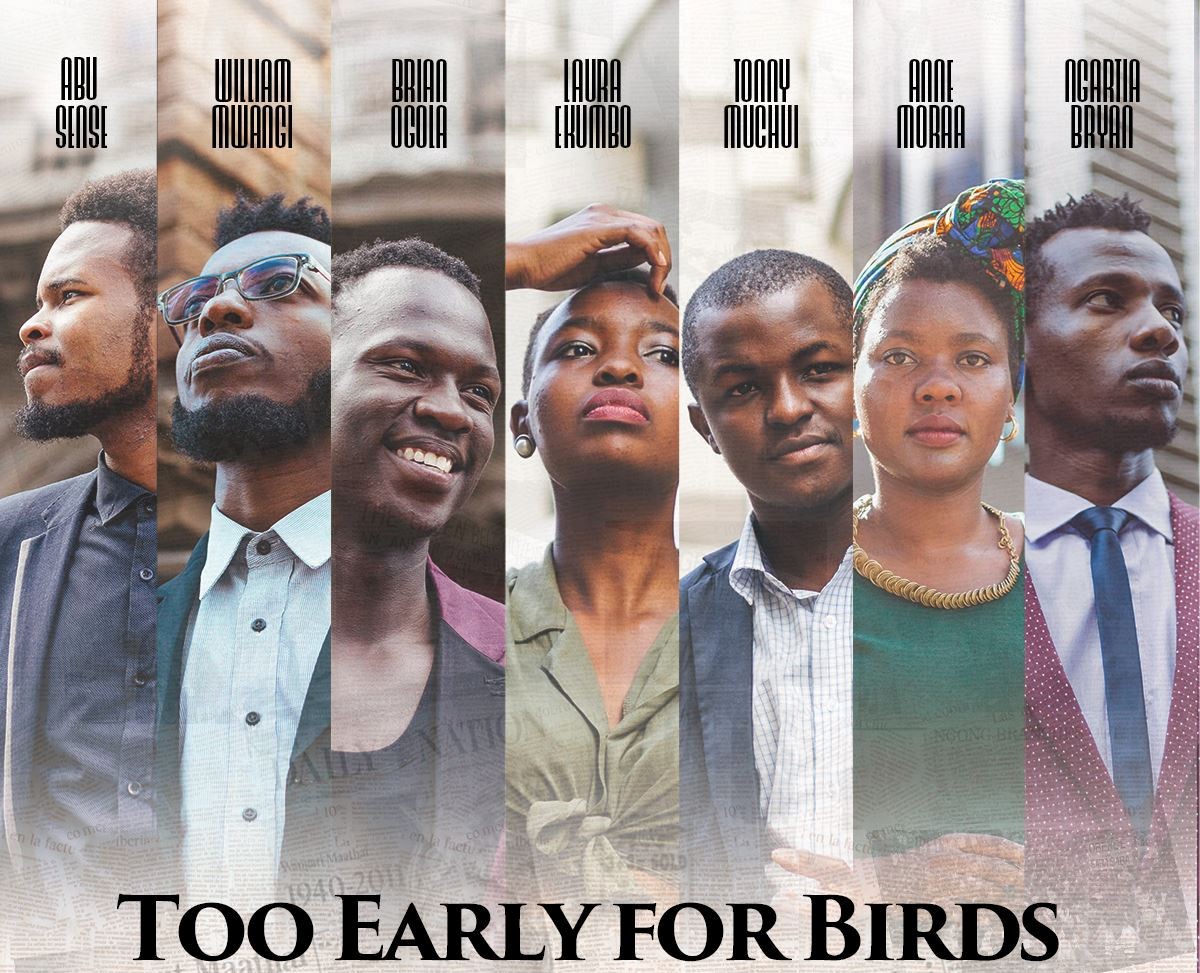 As we wrap up the conversation we speak a little about touring for the team and good news, the rest of the world can get excited! There are plans to take Too Early For Birds to places outside Kenya. No definitive ones yet, but we keep the hope! The team is hoping to be accepted to a few festivals in the upcoming year and will hopefully get to show the world the awesome that is Too Early for Birds. Even with the rest of the world in mind, Abu brings to the forefront the fact that they are not yet done with Kenya, infact they've barely scratched the surface. Next would be to take it outside Nairobi, to places that might actually need it more like Nakuru and Kisumu. "Charity begins at home. So first Nairobi, then expansion to other cities and towns in the country and then take it outside." Ngartia brings out the petty in us all by throwing in London as a possible destination for the play. As a play that cites all that was wrong with the colonisation system and sings the praises of a lot of people that fought it, it would be a big middle finger to the system in general to perform the play and sell out in London.
It was lovely meeting you all in Nairobi! We are hoping to see you again very soon. Continue to shine!
Facebook: Too Early For Birds
Twitter: #TooEarly4Birds
Instagram: Too Early For Birds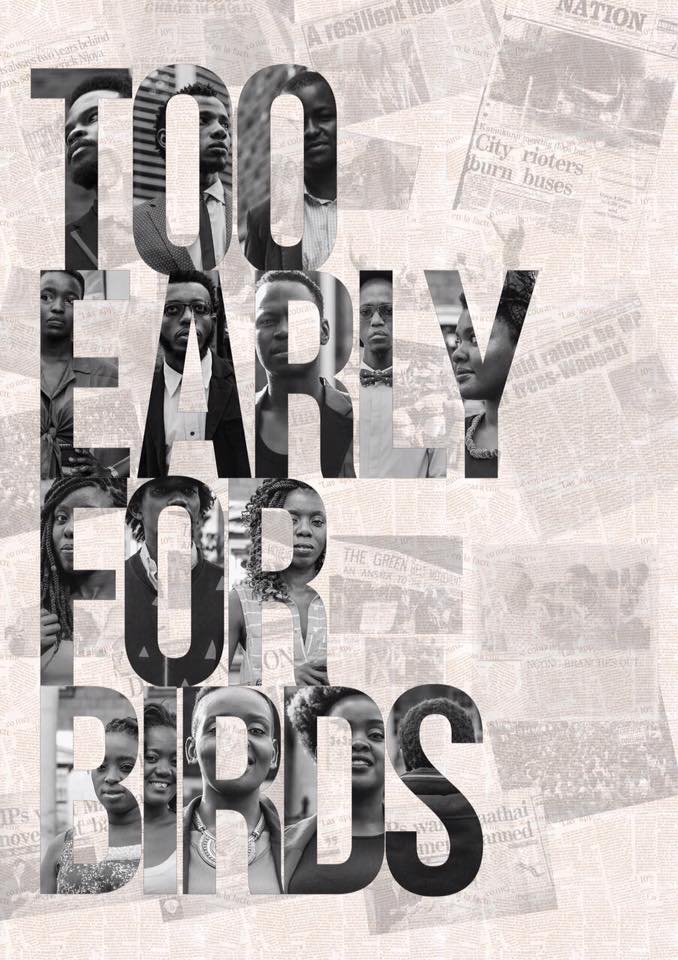 #MoreThanABlog is a series we are running, highlighting all the incredible people in our blogging community that are going the extra mile and doing more than blogging. 'The extra mile' could be in direct line with their blog and that content or within a completly different sector. We are just looking to celebrate all the bloggers doing more and inspire every writer out there to find ways in which they can do more than blog. If you think you fit the bill or know anyone that would, get in touch at esther@somanystories.ug.