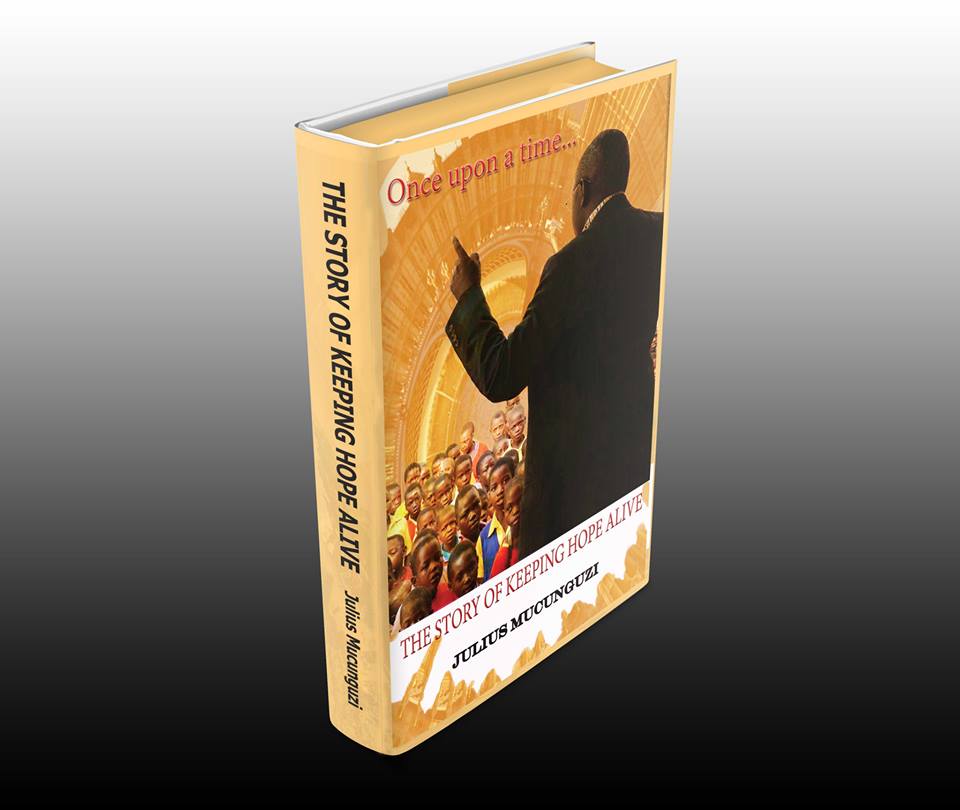 Julius Mucunguzi's book, Once upon a Time: The Story of Keeping Hope Alive is one of those feel-good books that you read to regain hope about your own life. If there is one thing that shines through this book the most, it is the contagious optimism that drives Mucunguzi, no wonder the book is published by Dennis Muhumuza's Optimist Media Ltd. You will remember that Muhumuza writes a weekly column titled The Optimist for The Daily Monitor.
This book, the first title of Muhumuza's publishing imprint is an orgy of optimism. At one point, I am tempted to ask if Mucunguzi is really human for he exudes so many good characteristics and says so many good things that some of us no longer think are possible! I can't be as positive and optimistic as this man is. Blame it on Thomas Hobbes maybe.
It may be that Mucunguzi does not want to talk about the bad things in a book that is meant to inspire us. You can see this from how he mentions violent situations without going into details to point fingers or even mention the names of the bad people involved. If he mentions a name, it is to shine the bearer in good light. We do not know the name of the artisan who was making his windows and marketing them to other buyers for example. Or the badly-behaved roommate of his, in Mitchel Hall who would make sure they (his roommates) did not listen to good music on his radio-set.
I also think that Mucunguzi is actually a private person. He does not for example tell us the yummy details regarding how he courted Allen Mahoro, his wife, especially when we know that she had once rejected him when they were younger! I must admit that these are juicy bits of a story that expose our human vulnerability and I feel cheated when I do not find them. Mucunguzi talks more about his vulnerability and deprivation as a son of a poor man but not more. But we do know that Mucunguzi loved Begin Bridget while in Primary School and he is generous with the details of what happened to this infatuation. Mucunguzi also gives us important descriptions of life in the 1980s, 1990s and 2000s. His accurate historical descriptions are important for historians and students of post-colonial Uganda. He simply gives an apolitical, non-biased perspective to these events through his personal story. He takes us through the Constituent Assembly and Parliamentary electoral processes in which he played a role. He was a campaigner for Jack Sabiiti, and a strategist for David Bahati, both Members of Parliament presently. He also was sceptical that Rt Col Dr Kizza Besigye would beat President Museveni at the polls in 2001, despite covering Besigye's campaigns.
Mucunguzi' story is by no means an ordinary story. He struggled to find school fees for his secondary education, being helped by two White men: Hector Sutherland who catered for his tuition at Lake Bunyonyi SS, Bwama and Peter Gill who paid his fees at Kigezi High School. The Ugandan Government offered him a scholarship to study Mass Communication at Makerere and the Norwegian Government offered him a scholarship to study an MPhil at University of Oslo. While in Oslo, he discovered that the university does not hold an official graduation ceremony because its purpose is not to hold ceremonies! You may think that Mucunguzi got all the help he did on a silver-platter. But you could not be more wrong. Mucunguzi asked for every help he got. He rode on a bicycle to find Mr Sutherland and asked for sponsorship to go through secondary school. He got Mr Gill to pay his high school fees through correspondence after originally meeting him while he studied at Bwama Island, in the middle of Lake Bunyonyi, Africa's second deepest lake. The receptionist at the Norwegian embassy Kampala told him that he did not qualify for the scholarship that eventually took him to Oslo but Mucunguzi insisted and applied. And he also got a soft loan from an embassy official to pay for his ticket to Oslo. His mantra is that you lose nothing by asking. If you do not ask, the default answer is no.
Meeting Mucunguzi in a London restaurant, as I did in 2012 when I paid him a visit, one does not see the mother of stories behind his rise to prominence to the near-top of his journalism and Public Relations careers. Mucunguzi is generous with complements, whether it is in his book or in person. When I met him in 2012, I was promoting my own chapbook, Fables out of Nyanja, and trust Mucunguzi to tell me that my humble stories inspired him to write his own, when he was travelling to Uganda to launch his autobiography. He has mastered the art of diplomacy and is very careful not to rub anyone the wrong way. Reading his book, one is sure no one's feathers are ruffled the wrong way. He has an eye for the good things in people and assures them of this.
Occasionally, you will meet some typos that the editor and proof-reader should have smoked out but they are not too many to distract you from the story.
Mucunguzi has worked with The Monitor, The New Vision, World Vision, Makerere University, The Commonwealth Secretariat and he recently started work as a Communications Advisor at The Office of Prime Minister. If his mission with this book was to inspire, there is no doubt he does it very well although I can't help but accuse Mucunguzi of being too nice, too generous, too positive, too optimistic about life. But maybe this is the real secret of life. Maybe this is the special ingredient of his genius. Always keeping hope alive.
Bwesigye bwa Mwesigire is a writer and law graduate of Makerere and Central European Universities. He is a British Council Global Change-maker, a Harambe Entrepreneur Alliance Associate, a Youth Advisor to Washington, a Generation Change Uganda Chapter member and a Do School Theater Fellow. His work has appeared in literary and academic publications, including the Uganda Modern Literary Digest, Short Story Day Africa, Saraba magazine, New Black Magazine, AFLA Quarterly among others.
Bwesigye is a co-founder of Centre for African Cultural Excellence (CACE), the organisation that brings you The Writivism Festival.