You can download Our 2017 story here SoooManyStories: Our 2017 story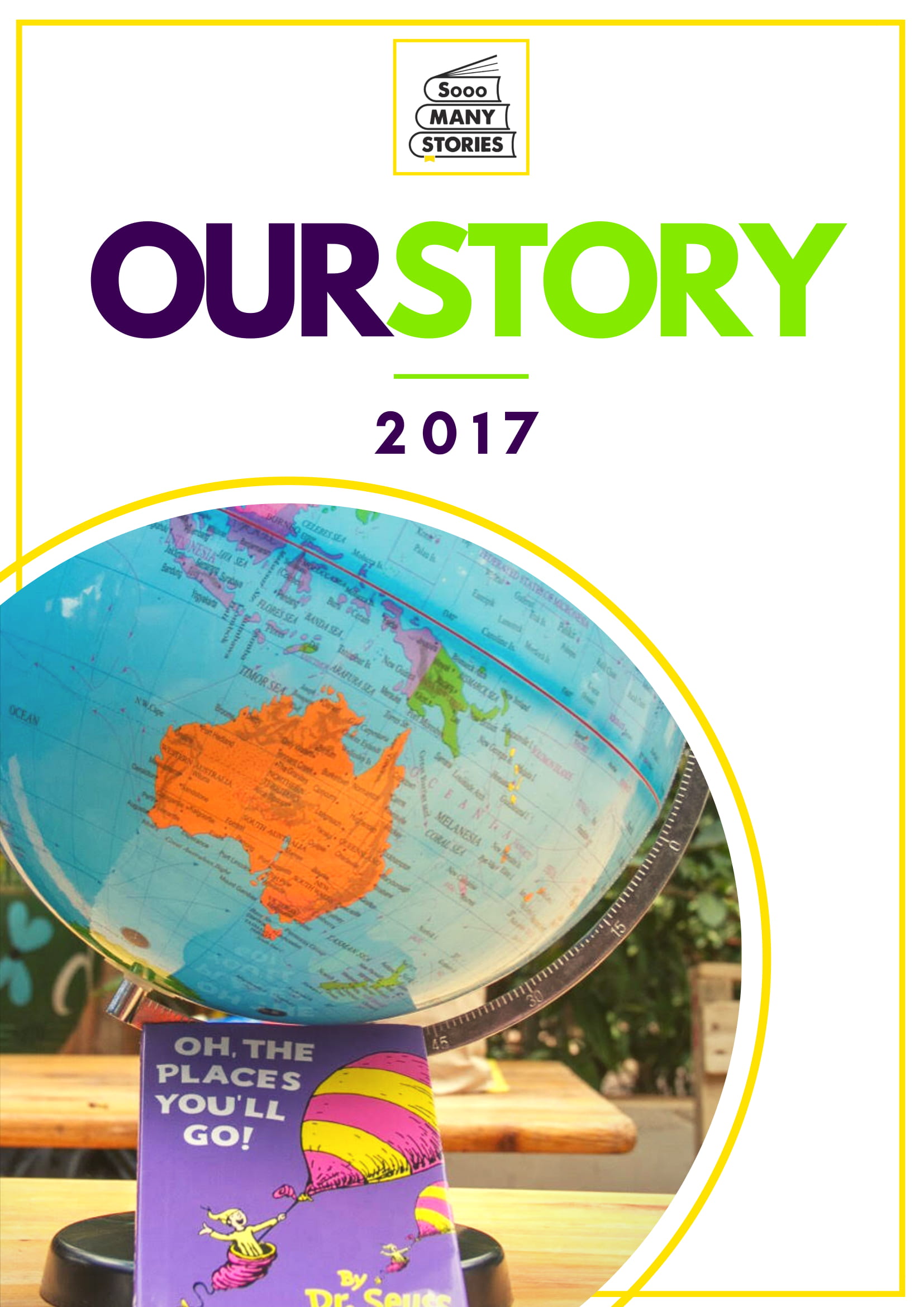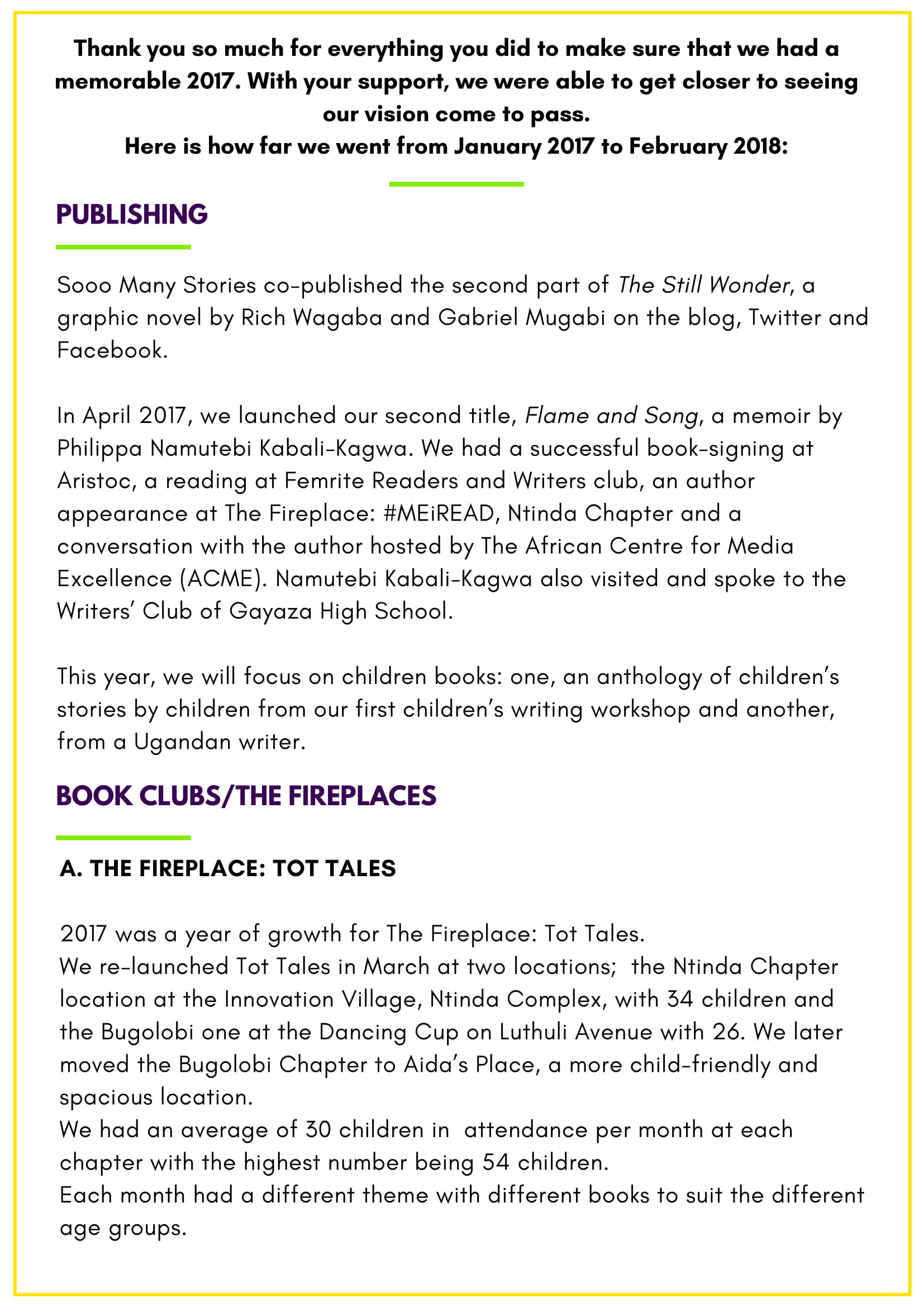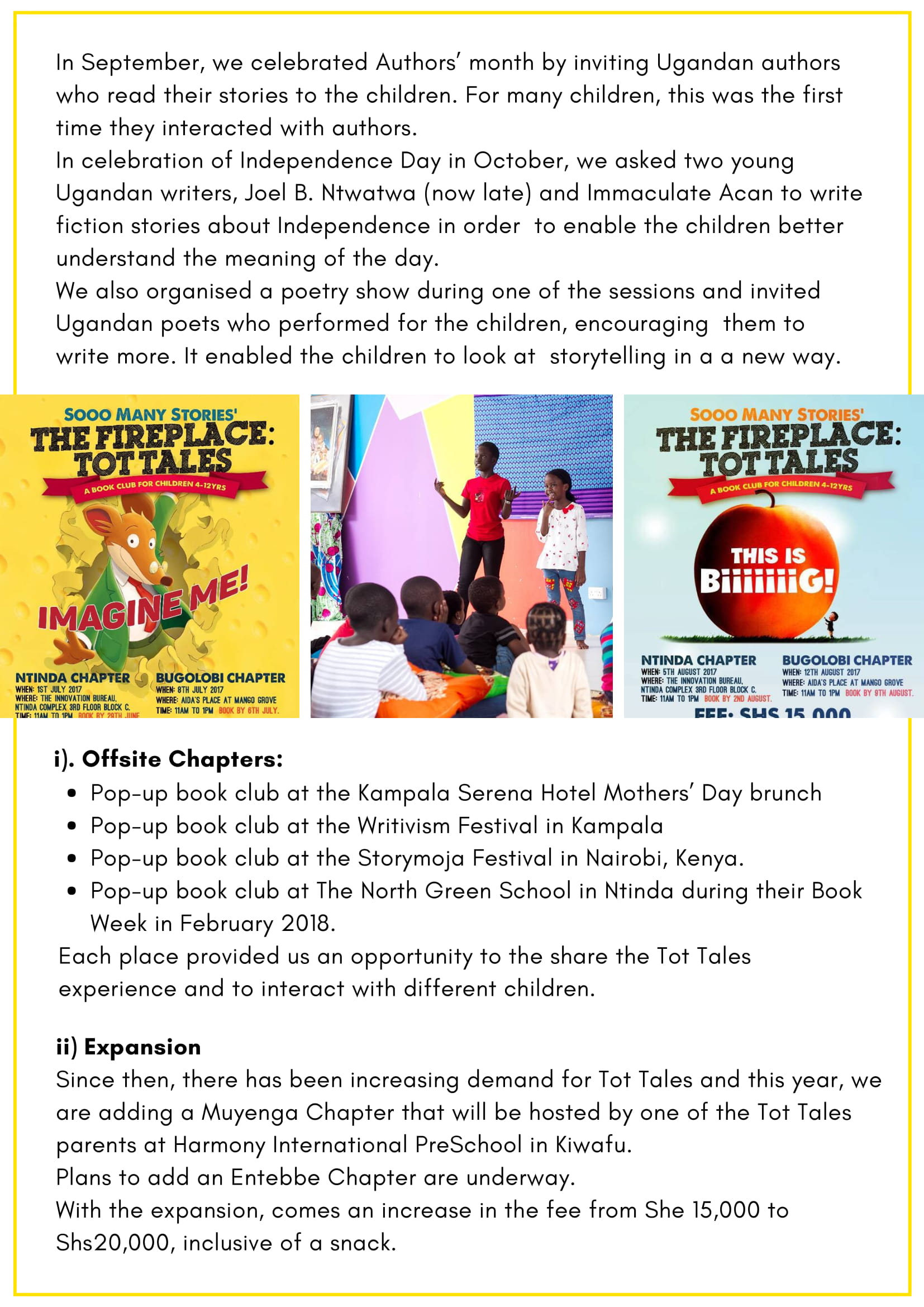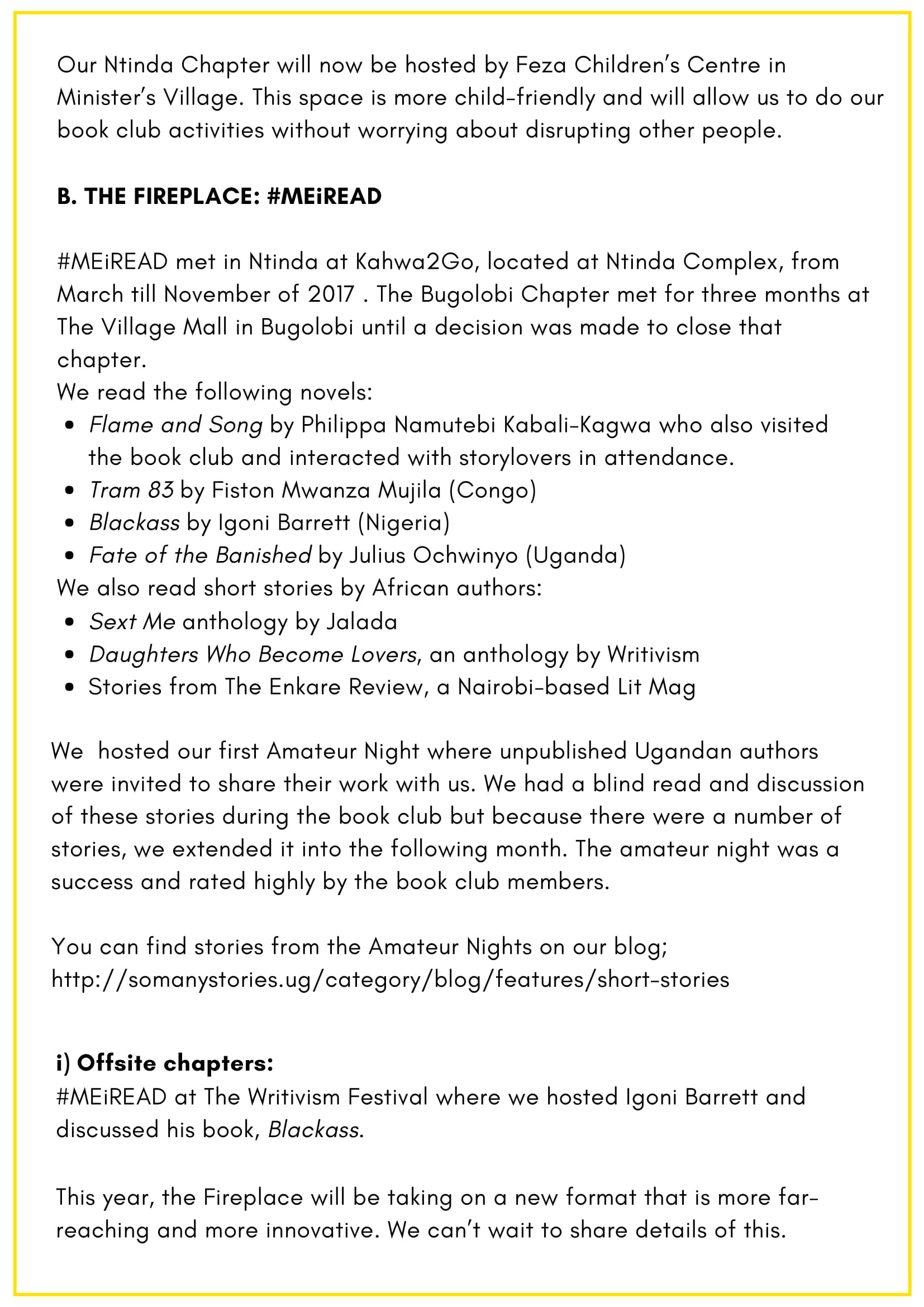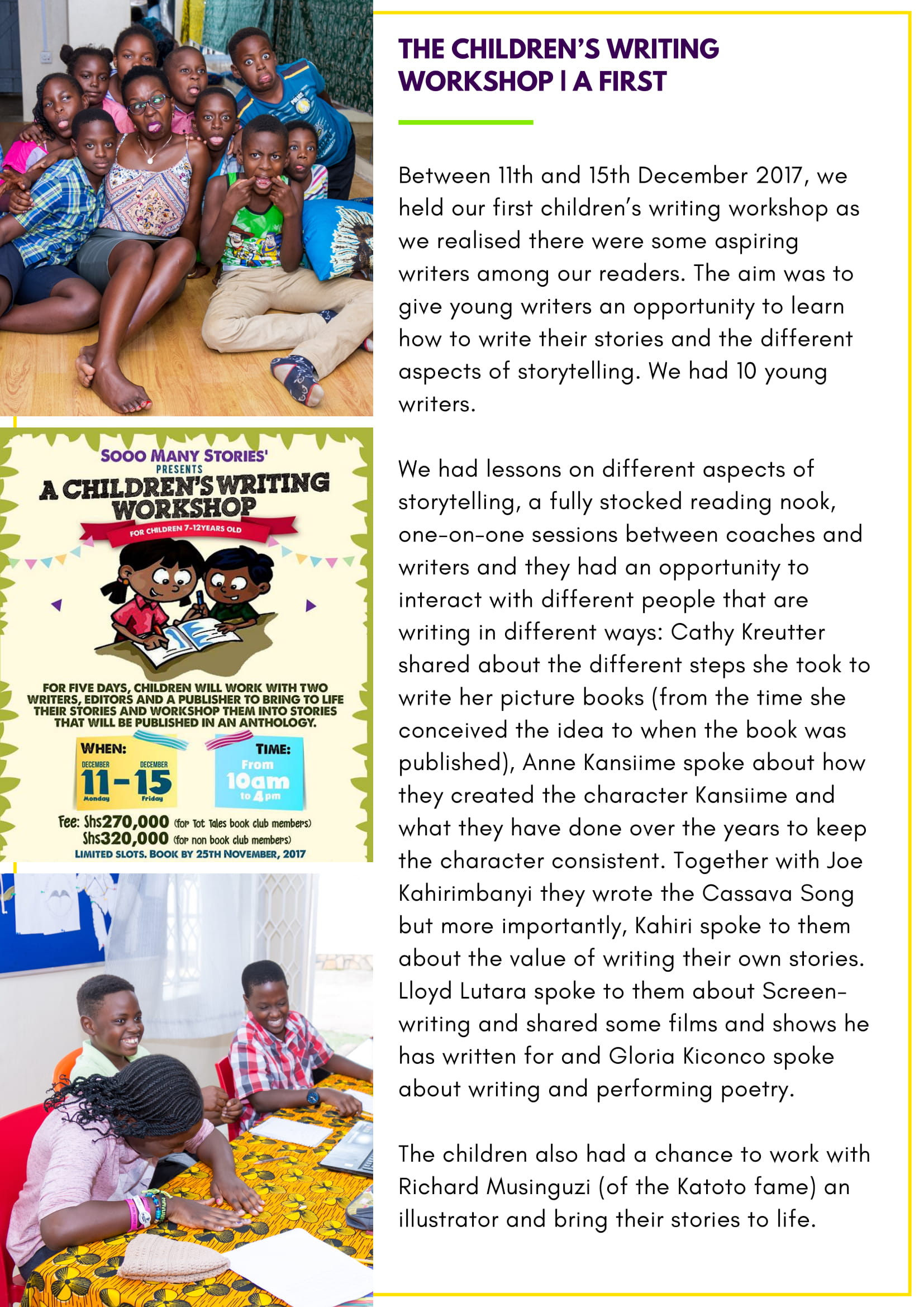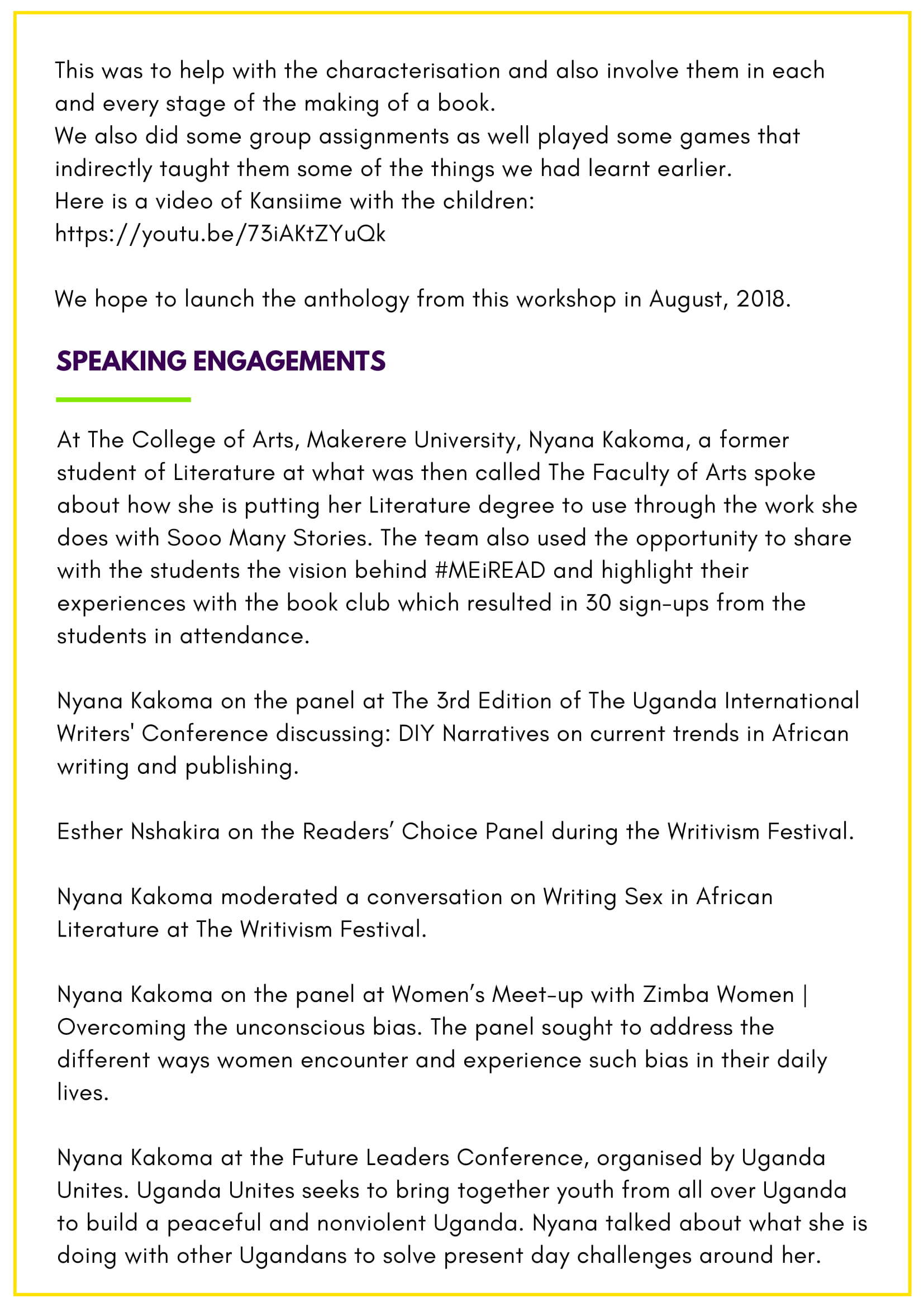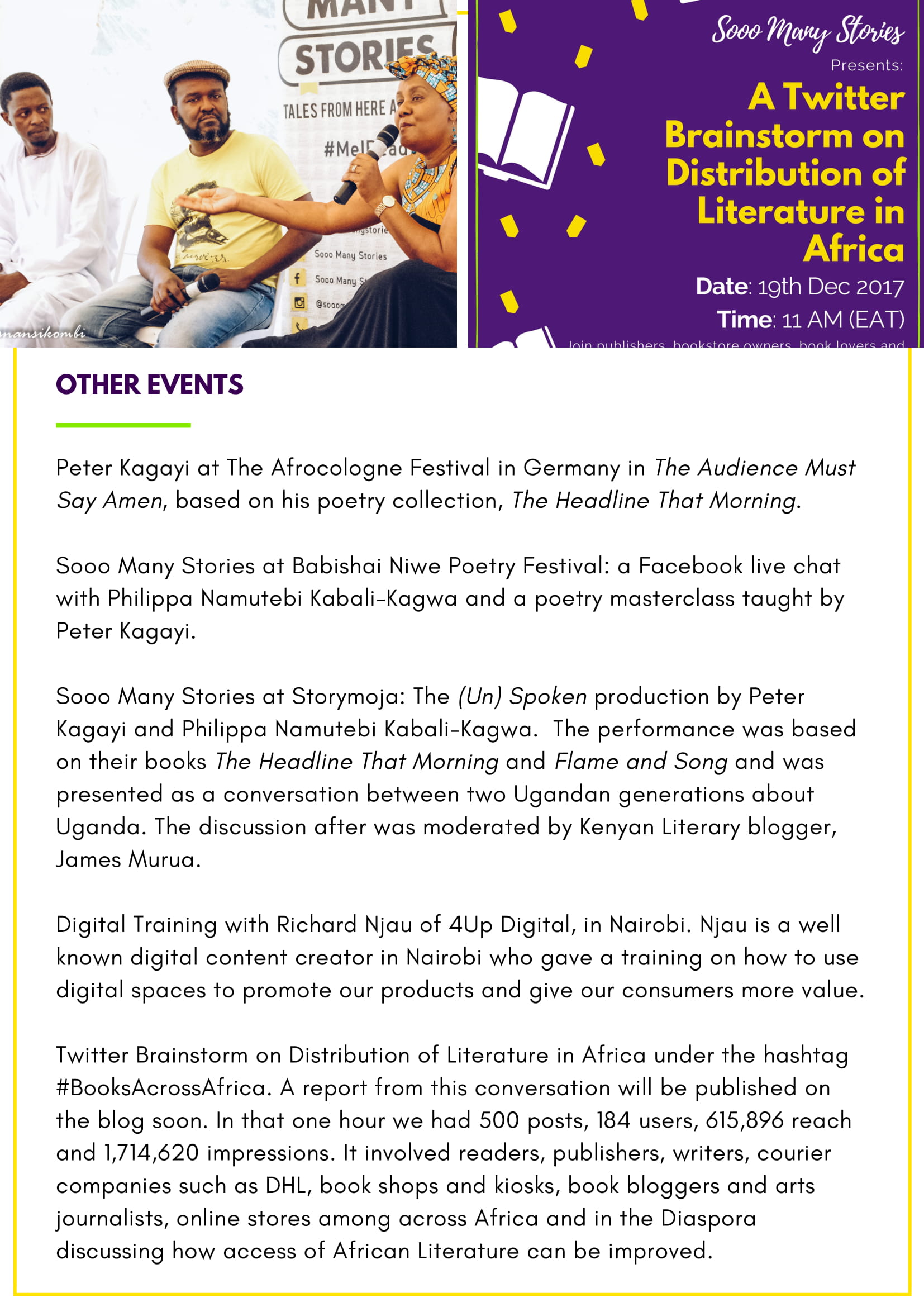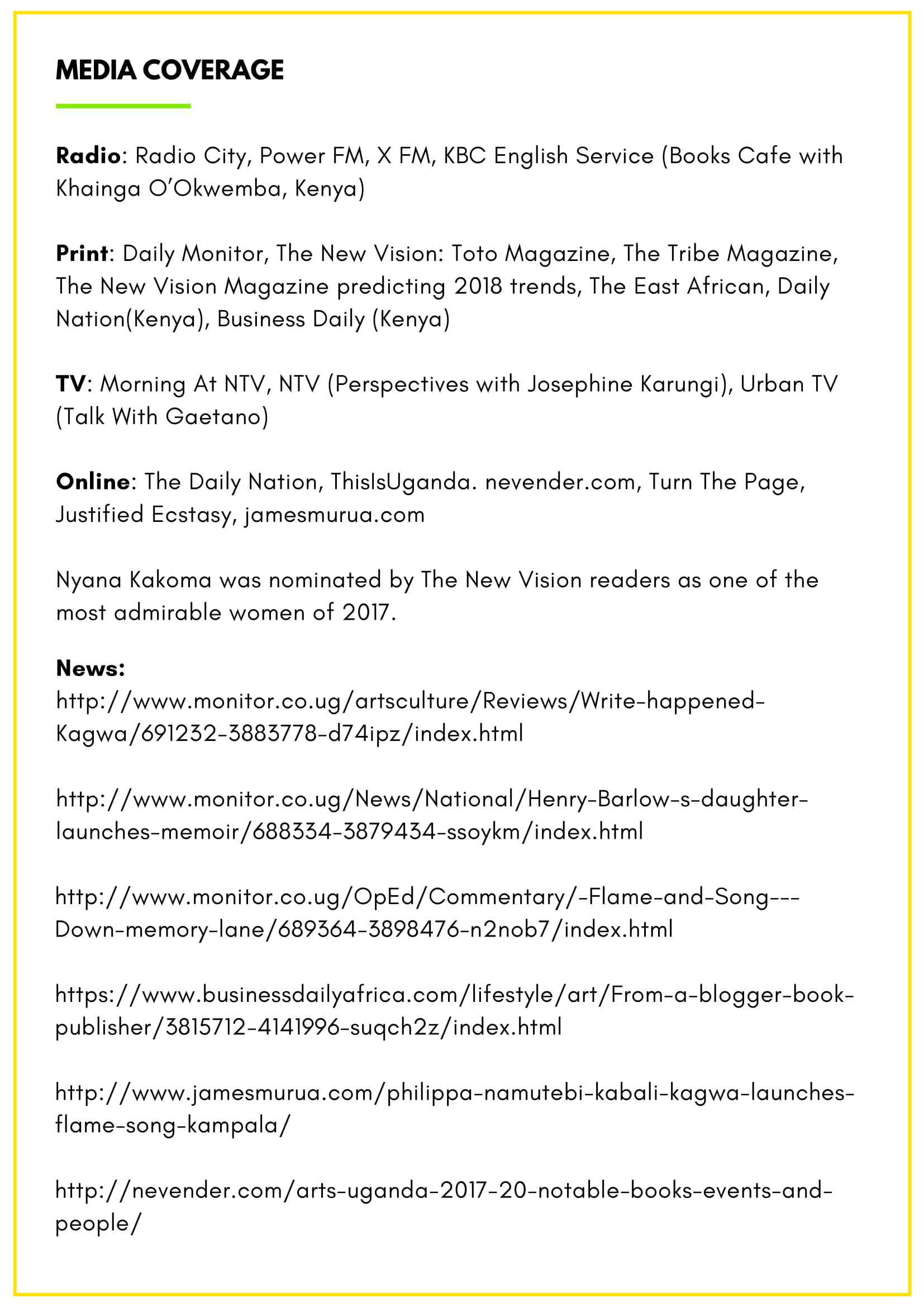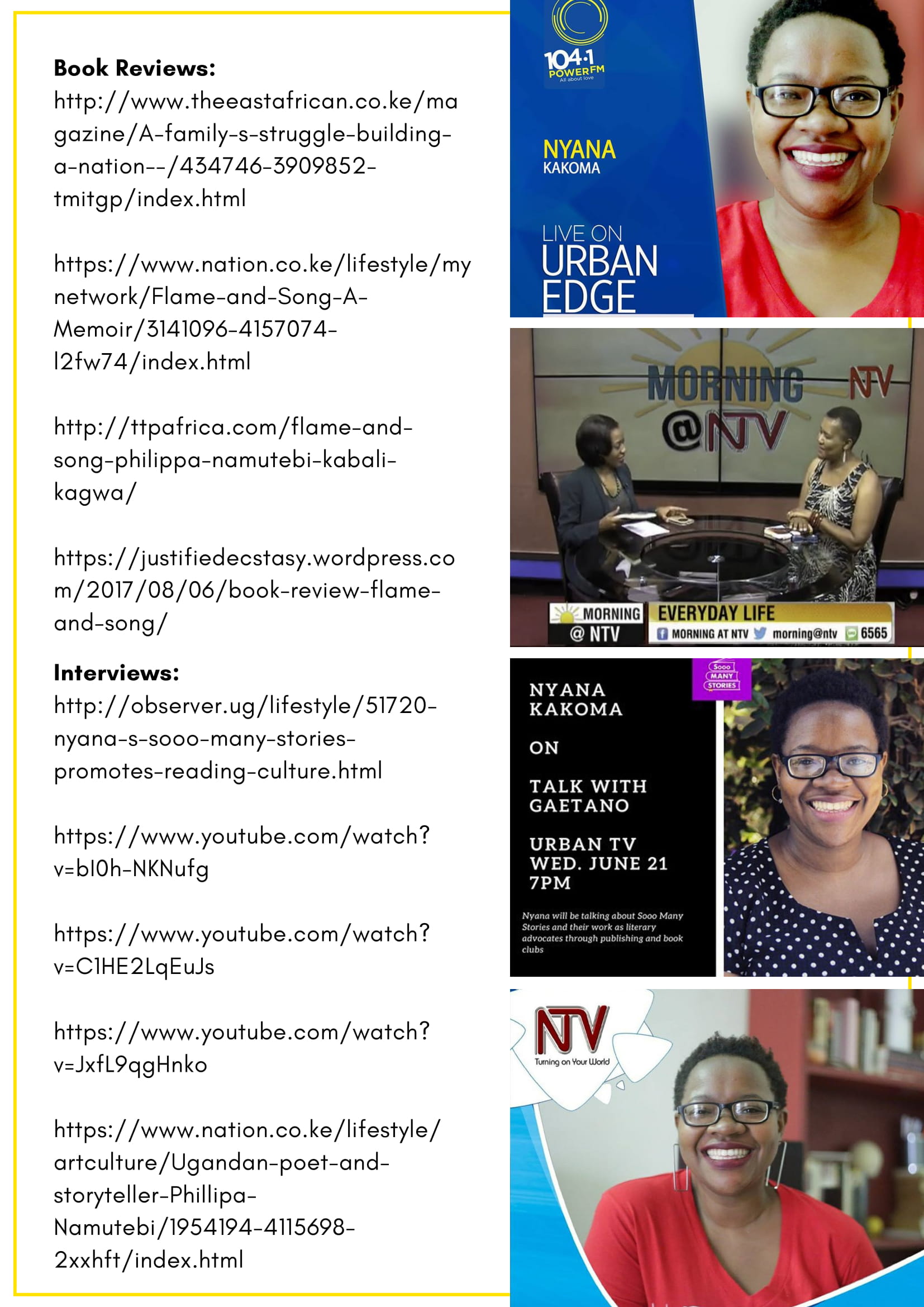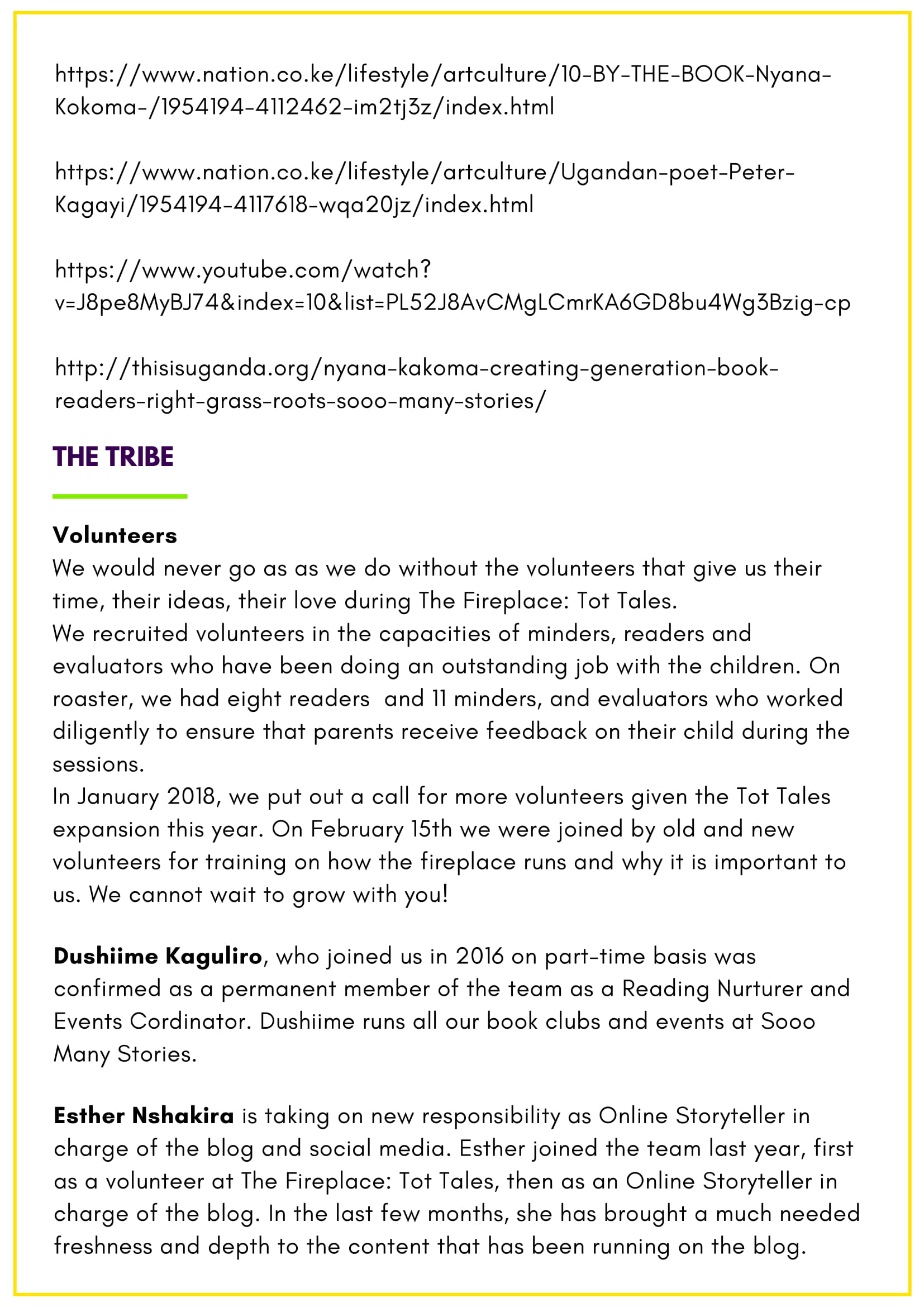 I had the pleasure of being hosted on NTV Uganda's Perspective With Josephine Karungi. It was quite something! My first live interview about something I could talk about till the cows come home? Yes please! The topic was child literacy: why reading is so important for our kids and what are we doing as parents to make sure our kids read. On the panel was a teacher, Susan Sserunkuma, who assured us that the government is doing something about reading and writing in schools, Aaron Kirunda from Enjuba and Robert Mugambwa from Uwezo, who have some really depressing statistics on literacy in children.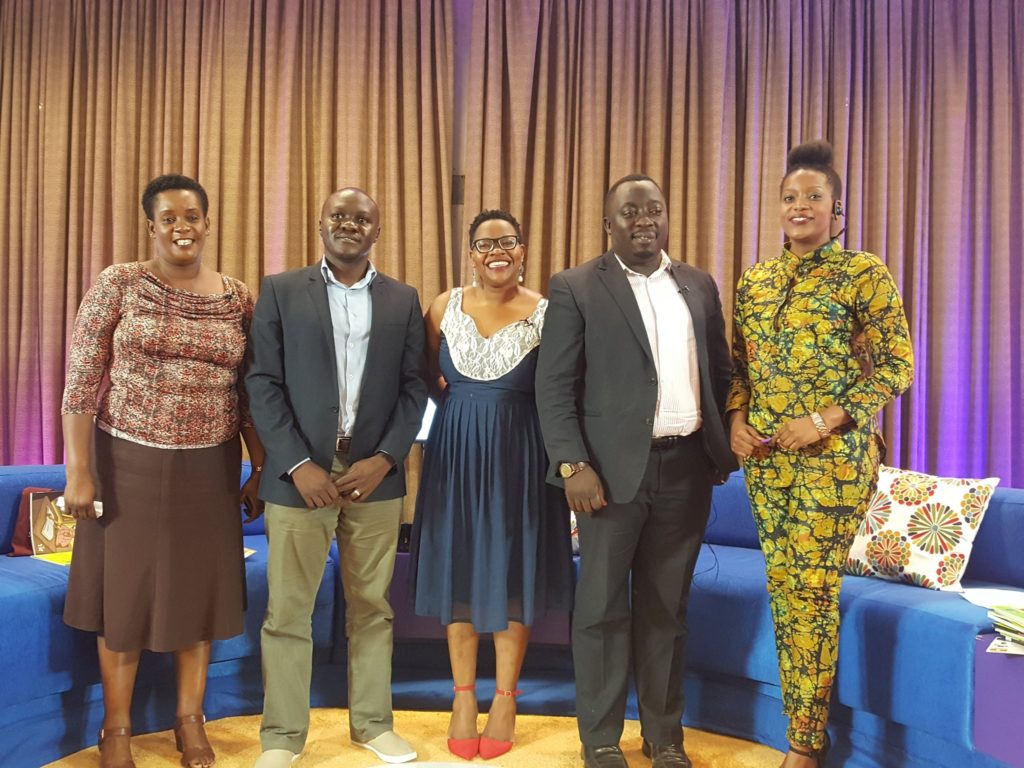 You won't believe it but an hour isn't enough to talk about this topic. So here are a few things I would like to add to the discussion. Some from the questions I have received after the interview and others that we just did not have time for:
Ugandan books for children?
There are Ugandan authors that are writing books for children. I will be honest, some of the books do not look as colourful and are not produced as beautifully as books that are made elsewhere but the books are there. In July, I attended the first Buganda Bookfair at Bulange and I know there are Luganda books for children.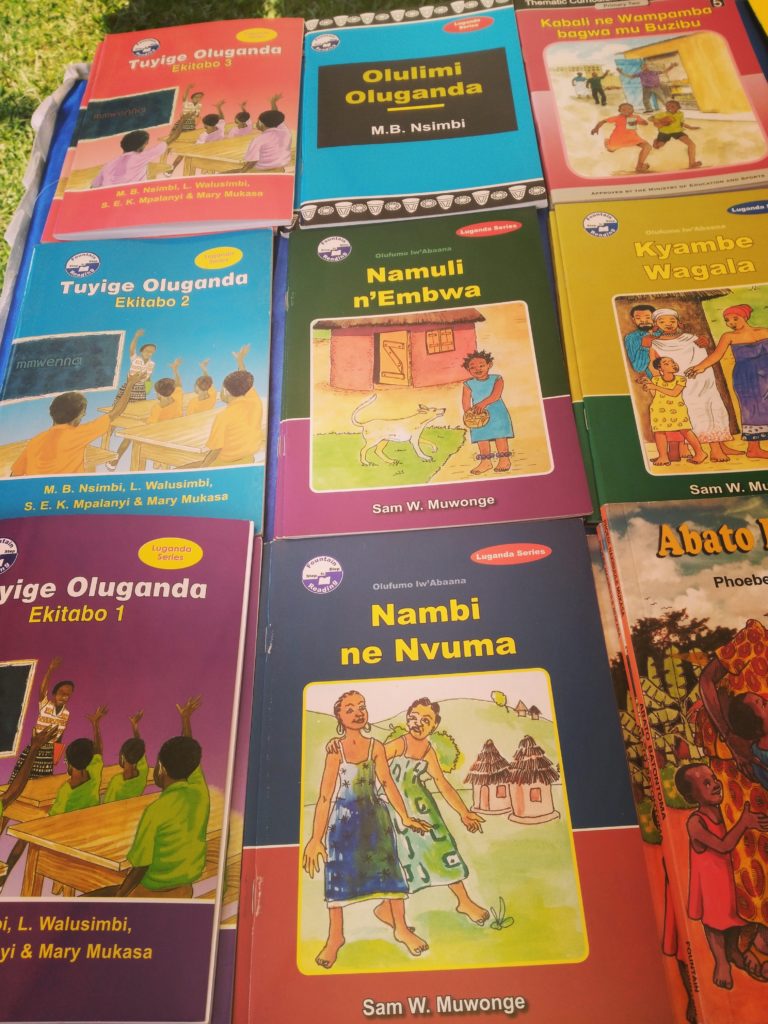 It is really important of course that as a community of storylovers, we demand for well-written, well-illustrated stories of course but do not lose the chance to read some relatable literature for your children simply because of this. Last week, while at Aristoc I was informed that people who ask for Ugandan books are often Ugandans who stay in the diaspora. These parents are eager to show their children where they come from and so every time they are in Uganda, they buy them. Me and you who are in Uganda all year round? Not so much.
This is a call to writers, publishers and illustrators to do more for their audiences though. We can't continue to take our audiences for granted. Give them a book that they will not only be proud to hold but be proud to display on their shelves or hold.
2. What about children that can not read?
One of my friends sent a message asking about children that can't read not for lack of effort but because they are dyslexic. Now, I have heard of dyslexia (mostly from movies) but I have never encountered a child with dyslexia. My friend revealed to me that there are several children she knows with the condition, and parents that are in denial about it.
Dyslexia is a learning disability where the individual has trouble reading accurately and fluently. They may also have trouble with reading comprehension, spelling and writing. Very often, the  parents of these children are  frustrated because their children fail to read simple words and sentences. These children are often made to repeat classes because of this disability. The thing with dyslexia though is that the child is not stupid nor are they lazy. Neither is it a visual problem. They may have problems answering questions about something that they have read but no problem answering questions about something that has been read to them. It is not about a lack of intelligence but the inability to match words and sounds in order to read accurately and fluently.
These children work better with audio books and with visual cues as they are read to.
I am also curious to find some parents with dyslexic children and what they are doing to help their children learn. If you know someone, please let us know so we can talk about this more.
3. What if as a parent I hate struggle with reading?
Our children learn more by seeing us do things. Look at how they pretend-talk to people on the phone, or how they treat other children or how they even take photos. It is always something they have seen someone do. There is no doubt that if they see you read often, they will become curious and do what you do. Keep reading material around the house, read to them and sooner they will be able to do it on there own. Encourage them to tell you their own stories and listen to them. Use the time to bond and do one more thing with your child that requires your genuine attention. Allow yourself to be a child again (adulting is exhausting and we are doing it for the long haul. Take a break).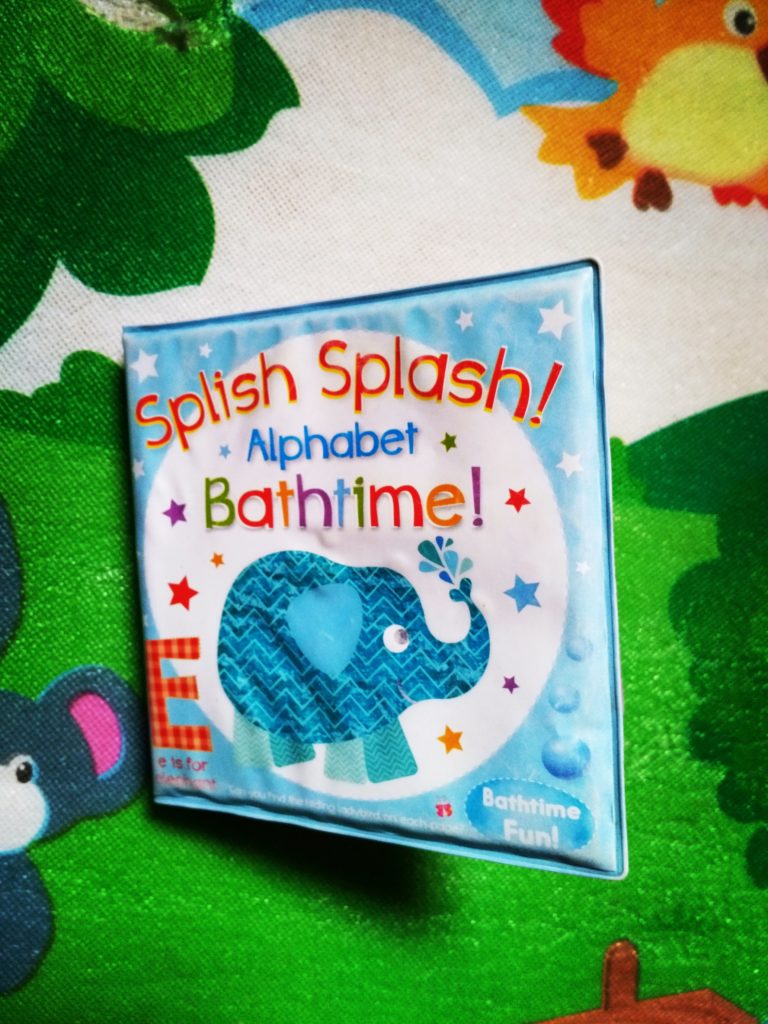 4. Where do I get books for my child?
Set aside a time and go to Aristoc and look at their children's section. There are often people that can help with selection and if they do not have the book, you can ask them to get you a copy and they will let you know when they get it.
I have also found some gems with the ladies that sell books outside Game and Shoprite at Lugogo. The books are previously owned (the ones outside Game) so they are cheaper.
There is also a little nook in Ntinda, at Capital Shoppers called Just Reading that has a variety of books that your children might enjoy. They have some reading space too incase you want to go shopping and leave your children to read for a while.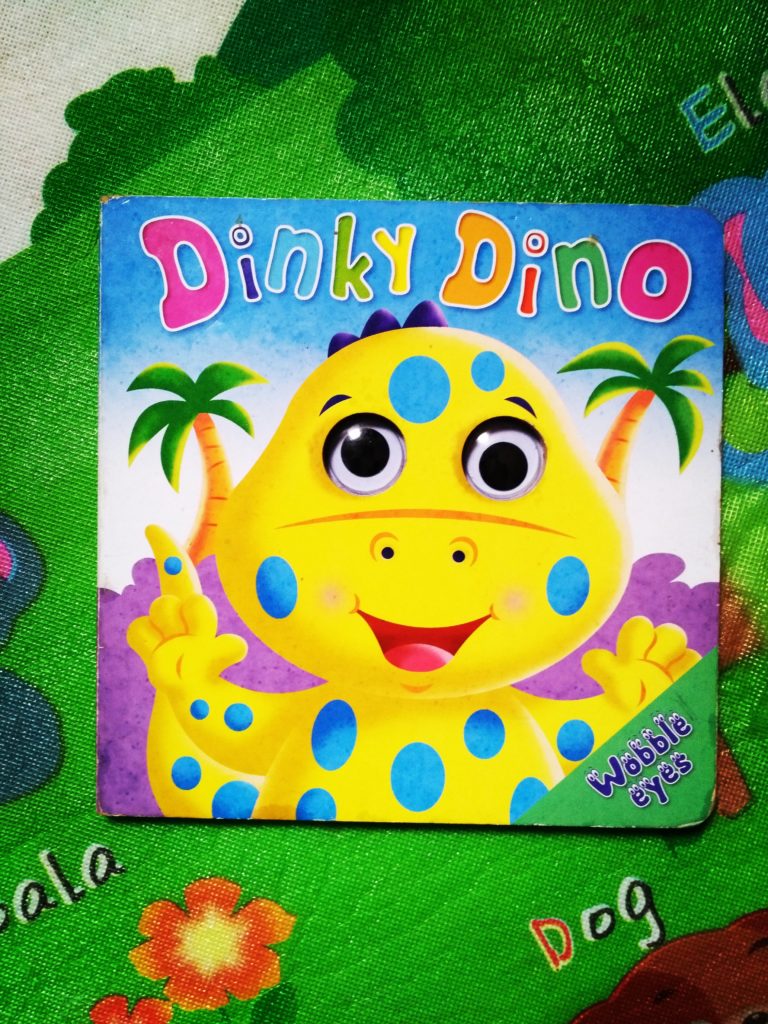 The Nest, on Plot 56, Ntinda Road, five houses from Capital Shoppers Ntinda, also has a library. If you would like to know how you can become a member, contact them on the.nest.ug@gmail.com or call 0784903204.
Rosey Sembatya of the Kids' Mobile Library also runs a mobile library which delivers three books for your child every week, and you can have them for two weeks. I have been working with them for about a year now for my own child. You can reach them on 0774705252/0750040385.
Whenever you travel, buy one less clothing item or chocolate or toys and choose a book instead. Help your child build a library.
Pay attention to people who sell books in traffic, as you wait for your taxi to get full in the Taxi Park, or ask if you can borrow some when you visit people with books for children.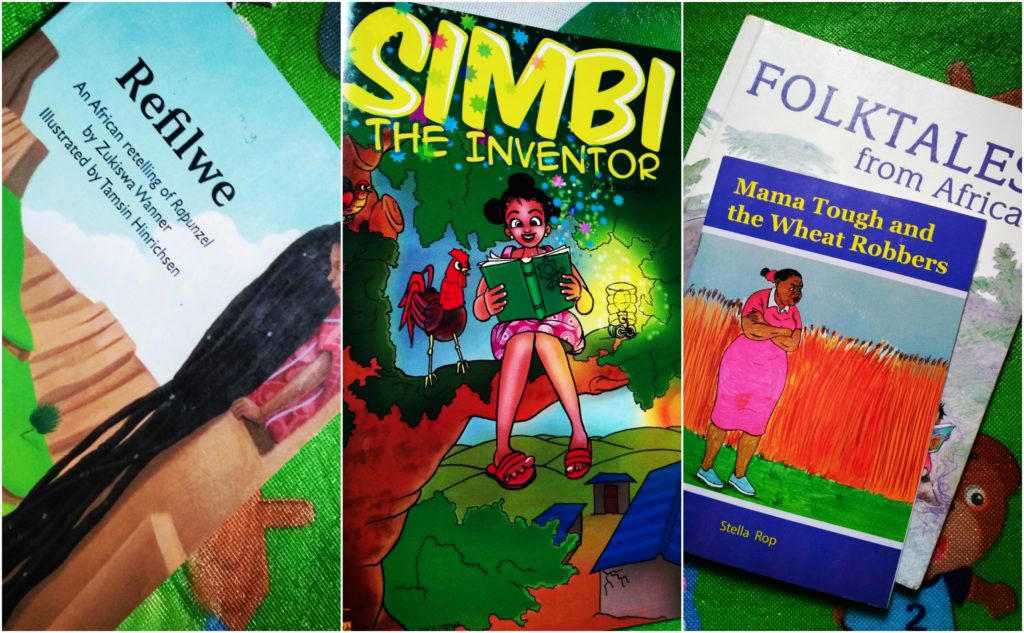 If your children are no longer using their books, please find a way of passing them on to other children that may need them. For most of us, there is a UPE school in our neighbourhoods that has no library or whose library is understocked (or is just stocked with text books). Offer them books that your children are no longer reading.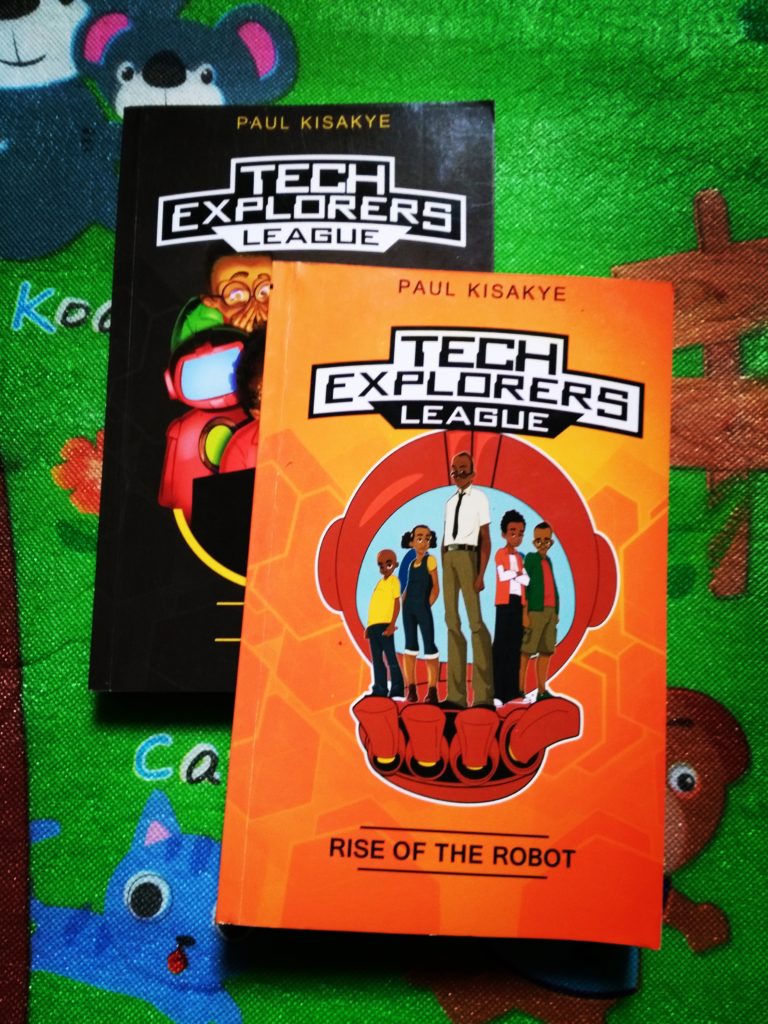 What are you doing to ensure your child is reading?
If you missed the show, here is how it went….
August2017: The dates to save
Hello Storylovers,
Time to get out your calendar and mark these dates in what is promising to be a very action-packed August. Ready?
Philippa Namutebi Kabali-Kagwa is kicking off the Babishai Niwe Poetry festival with a live Facebook chat on poetry; writing it, what informs her own writing and yes, she will be performing. Philippa's book, Flame and Song is written in both prose interluded by poetry. Join us?
When: Wednesday, August 2nd
Time: 2000hrs, EAT
Where: Facebook
2. The Babishai Niwe Poetry Festival, in it's third edition, is running all week long at different locations. If you are a poet, writer, storyteller, you should be interested in this. Poetry in Mabira? A poetry library? Poetry seminars? And a poetry workshop by Peter Kagayi himself? These and more are what you will find at this year's festival. Find the rest of the programme here: #Babishai2017 Programme
3. The Fireplace: Tot Tales, our book club for children will be running on Saturday 5th August (The Ntinda Chapter) and Saturday 12th August (the Bugolobi Chapter). Details below: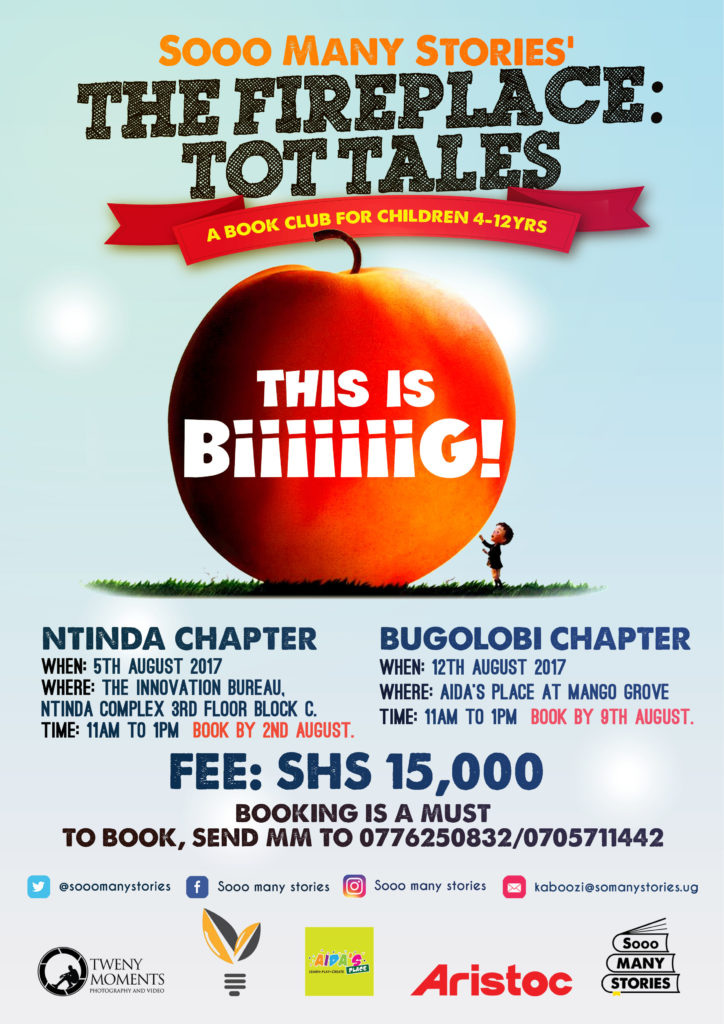 4. Have you heard of Ivan Mathias Mulumba? Let me tell you about him. Ivan is the guy that has made sure that every Ugandan writer has a Wikipedia page. No one asked him. No one pays him. No one sends him. He does it because he believes in the visibility of Ugandan writers. Ivan is a writer in his own right having published a poetry collection, Poetry In Motion, before. Under his publishing house, Mattville Publications, he brought to us Nakisanze Segawa's The Triangle.
This August, Ivan is launching a novel, The Honking and a poetry collection, Rumblings Of A Tree. Details below.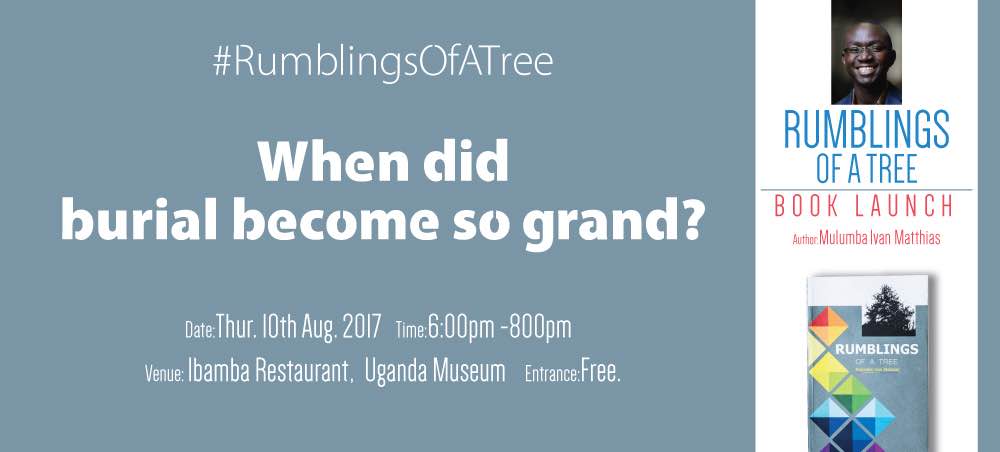 5. The Fireplace: #MEiREAD, our book club for adults is, this month, reading Blackass by Igoni Barrett. Blackass tells the story of a black man who wakes up and finds himself…white. Join us:
When: 15th August
Where: Kahwa2Go, Ntinda Complex, Opposite St Luke Church
Time: 6pm
6. You can also find us at The Writivism Festival this month from 17th to 20th August at The Square. Sooo Many Stories will run The Fireplace: Tot Tales, our book club for children, The Fireplace: #MEiREAD where you, storylovers will get to meet Igoni Barrett, the author of Blackass and I will host a panel on writing sex. Here is the full Writivism Programme.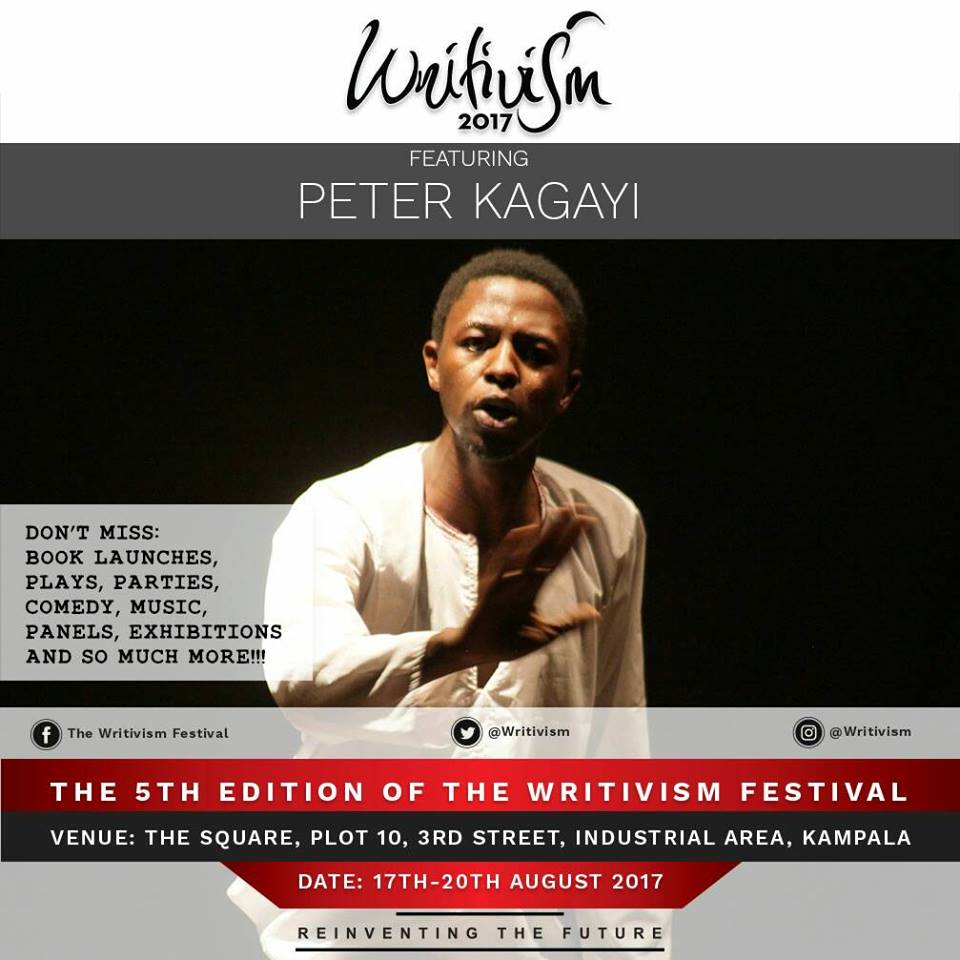 See what we meant by action-packed? Looking forward to seeing you this August!
Enkare Review, a litMag based in Nairobi, aims to discover new, vibrant voices in the literary landscape and give those creatives a platform to showcase their talent. Although based in Nairobi, Enkare accepts submissions (short story, poetry, essay, review or art) from all over the world.
This July, The Fireplace: #MEiREAD is reading and discussing five of the many brilliant stories and essays Enkare has published. Join us on Tuesday July 11th at 6pm at Kahwa2Go as we discuss these stories.
Download the stories here: #MEiREAD: Enkare Review
Enkare is also accepting submissions for their second issue until August 1st, 2017. Now is a perfect time to submit.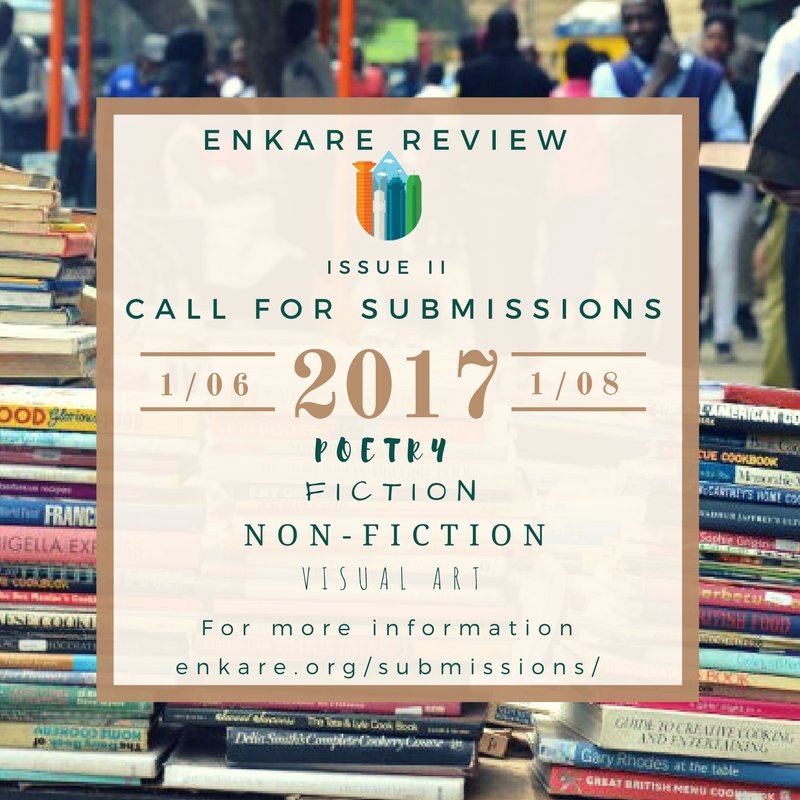 Mother's Day: #MamasBookOfTricks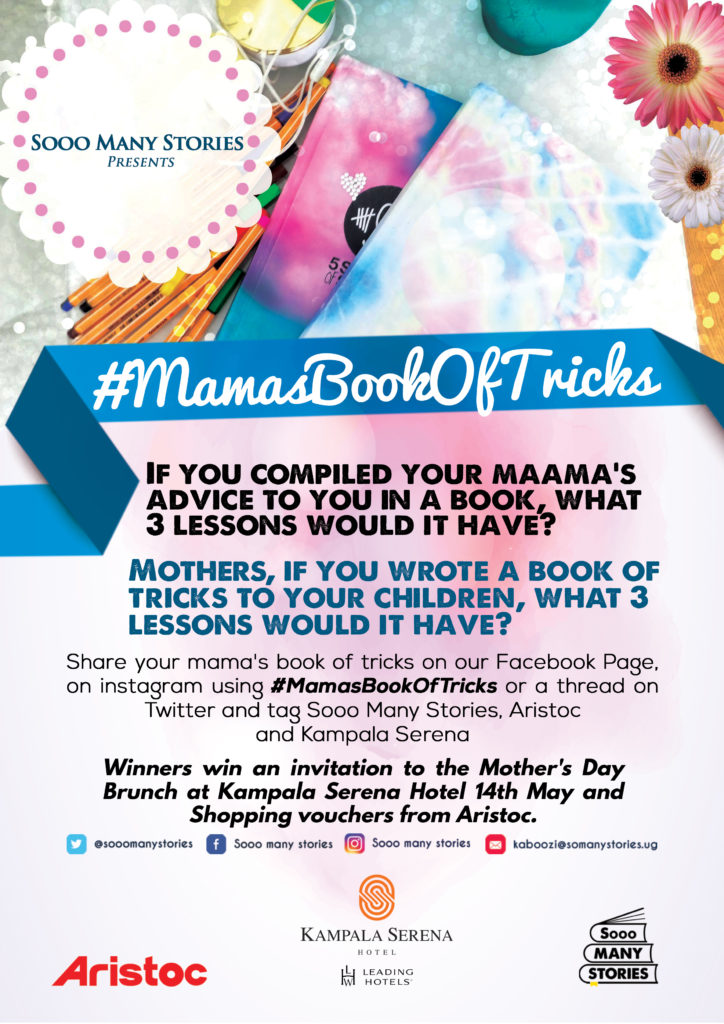 You are eligible to participate in the contest if you are a resident of Uganda and have a Facebook, Twitter or Instagram account.
The three lessons can be as diverse as possible: from recipes passed on from your mother to the kind of people you are allowed to date to every day tips like how to remove an ink stain from cotton. It could be advice that her mother passed on to her. Let's read those words of wisdom.
An entry is valid if…
· Entries are submitted by a public Facebook, Twitter and Instagram page account.
· Entries are submitted by an individual entrant.
·

Facebook:
The note should appear just below the comments section on the current running
#MamasBookOfTricks
post of Sooo Many Stories Facebook.
·
On Instagram
, write a post and tag Sooo Many Stories, Kampala Serena with the hashtag
#MamasBookOfTricks
· All entries submitted for the challenge must be tagged to the hashtag #MamasBookOfTricks
The Mother's Day #MamasBookOfTricks contest will run from 9th May to 12th May 2017. We shall award four winners.
The prizes will be as follows:
An invitation to two mothers and their children to the Mother's Day Brunch at Kampala Serena Hotel on Sunday 14th May and two shopping vouchers from Aristoc Booklex worth Shs50,000 each. We shall bond over books at the Mother's Day Brunch with our fireplaces among other things.
Let's record and pass on some wisdom! Happy Mother's Day!
#MeIRead: Let's talk about sex, baby
Storylovers,
#MeIRead is back! This month, we are reading and discussing sex and literature. To help us with this discussion, here are eight stories from the Jalada Collective.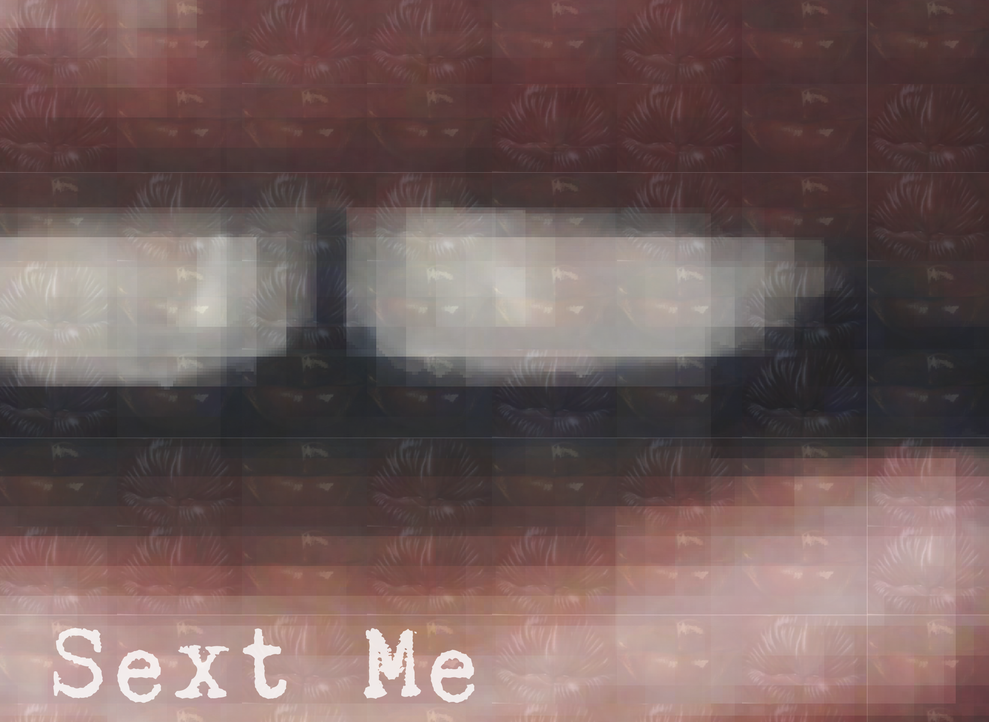 But first, let's tell you about Jalada. Jalada is a collective of Pan-African writers. Started in 2013, Jalada publishes anthologies loosely based on different themes such as insanity, sex, language and fear. In a groundbreaking move in 2016, Jalada had Ngugi's Wa Thiong'o's story, The Upright Revolution (or Why Humans Walk Upright) translated into more than 50 languages from around the world. The story which was initially written in Kikuyu and translated into English by Ngugi is a folk tale about the human body parts and a battle that led to the human being finally standing upright.
And guess what? Jalada is holding the first mobile festival of its kind. The mobile festival will be in Kampala on March 11th and 12th. Do save those dates. Details here: Jalada Mobile Festival 
These are the dates for our #MeIRead bookclubs:
#MeIRead Ntinda: Kahwa2Go, Ntinda Complex | Tues, March 14th | 6pm
#MeIRead Bugolobi: The Village Mall Rooftop | Tues, March 21st |6pm
Download the Jalada-Sext Me Anthology here. See you all very soon.
We'll be waiting by our phone for any messages or calls if you have any questions. Here is our number: 0705711442.
The Fireplace: Tot Tales is back!
Oh! The Places You'll Go!
Story lovers,
Thanks a lot for your support last year. We took some time off to plan for 2017 and we are happy to let you know that
The Fireplace: Tot Tales
is back!
The Fireplace: Tot Tales is our book club for children from the ages of 4 to 12. The book clubs are split into groups of 4 to 6, 7 to 9 and 10 to 12 year olds.
We are thrilled to let you know that we have found two new beautiful, child-friendly venues.
For our parents in Ntinda, we will be meeting at The Innovation Village. The Innovation Village is on Ntinda Complex opposite St. Luke church block b 3rd floor. We'll meet on 4thMarch.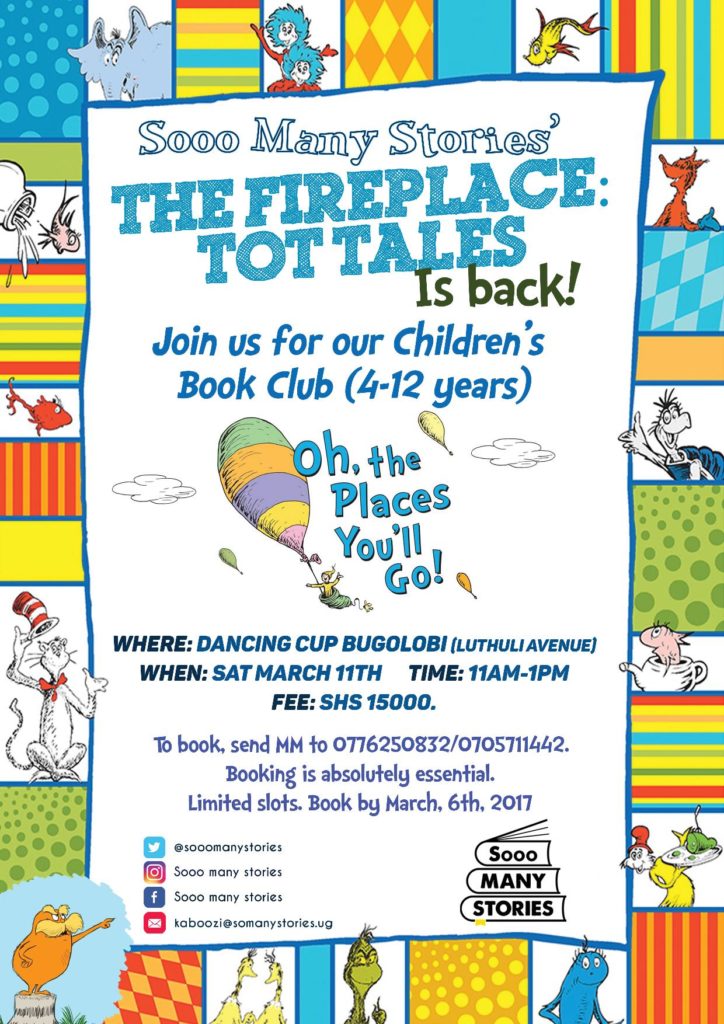 BOOKING.
Entry fee remains UGX 15,000 per child; this also covers a snack.
Early booking is essential because we are only taking 15 tots per group (4 to 6, 7 to 9, 10 to 12). Early booking also enables us to plan adequately. For Ntinda, booking should be done by 27th February. For Bugolobi, please book by 6th March.
To book, please send money via mobile money to 0776250832 or 0705711442.
You can pay half-year subscription (4 months) at UGX 55,000 per child or full-year subscription (8 months) at UGX 115,000 per child.
We have missed our tots immesnsely and we can not wait to see you all again!
For inquiries reach us on: 0705711442 or dushiime@somanystories.ug
See you all very soon!
Tot Tales: Why this reading thing is so important…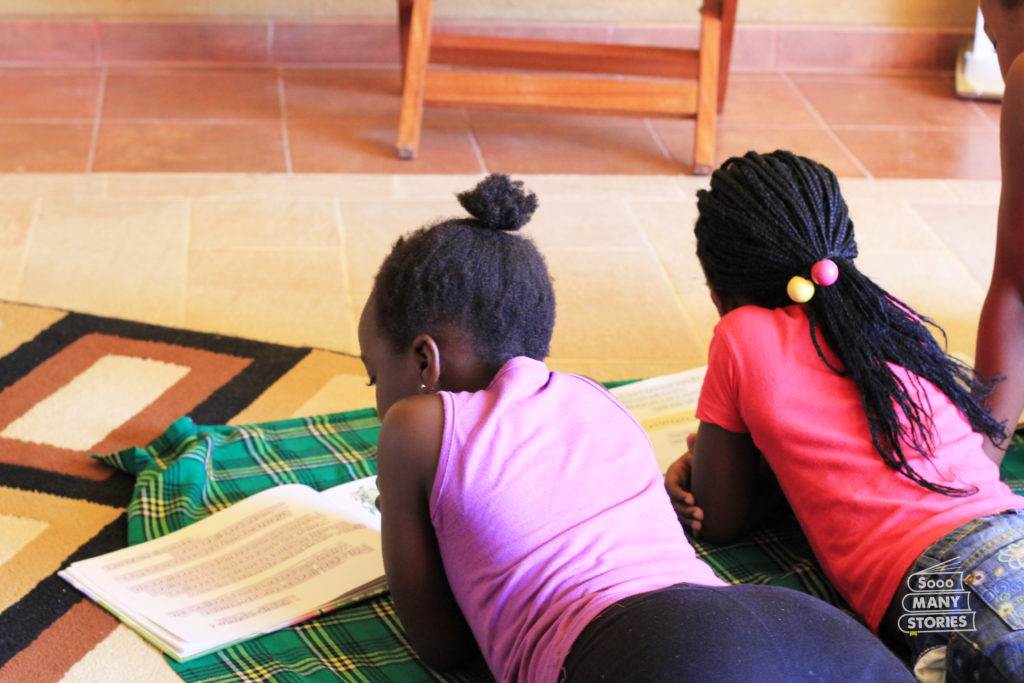 When we started publishing books and going around to meet teachers, parents and students, we were often asked whether we had any children's books. Because our answer was no, we were asked if parents could consult us every so often for books for their children. Most of you parents are very keen to introduce books by Africans to their children. Some of you have these children so hungry for books but you just do not know where to start. Some, fearing that your children would catch the same non-reading bug you have, want to do everything you can to help your children be better readers. And some of you are well aware of the transformative power of words and want to give your children the same opportunity.
As Sooo Many Stories we believe in storytelling as a way of not only making human connection but also carrying on our legacy, preserving our culture, learning new cultures and staying alive. We hope that by reading, we shall have a generation that will make better informed decisions, and a generation to whom the saying If you want to hide something from an African, hide it in a book, won't apply.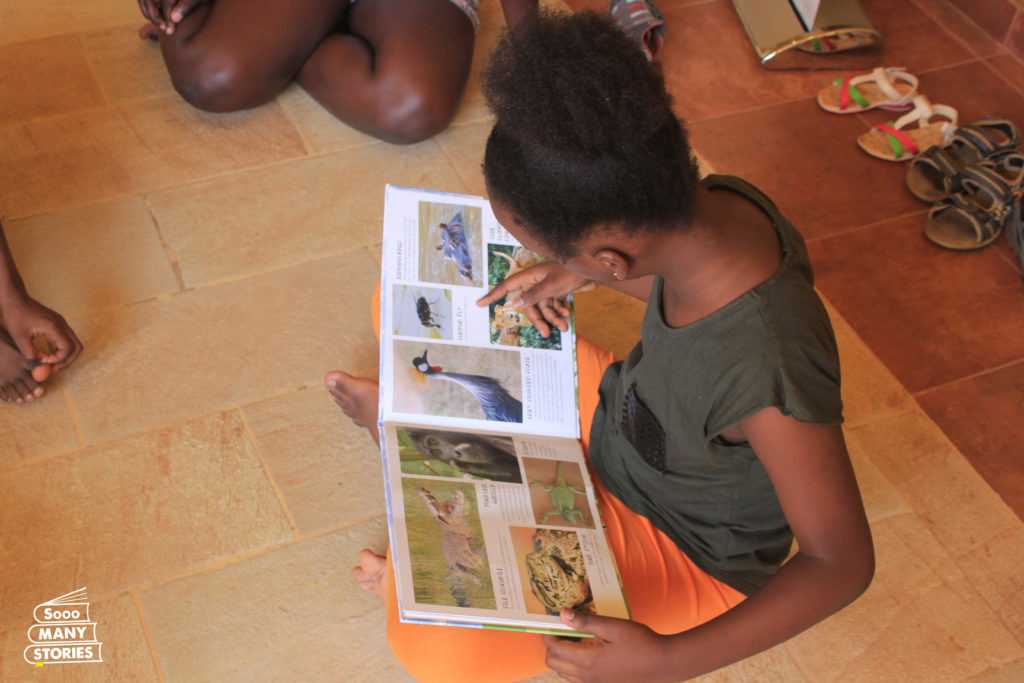 Why is reading so important for children?
-Increases aptitude to learn in general. By learning how to put words and sentences together, it makes it easier for them to learn other subjects they are taught in school.
-They'll be much more likely to express themselves and relate to others in a healthy way. By witnessing the interactions between the characters in the books they read, your child gains valuable communication skills and learns how to have empathy.
-Enhances concentration and discipline.
– Interesting illustrations and word patterns – such as rhymes – can get your child talking about what he's seeing and thinking, and help him understand the patterns of language. This stimulates curiosity, sparks imagination and helps with brain development.
-Reading or telling stories can also be a safe way to explore strong emotions.
-The sooner children learn how to read, the more books, knowledge, and ideas they will be exposed to. The result? Improved linguistic skills: richer vocabulary, correct grammar, improved writing, better spelling and more articulate oral communication.
-It promotes longer attention span.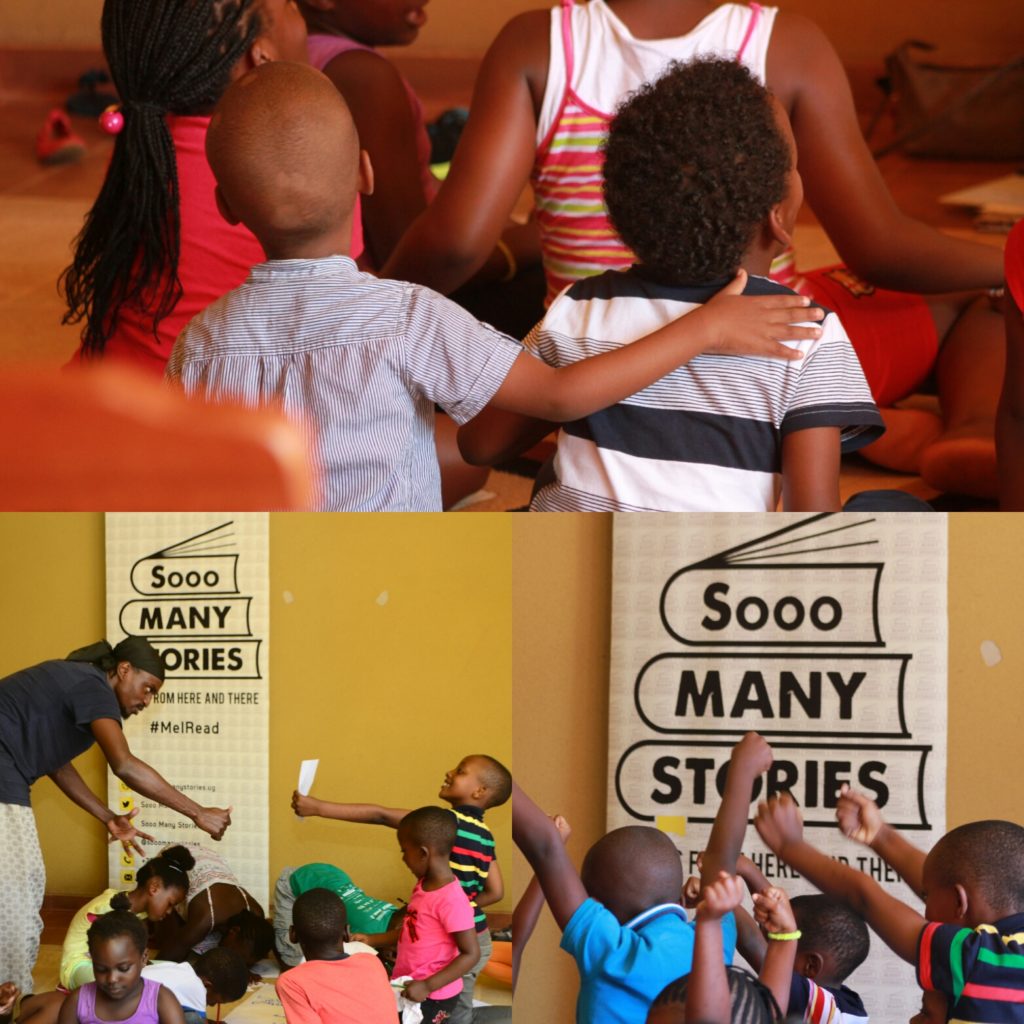 This is why we are inviting you, parents and guardians, to join us in this fight against the poor reading culture through The Fireplace: Tot Tales. Tot tales is a reading club for four to 11 year olds. The clubs, that happen once a month, are divided into two 4-6 and 7-11, each with not more than 20 tots. In some instances, we divide the clubs further into 10-11 years for children that have been reading for a while. Sometimes we have authors of books  read to the children, while other times, we get different readers to tell stories. We do fun comprehension exercises to help the children get a deeper understanding of what they have read. We have read-aloud sessions for children to articulate what they read.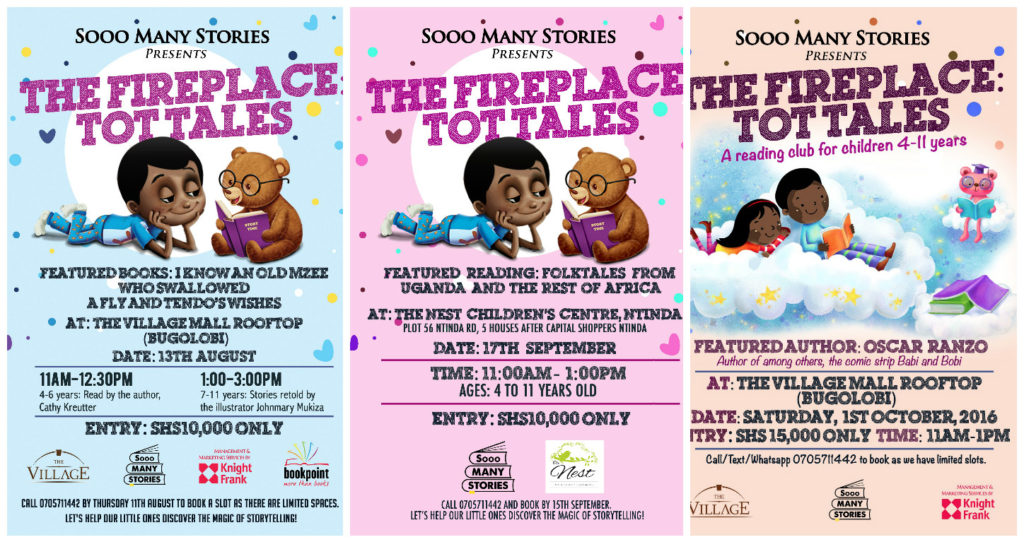 Where: The Village Mall, Bugolobi
How much: Ugx15,000 includes a snack.
What you need to know as a parent:
-Please register with us when you drop off your child. Let us know if your child has any ailment or if they are allergic to anything that we should be aware of.
-Please give us the number of someone we can call in case of an emergency.
-Please do not bring sick children.
-After you have registered, take a tag with you so we can identify you when you come to pick your tot. We shall not hand over any child to someone that has no tag.
-We have security at the venue.
-We start our sessions on time. You are welcome to stay around and be part of the book club. All we ask is that you are present (not on your phone or talking to other parents)
-We have a professional photographer and request your permission to use your child's photos.
Thank you for encouraging your tot to read and for partnering with us in ensuring that we have better readers.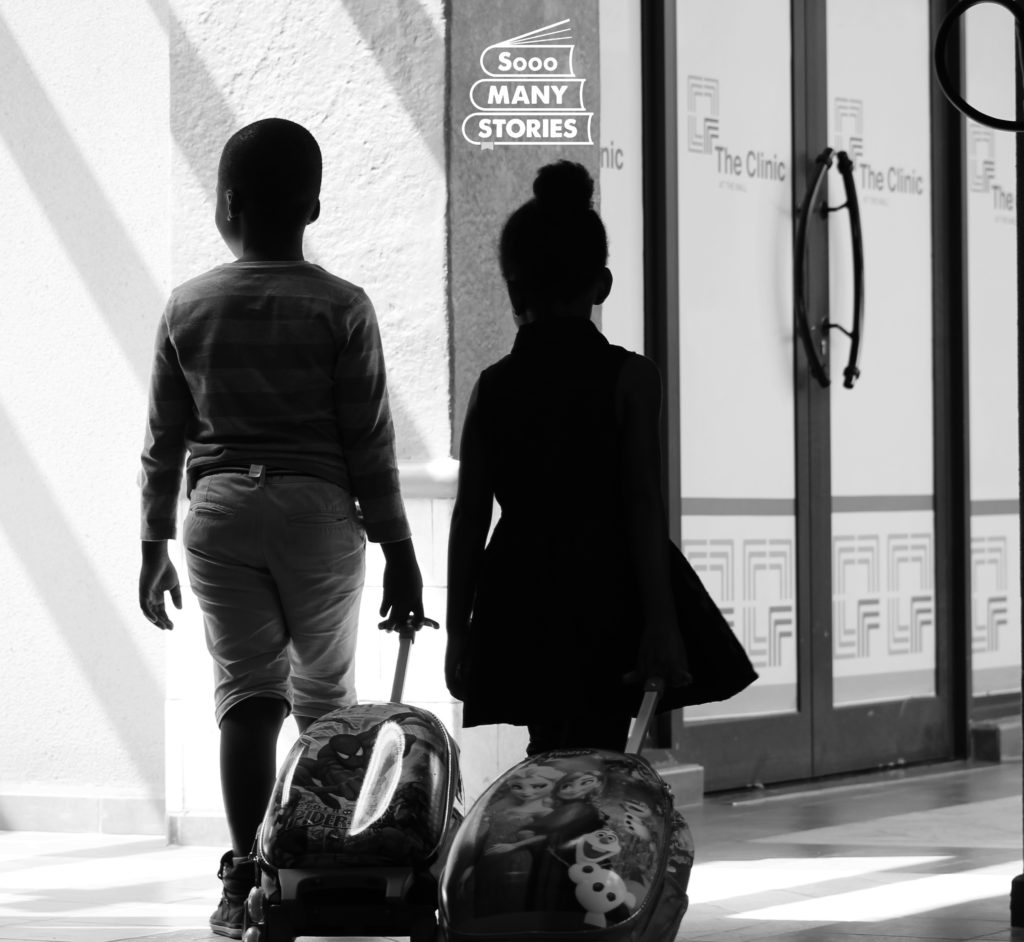 To book, you can reach us on 0705711442 | Twitter: @SoooManyStories | Instagram: @SoooManyStories |
Faceboook: Sooo Many Stories| Email: kaboozi@somanystories.ug
Looking for a book club? Introducing The Fireplace
For a while now (since the blog was started, to be precise), we have received several inquiries on whether Sooo Many Stories is a book club or whether we know of any book clubs that we can recommend to people.
As all you book lovers know, there is a greater joy that comes from reading a book and sitting down to discuss it with like-minded people. The other great thing I learnt from belonging to a book club was that sometimes, you ended up reading a book that you wouldn't have picked up on your own in the first place.
And so here we are: The Fireplace. This is a place where we come to celebrate storytelling as readers, writers and book lovers.
Sooo Many Stories is organising reading sessions for your children aged four years to 11 years under The Fireplace: Tot Tales. We have met many parents that do not know how to encourage their children that have shown interest in books or what books to get for them. There are efforts to help with this such as The Malaika Mobile Library that is run by the very passionate Rosey Sembatya that delivers books to your child to read every week and 404O's efforts to improve literacy. But we still need more.
For two hours at The Fireplace, we get to go on a story adventure with the children; reading to them stories and doing fun comprehension activities. Our first Tot Tale Fireplace will take place on Saturday 13th at The Village Mall in Bugolobi as detailed below. Cathy Kreutter will be reading her books The Old Mzee who Swallowed A Fly and Tendo's Wish and Johnmary Mukiza, the illustrator of the two books will retell the stories using illustrations.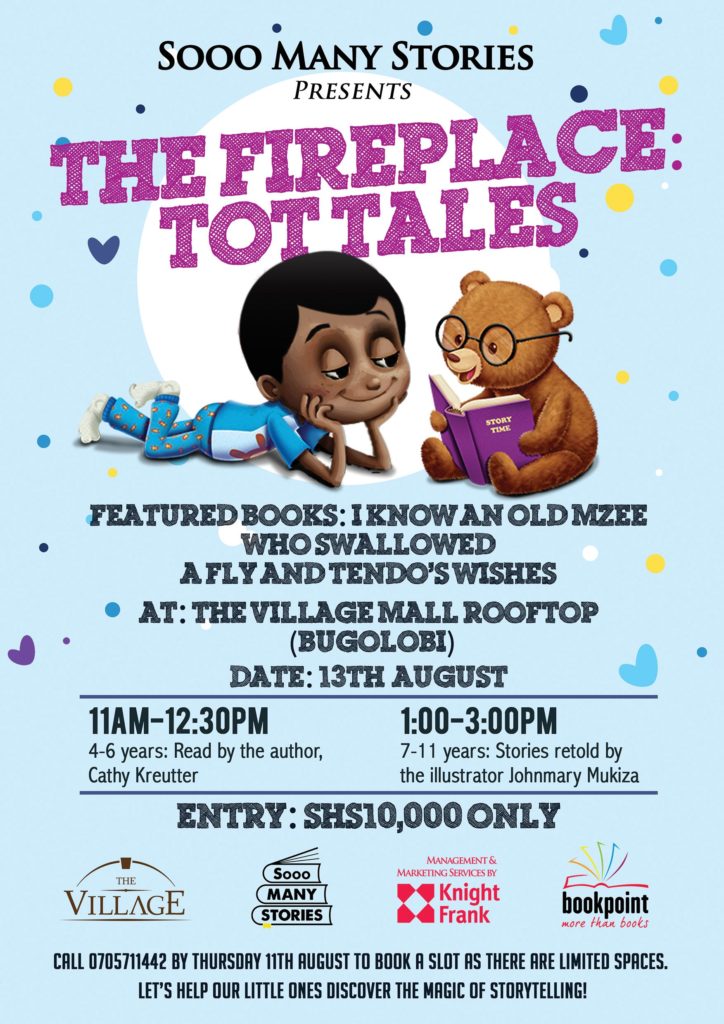 After our interaction with teenagers we have not only found a scarcity of reading material but also the lack of a community where they can share their thoughts on books. We would like to help your teenager to be a part of a book club under The Fireplace: Storyported! The first Storyported! will be held on September 10th and we will let you know what book they will be reading and discussing. Please save the date.
The groups will be divided into 12-14 year olds and 15-17 year olds to cater to their different levels of reading.
But what about you who is reading this and looking for a group of like-minded people to share great books with? The Fireplace: #MeIread is for you.
I once belonged a book club that we used to host in our different homes. Sometimes we met in Bunga, other times in Mpererwe and other times in Najeera. We haven't met in a while now and although there are other reasons for not meeting, the location factor was was one of the reasons.
This is why we would like to match you up with people that live in your area and have similar interests to make it easy for you to meet more regularly. The books do not have to be literary. As long as you are reading, we would like to make it easy for you to meet. Please follow this link http://somanystories.ug/bookclubs and register and let us know where you stay and the books you love.
On August 20, Sooo Many Stories will be hosting the very first #MeIread book club event. We shall also be announcing our next author (you should be very excited) at that event. Here are the details: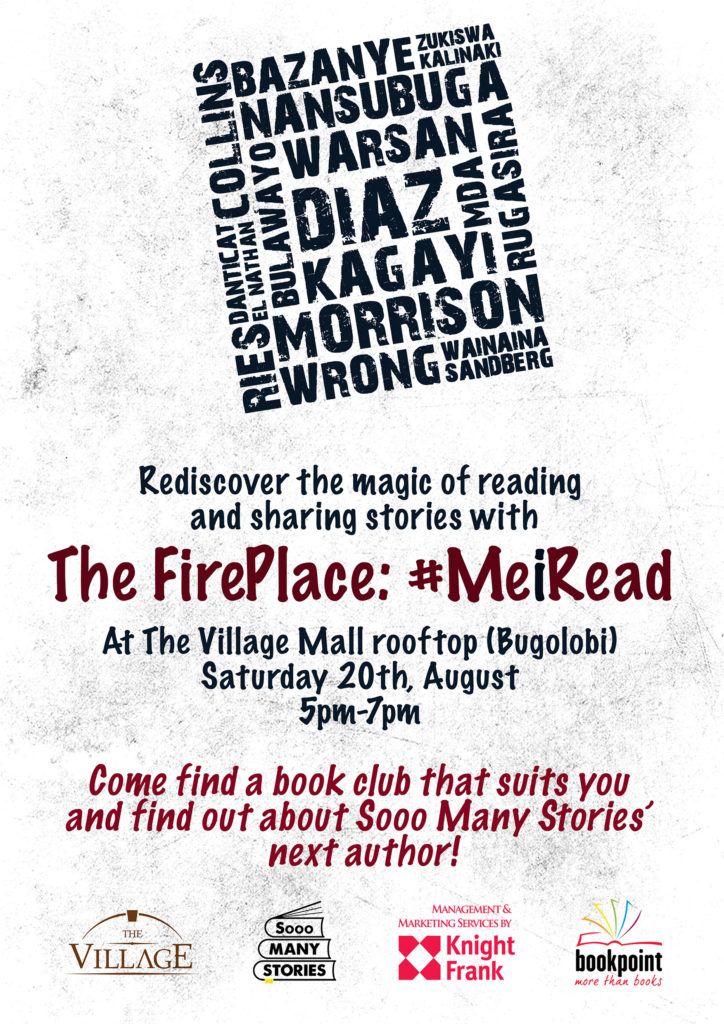 We are looking forward to seeing you at the designated fireplaces!
#TBT: The Headline That Morning On the road
As a publisher, sometimes I forget the things I felt the first I saw Peter Kagayi perform or the first time I read his work. Sometimes. It is very easy to get caught up in balancing monies, deliveries, page views and forget the magic of why I started in the first place. Thankfully, I get little and big reminders every so often.
On June 24th, we (Peter Kagayi and Sooo Many Stories) were invited to Bethel Christian Academy. They were closing their book week and having concentrated on Poetry this year, it seemed perfect that Kagayi joins them. We went there to also talk to them about the value of reading, storytelling and what publishing means. We met children as young as five years old all the way to 19.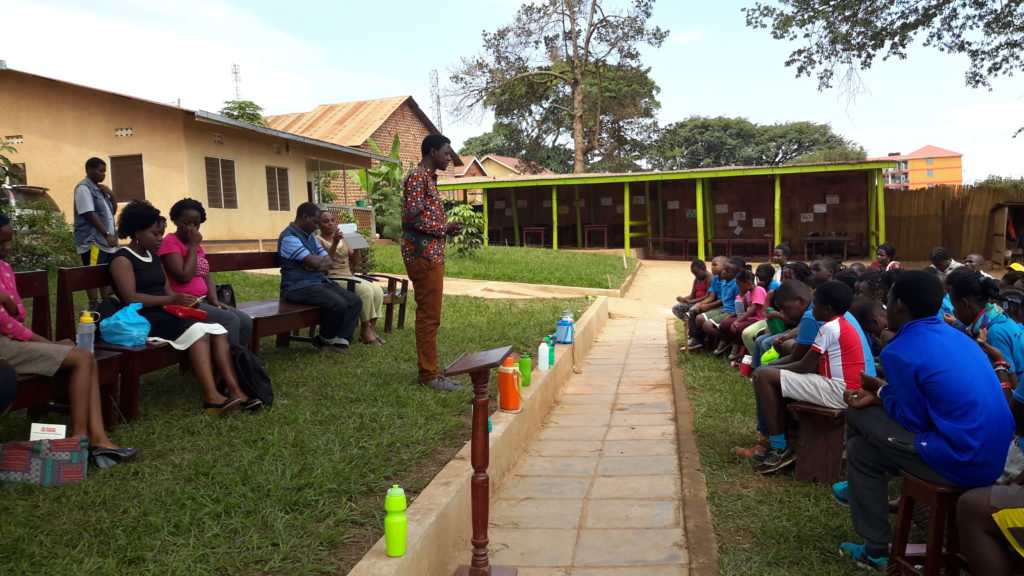 Now, I have seen Kagayi perform but I had never seen him infront of children or even in his capacity as a teacher. He more than often talks about "my students" but I had never really seen him as a teacher.
The poems in The Headline That Morning and Other Poems are not really age appropriate for that crowd and so I was a bit anxious when I told Kagayi to choose whatever he wanted. He assured me he would handle it, "This is my thing, Nyana. Talking to students is my thing."
And then he performed The Sunshine Kid by Harry Bake and you know what? I am a believer! The best thing for me about watching Kagayi perform is his conviction; the way he so firmly holds your heart and pumps faith into it about any and every topic he chooses. And I wasn't the only one. By the time he was done teachers and children were on their feet.
We gave the students some time to also present to us some of the poems they had worked on that week as individuals and as groups. Their enthusiasm to share was everything. I hope they never lose that.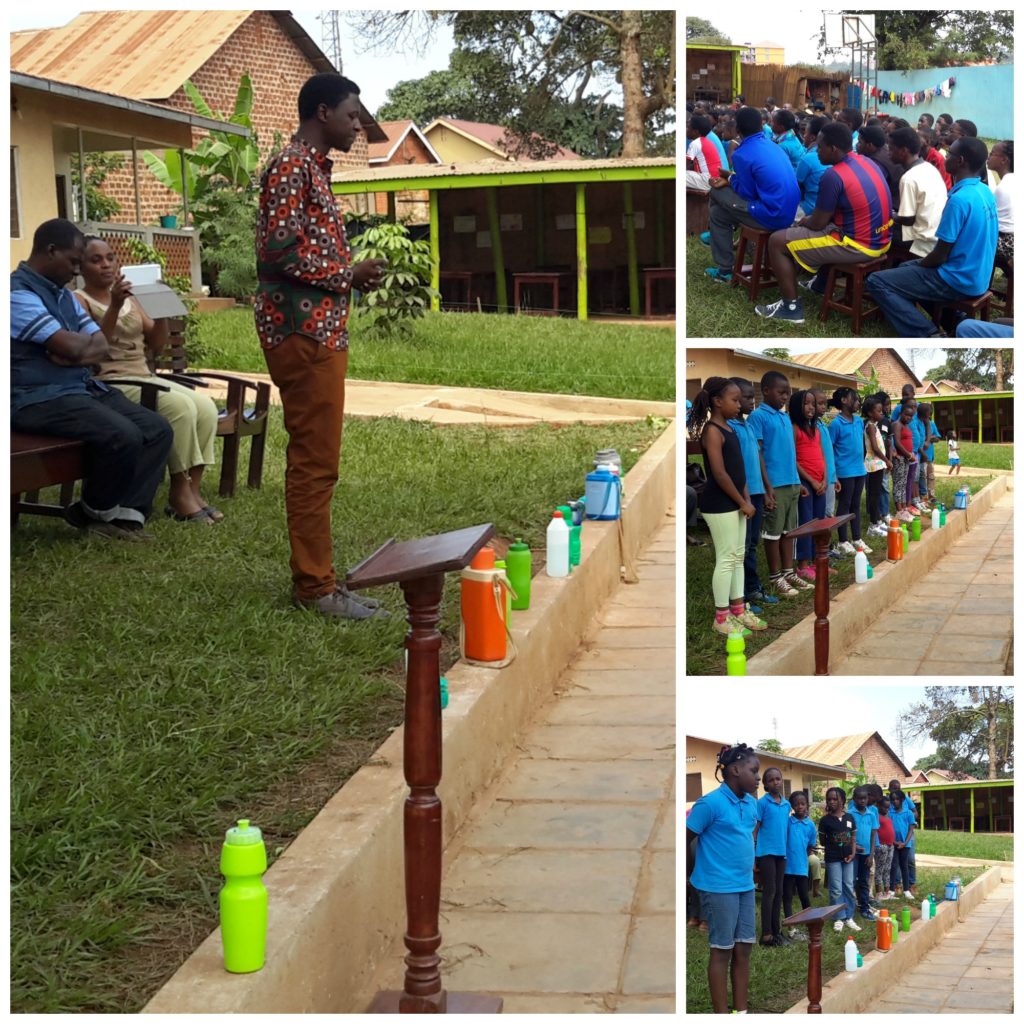 But perhaps what I enjoyed the most were the type of questions they asked, that showed that they not only followed what we were talking about they were also interested. I wrote them down.
When you write poetry all have to rhyme?
How long does it to publish a book?
How long doesn't take you to write your poems?
Are books with illustrations also edited?
What's your favourite type of poetry?
What influences your poetry?
In your book, is there an underlying theme?
Do you write limericks?
What is the meaning of a sonnet?
What form of meter do you usually use in your poetry?
Is everyone a writer?
How do you deal with writer's block?
What poet inspires you the most?
Have some of your poems gone around the world?
When you say "feet" in poetry, what do you mean?
What's your favourite poetic period? (To which Kagayi said: My favourite poetic period is now. *Snaps fingers*)
Is there any type of work that Sooo Many Stories will NOT publish?
How long does it take to get a book ready for publishing?
 This was such a great reminder for me: that there is a place for what we are doing and there are people hungry for this knowledge.  What an honour it is for me to experience this first hand and to have a hand in it!
On June 26th, we gathered again as a group at the Uganda Museum for the first in-depth discussion on the The Headline That Morning and Other Poems. Organised by Writivism and moderated by Kyomuhendo Ateenyi, readers picked their favourite poems from the book, shared what the poems meant to them and Kagayi then had a chance to explain what those particular poems meant to him. Crowd favourites included Tonight I Dance With The Devil, A Family Portrait, Poetry Night, In 2065 and When I Wake Up Mr Tomorrow.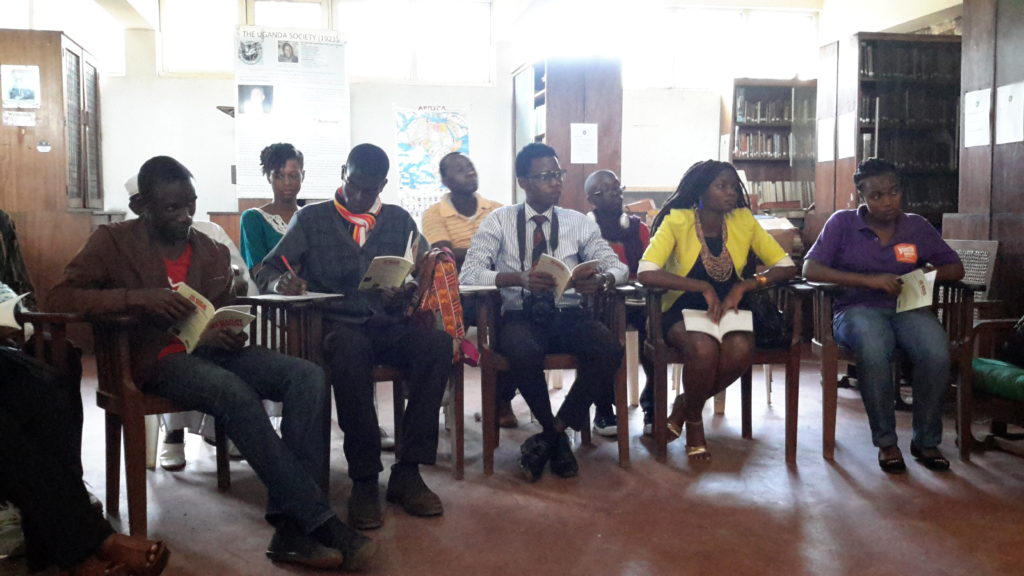 Among the topics discussed were the author's apparent internal turmoil when he wrote certain poems (was that intended to be a suicide note?), the role of men and women in society and how they have been abused, patriarchy and how it damages generation after generation, and the country we would rather not belong to. There was also a debate on whether poetry has now been turned into an elitist affair by the poets and the people who consume poetry.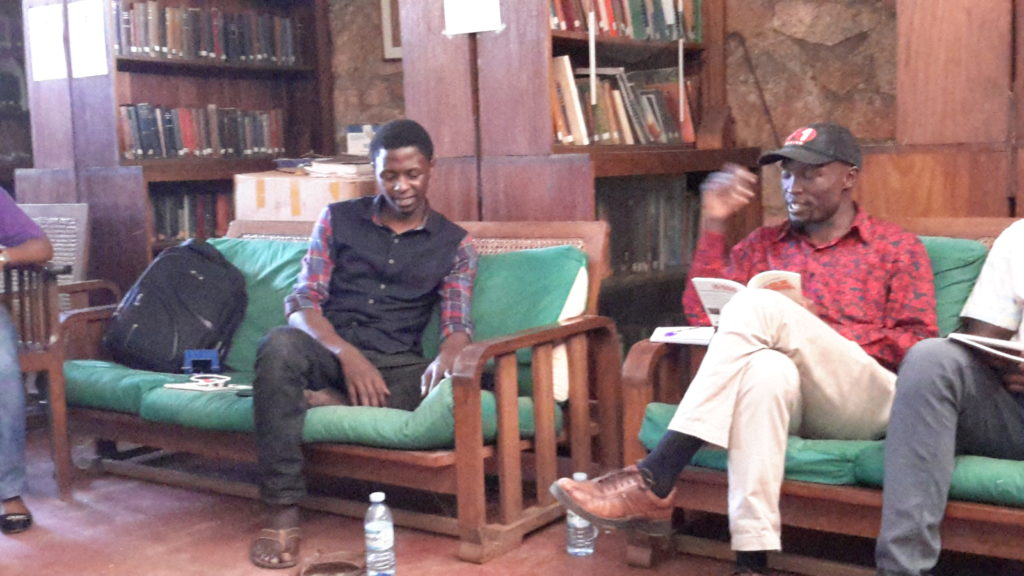 Next The Headline That Morning and other Poems was discussed when Peter Kagayi was hosted as Femrite's poet of the month for their readers/writers' club.
If you missed out on any of these discussions, join us for another stage performance on July 19 at the National Theatre at Ugx5,000 and on July 22 for an in-depth look at the poems that were performed on the CD.
See you all very soon.