1. Last week, we did not have our 7/7 because I did not need seven reasons to be happy. Having a small paragraph on Sooo Many Stories in the Saturday Nation (Kenya) was all I needed to be happy.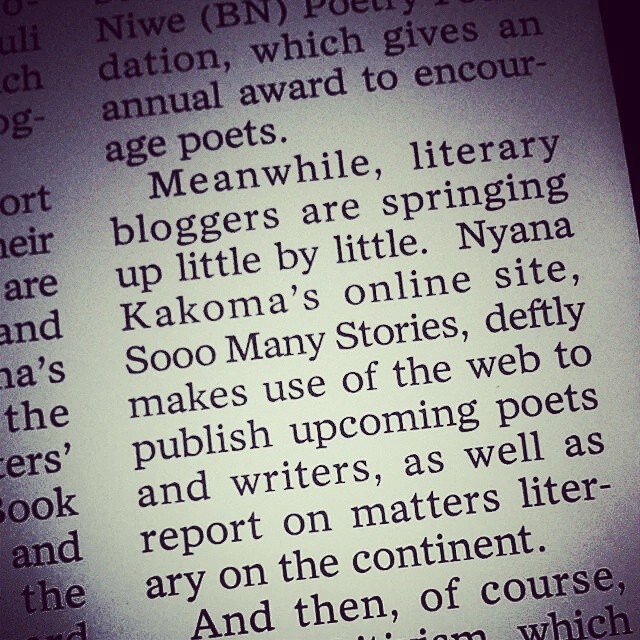 People get surprised when I tell them that SmsUg has not been here for more that three moths. It will be three months on August 21st. They say they feel it has been here longer…and that makes me extremely happy. I am very grateful to the writers that have entrusted me with their work and trusted the vision of Sooo Many Stories. I am extremely thankful to the readers. Thank you for giving meaning to our work. I am also grateful for our photographers Edward Echwalu and Darlyne Komukama and guest photographers like @spartakussug. Thank you for trusting your work with SmsUg!
2. Right now, I am also excited about the Storymoja Festival especially because of the Ugandan writers that are on their line-up. Doreen Baingana, Beatrice Lamwaka, Beverley Nambozo Nsengiyunva, Angella Emurwon and Rashida Namulondo will be representing Uganda at the festival.
Here is the festival's programme. Have a look at it and signup for the master classes that you would like to be a part of.
3. Saraba Magazine has released its newest issue of the magazine published with the theme of Solitude. The forty-page issue includes poems, short stories as well as a nonfiction piece.
To read the stories, poems, and essay related to the theme, please visit http://www.sarabamag.com/the-solitude-issue/ to download a copy of the issue.
4. If you love short stories, you probably already know that The New Yorker, this summer, has allowed you full  access to all their magazine's pieces since 2007. If you have not yet read the stories, rush over and have a look at all those stories that you wanted to read but could not access as a non-subscriber. Slate magazine here tries to help you with the selection.
5. I have read this story, over and over again. Wishing for her strength upon every addict I know.
"I realized my body was not going to save the world. So I took that job away from my heroin and gave it to my soul. Whatever was broken in these men, wasn't getting fixed in me. Whatever was empty in me wasn't getting filled by them.  I was tired of spending hours on end seated on my bathroom floor mourning for all my deaths."
6. On Storymoja last week, this is what I was up to: Should Our Education Have Made Us More Appreciative Of Who We Are?
7. And for your Book Lols this week: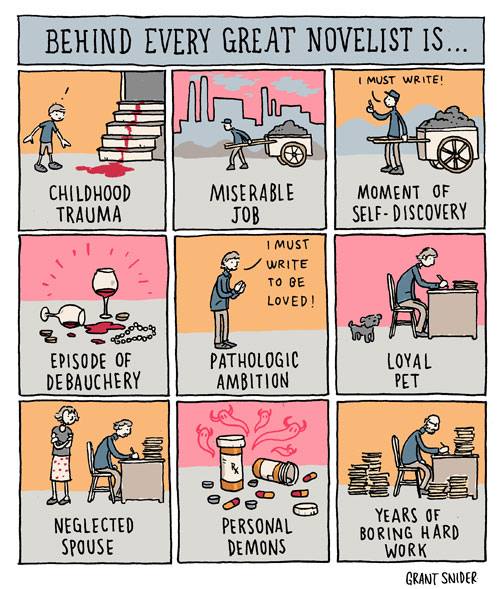 Have a lovely week!
7/7 is Sooo Many Stories' way of helping you beat the Monday blues. 7 things that are making me happy in the literary world that will make you happy too!